In one of our previous posts, we shared with you our top five roads to drive to see wild dogs in the Kruger National Park, but we know that there's another elusive predator that you desperately want to see – the cheetah.
Cheetah and wild dog numbers are in the low hundreds in Kruger, and finding them can therefore be extremely challenging. The fact that cheetahs usually move around alone or in small groups (as opposed to a large, conspicuous pack) makes it even more difficult, not to mention the fact that they're well camouflaged.
Fortunately, all you have to do to increase your chances of tracking down the world's fastest land mammal is search in the right areas.

Cheetahs are often found in small groups of between two and five individuals.
Cheetahs are very habitat specific creatures. They prefer open terrain with good visibility, but with just enough cover to successfully stalk their prey. These areas are few and far between in Kruger, so if you know where they are and spend your time and effort searching there, you're giving yourself a much better chance of spotting a cheetah.
Here are our top five roads for searching for cheetahs in the Kruger National Park:
1. The H7 tar road between Orpen and Satara
The H7 runs through a great variety of habitats, from lush riverine forests along the Timbavati River in the west to dense Delagoa Thorn thickets around Nsemani Dam in the east. Somewhere in the middle, however, where the S36 and S39 gravel roads join up with the H7 to form a large crossing, the veld opens up beautifully. If you're going to search in only one place for cheetah, this is it! The amount of times we've bumped into cheetahs around this crossing is uncanny, so we always slow down a little and to keep our eyes peeled when we drive this stretch. Scan the base of every large tree, because they often mark against them as they walk from one trunk to the next. You might even find them on fallen trees, where they have a better vantage point to scan the surrounding veld.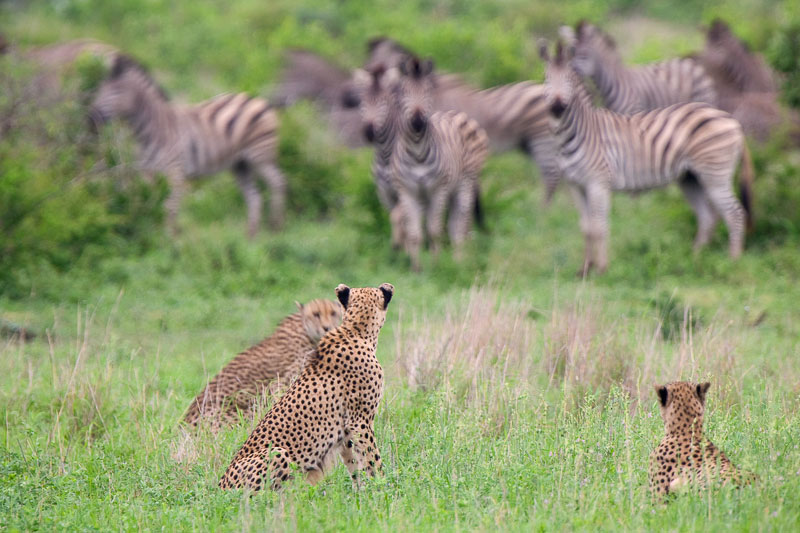 The S28 Nhlowa Road is very open and excellent for cheetah sightings.
2. The S28 Nhlowa Road
The 24 km-long Nhlowa Road runs exclusively through a veld type called Marula / Knobthorn Open Tree Savanna. As the name suggests, apart from scattered marula and knobthorn trees, the vegetation is sparse and visibility very good. Cheetahs are regularly seen on this road, especially in the vicinity of the Nhlanganzwani Dam turn-off.

Cheetahs prefer open areas because it suits their hunting style.
3. S29 Mlondozi Loop
Just north of the S28, to the north-east of Lower Sabie Restcamp, you'll find the S29 Mlondozi Loop. It essentially forms part of the same habitat in which the S28 is located, but with slightly taller grass and fewer big trees. Because of the tall grass, cheetahs sometimes prefer to walk in the road here, so keep your eye on the horizon in front of you when you are driving, because once they've been spotted they often veer off into the veld and disappear.
Unlike leopards, cheetahs are usually not too fazed by the proximity of cars.
4. S100 N'wanetsi River Road
The S100 east of Satara is famous for being one of the best places in the park to see lions, but almost every day someone sees a cheetah along here as well. Because the N'wanetsi River keeps at least a little bit of water for most of the year, it attracts a wealth of game, including the cheetah's favourite prey species – impalas. If you want to explore the open areas directly north of the river more thoroughly, book the Mananga 4×4 Eco-Trail at Satara Restcamp's reception. Only six vehicles per day are allowed to drive the route, which is made up of two-track management roads.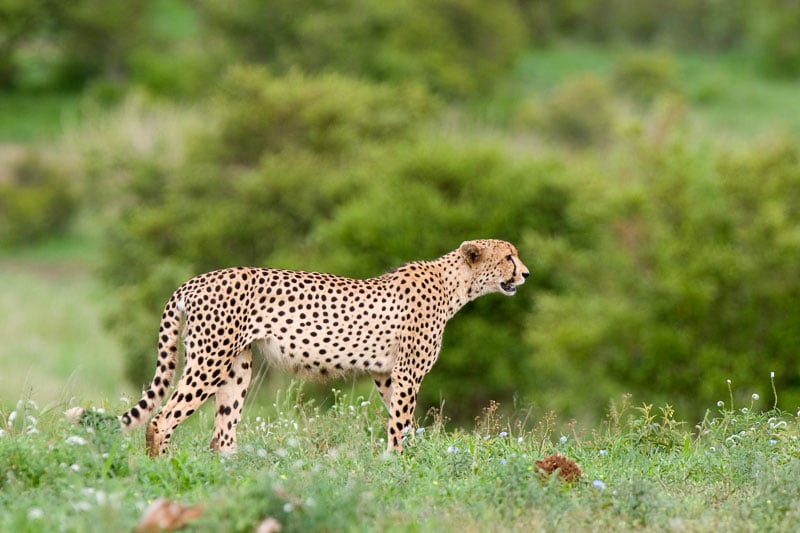 Cheetahs often search for vantage points from which they can survey the surroundings.
5. S30 Salitje Road
The Salitje Road, which runs on the northern side of the Sabie River between the S128 Old Tshokwane Road and the high water bridge just east of Skukuza, is generally quiet when it comes to game viewing. But approximately 10 km from its western tip it opens up for a short section, providing the perfect habitat for cheetahs. The open patch is not very large at all, but is frequented by cheetahs on a regular basis.

They even climb in trees to see further and to mark their territories. 
Just like with wild dogs, there's no guarantee that you'll see cheetahs when you drive these roads, but by driving through habitats that they prefer, you're in with a better chance than if you search for them in the many habitats they're never likely to visit.