Wimberley P-50 Lens Plate - 6.58 inch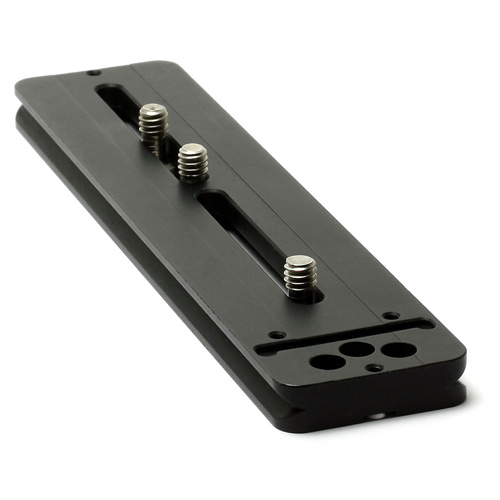 The Wimberley P-50 Lens Plate allows you to connect a camera lens, fitted with both a rotation collar and tripod mounting foot, to a compatible quick-release clamp. Safety stops at the front and back of the Wimberley plates keep your lens from accidentally slipping out of the quick-release clamp. If you wish to use only one or neither of these stops, simply remove them with the hex key provided. The two stop screws will straddle the length of most quick-release clamps. However, the stop screws do limit the amount of forward-backwards adjustment available. The Wimberley plates are designed to accept RRS & Kirk flash brackets as well as their own quick-release flash brackets.
The Wimberley P-10, P-20, and P-30 plates have anti-twist nubs at the back of the plate. These help to keep the plate from twisting if it is mounted with only one fastener. The unique dual-nub design provides better performance when butted against a curved surface. The P-40 and P-50 plates do not have anti-twist nubs because the lenses they are normally mounted to usually have more than one mounting hole.
Arca-Swiss style quick-release plate
Dual Safety Stops
Double-Dovetail Cross-Section
Works with All Common Flash Brackets
Achieve the right balance position for your camera kit with this lens plate.
SKU P-50
R
1,295.00
Only 2 available in Store
FREE Standard shipping
Faster options available