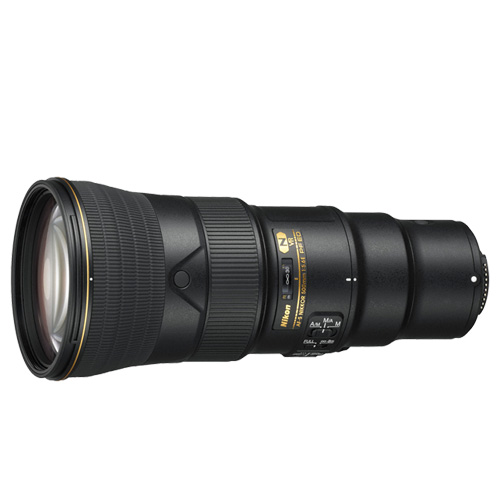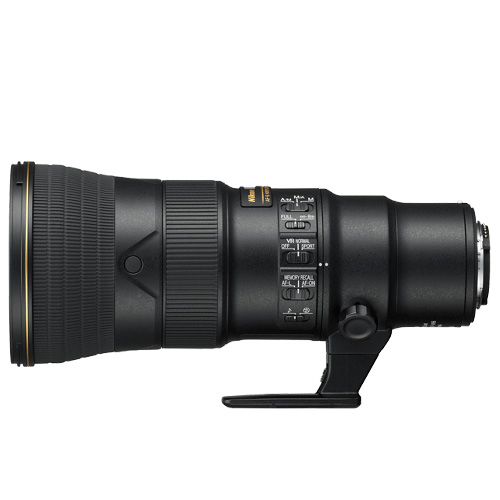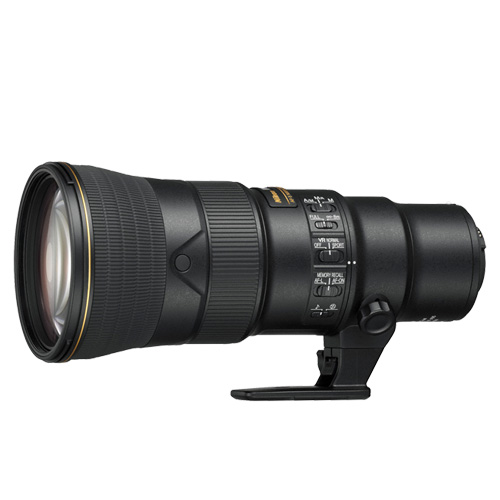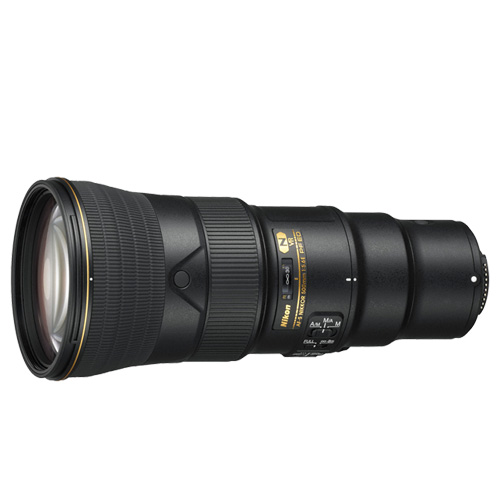 Take your super-telephoto photography to new levels and capture wildlife and sports photography like never before. This zoom lens hits a sweet spot of the focal length range and achieves a minimum focus distance of just 0.3 m across the zoom range.

Product Code:
LENNI500F5.6E
R
64,995.00
Awaiting Stock

Free Delivery in SA
on orders over R1000
Recommended Accessories
Take your super-telephotoTELEPHOTOA lens with long focal length capable of making distant objects appear nearer thus larger. Essentially, it isolates and magnifies the subject so that it appears as a full image when shooting from a distance. Telephoto lenses are ideal for photographing subjects that are further away, such as wildlife and sports photography. shooting experience to the next level with the high-performance AF-S NIKKOR 500mm f/5.6E PF ED VR, that is primed to deliver superior optical precision. Whether you're into sports or wildlife photography, this remarkably compact and lightweight FX-format lens will deliver high-level precision and accuracy by incorporating the latest in NIKKOR technology, including Phase Fresnel lens design, Extra-low Dispersion (ED) glass elements, and Nano Crystal Coat. For the ultimate agility, the AF-S Nikon 500mm f/5.6E PF ED VR lens also features an electromagnetic apertureAPERTUREAperture, shutter speed and ISO form what is known as the exposure triangle in photography. Aperture refers to an opening inside the lens, similar to the iris of your eye, that changes in diameter to control the amount of light that enters a camera. Aperture is expressed in f-stops: the lower the number, the larger the aperture, e.g. f/1.4 is larger than f/8. A larger (or wider) aperture allows more light to pass through the lens to the sensor (film) as a picture is taken, particularly useful in low-light conditions. A larger aperture also produces a shallower depth-of-field, and thus more background blur. mechanism that allows for stable exposureEXPOSUREExposure is controlled by three elements: Aperture, Shutter Speed and ISO. Achieving the correct exposure is similar to collecting rain in a bucket, up to an optimum level. The rate of rainfall is out of your control (light), yet you can control these three factors: the bucket's width (lens aperture), the duration you leave it in the rain (shutter speed), and how effective your bucket is in collecting rain (ISO). These three elements work together to control the amount of light per unit area, preventing underexposure (too dark) or overexposure (too bright), giving you a natural looking image. control and a fluorine coat that effectively repels dust, water, grease and dirt as well as an improved effective Vibration Reduction (VR) with Sport Mode. Superior mobile handheld shooting is now in the palm of your hands.
Features
Significantly smaller and lighter with the adoption of a Phase Fresnel (PF) lens element, making 500 mm hand-held super-telephoto photography easier and more enjoyable.
Designed with consideration to dust- and drip-resistance; fluorine coat applied to the front lens surface, effectively repelling water droplets, grease, and dirt.
Adoption of one PF lens element and three ED glass elements for extremely sharp and detailed rendering, compatible with high pixelPIXELThe shortening of 'picture element', a basic unit of programmable colour forming the dots that make up an image. Pixel size depends on a camera's resolution, which is measured in megapixels (MP), meaning millions of pixels. The more pixels on a sensor, the smaller they have to be to fit. An image's number (or density) of pixels correlate to the amount of information and image holds. Cameras with more pixels on the sensor have a higher pixel density and thus more resolving power, able to capture smaller details with much more clarity and accuracy. Higher resolution images can be cropped more agressively and also produce better quality large prints.-count digital cameras.
Optical performance that is not compromised with the use of the TC-14E III AF-S teleconverter.
Materials used in the new PF lens element effectively control PF (diffraction) flareFLAREOccurs when a point light source such as the sun or an artificial light (that is brighter than the rest of the scene), hits the front element of a lens resulting in a lack of contrast, haze, or unwanted semi-transparent objects being present in the image. You can avoid lens flare with a lenshood or filters, however, the effect is also useful for bringing artistic elements into an image, such as sun rays peaking out from behind a rock formation. .
Ghost and flare effectively suppressed with the adoption of the Nano Crystal Coat, enabling clear images.
AF speed increased by making lens elements in the focusing group lighter.
Equipped with a VR mechanism that offers camera shake compensation equivalent to a 4.0-stop* increase in shutter speedSHUTTER SPEEDAperture, shutter speed and ISO form what is known as the exposure triangle in photography. Shutter speed is the length of time that a single frame is exposed for, more specifically how fast the shutter opens and closes to permit light entering the lens, to reach the sensor. A slow shutter speed means a longer exposure time useful for motion blur like the silky look of flowing water, whereas a fast shutter speed means a shorter exposure time useful for freezing the appearance of motion in images like a hummingbird in flight. It is measured in seconds starting at 1 second and halving our doubling in time. For example: 1/2s, 1/4s and 1/8s are all fractions of a second with 1/2s being the longest exposure time, 1/4s half of that and 1/8s another half etc., in two modes: NORMAL and SPORT.
Electromagnetic diaphragm mechanism adopted for extremely precise aperture control.
FREEDOM OF FLIGHT
The AF-S NIKKOR 500mm f/5.6E PF ED VR employs the Phase Fresnel optical design which consists of a series of concentric circles engraved on it, with these circles each focusing a different spectrum and direction of light. This minimises the number of lens elements needed and results in a substantially lighter, more compact lens with outstanding optical performance and minimal chromatic aberration – excellent for capturing all the action. Weighing approximately 1,460g and at a length of 237mm, the AF-S NIKKOR 500mm f/5.6E PF ED VR brings you true agility.
BUILT TO ENDURE
The AF-S NIKKOR 500mm f/5.6E PF ED VR is constructed to provide high-resolution, high-contrastCONTRASTThe difference between areas of different brightness levels in a photograph: A high-contrast image has a greater difference between light and dark areas, whereas a low-contrast image has a narrow range of tones. Contrast is used to direct a viewer's attention to a photographer's subject either with colour contrast (bold versus duller colours) or tonal contrast (bright versus darker tones). images with innovations like the ED glass that provide results in stunning sharpness and contrast by further minimising chromatic aberration. This works in conjunction with Nano Crystal Coat, which features nano-sized crystal particles that effectively reduces flares and ghosting, giving you an extra edge of reliability. Engineered with the harshest of shooting environments in mind, a fluorine coat is also applied to effectively repel dust, water droplets, grease and dirt, and provides a superb anti-reflection effect, ensuring the capture of crisp and clear images.
FLY INTO ACTION
In the lighter lens group, the AF-S NIKKOR 500mm f/5.6E PF ED VR incorporates an electromagnetic diaphragm mechanism and a Silent Wave Motor to allow you to track fast-moving subjects going at unpredictable speeds. With sharp and uncompromising AF precision, you will never miss your moment. To further minimise unintentional image blur, the AF-S NIKKOR 500mm f/5.6E PF ED VR features an upgraded Vibration Reduction (VR) system that provides an effect equivalent to a shutter speed of 4.0 stops1 faster in NORMAL mode. The state-of-the-art VR SPORT mode is also incorporated to provide improved viewfinder stability when capturing all the fast-paced action.
A COMPACT COMPANION
With all the latest NIKKOR technology, the AF-S NIKKOR 500mm f/5.6E PF ED VR is not only lighter but is also designed to let you photograph all the action while you're on-the-go, even when you don't have a tripod or monopod. Engineered to capture all the finer details, it will soon become your new companion on all your photographic adventures.
Barrel Type
Magnesium Alloy
Camera Mount
F mount Type E AF-S lens with built-in CPU
Full Time Manual Focus
Yes
Minimum Focus Distance
3.0 m from focal plane
Internal Zoom
Fixed Focal Length Design
What's in the box?
Nikon 500mm f/5.6E PF ED VR Lens
LC-95 95 mm Snap-on Front Lens Cap
LF-4 Rear Lens Cap
HB-84 Bayonet Hood
CL-M5 Lens Case
Limited 1-Year Warranty
If you want to know more about this product, we know that you'll love these articles: