Mackie Studio Bundle (3" Monitors, Monitor Controller, Headphones + 2x Microphones)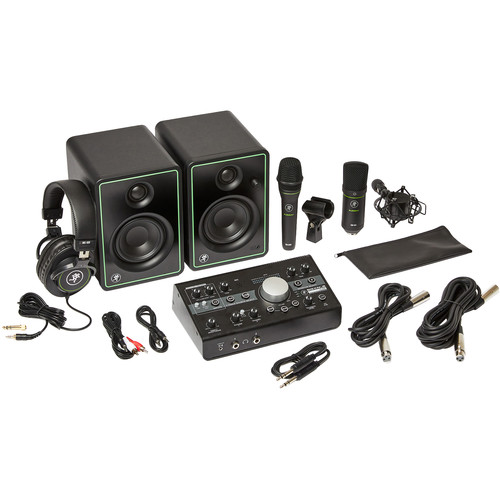 The Mackie Studio Bundle is the perfect vocal recording bundle. It is a flexible 2-channel recording and monitoring solution which includes the CR3-X 3" multimedia monitors, the MC-100 headphones, the Big Knob Studio monitor controller and audio interface, the EM-91C large-diaphragm condenser mic, the EM-89D dynamic handheld vocal mic, and all the cables you need to connect the gear.
Getting set up is easy with the Big Knob Studio as your central hub. You connect it to your computer via USB, plug the microphones into the Big Knob Studio's XLR inputs, and hook up the monitors and headphones to the Big Knob Studio's outputs.
CR3-X Multimedia Monitors, Headphones and Big Knob Studio Monitor Controller
EM-91C Large-Diaphragm Condenser and EM-89D Dynamic Vocal Microphone
Built-In 192 kHz 2x2 USB Audio Interface
50W Amp, 3" Woofer, and 0.75" Tweeter
Cardioid Polar Pattern Reduces Ambience
Desktop Volume Control, Mono, Mute & Dim
Record vocals and instruments at up to 24-bit / 192 kHz resolution, easily control essential monitoring functions such as volume, dim, mute, and stereo/mono switching, and use the included software bundle to create quality mixes in the comfort of your own home with this recording studio bundle.
SKU STUDIO BUNDLE
R
15,395.00
Only 1 available in Store
FREE Standard shipping
Faster options available