Fujifilm Instax Mini 9 Instant Camera (Ice Blue) with 1x Mini Film

Undeniably one of the most popular camera series out today is the Fujifilm Instax line, and now there is a small but welcome update, in the form of the Instax Mini 9. While maintaining much of the aesthetics and charm of previous models, the Mini 9 adds a selfie mirror to the lens for framing your selfies and comes with a macro adapter for capturing close-ups. It also features a manual adjustment dial and a flash for working in a variety of situations.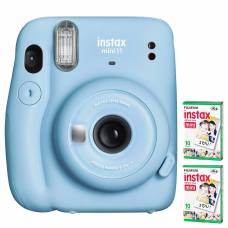 A sleek, fun and stylish camera that produces instant credit card-sized prints.
Awaiting Stock