DJI Spark Mini-Drone Fly More Combo (Green)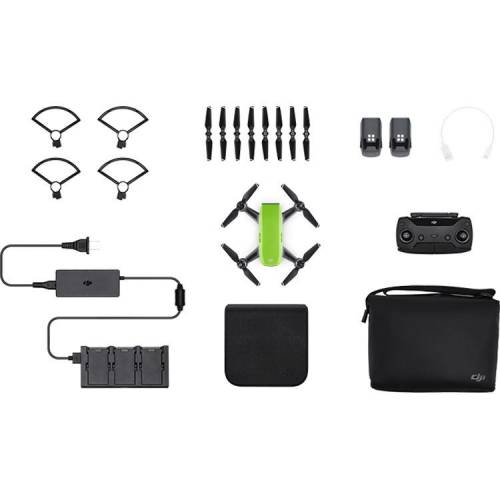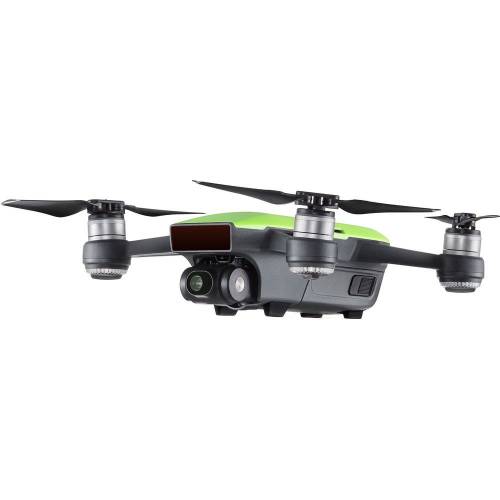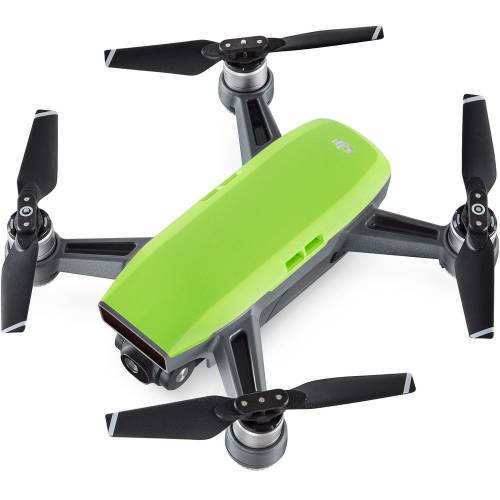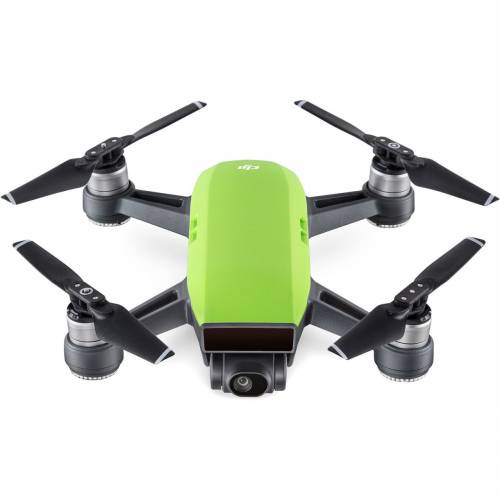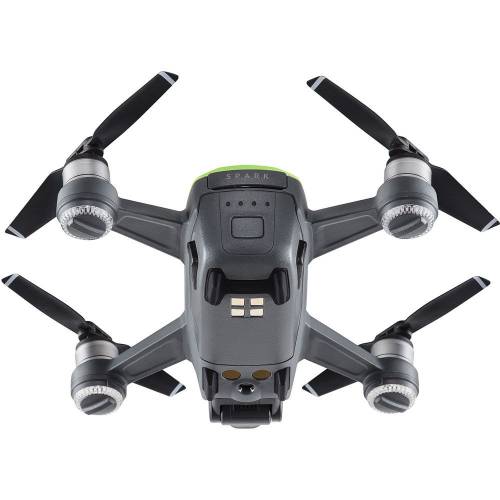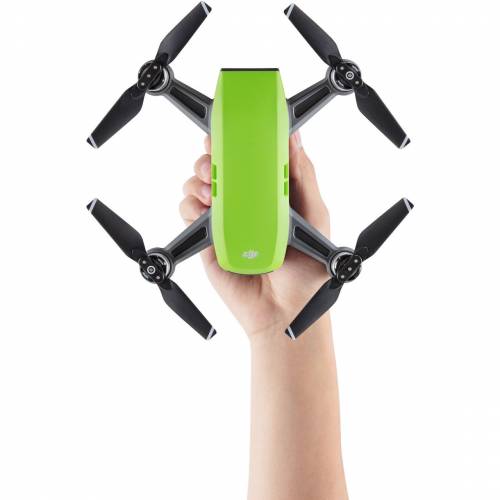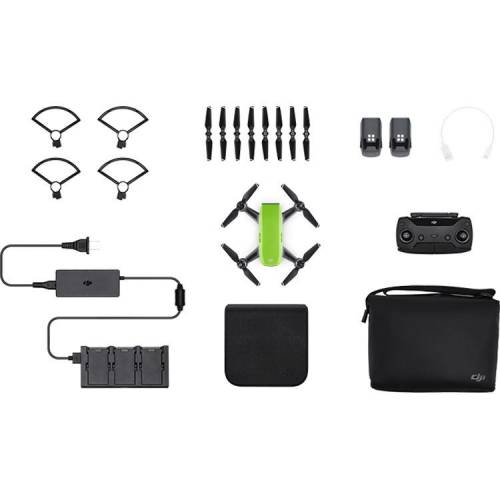 Small in size but definitely not stature. The green DJI Spark offers all of the technological features that you've come to expect from DJI - packed into the mini-drone.
The DJI Spark takes off in the palm of your hand
Leave the control at home and control the DJI Spark with your hands
Guide the DJI Spark by using your phone and tapping on the desired destination
ActiveTrack means the DJI Spark recognises and tracks objects
Note: The operation of Remotely Piloted Aircraft (RPA) is regulated in terms of the South African Civil Aviation Regulations.

R
13,899.00
WE HAVE ONLY

1

IN STOCK
Talk to one of our friendly and knowledgable consultants
about this product. Call us on +27 12 348 3693 or
click to chat with one of our online consultants
Recommended Accessories
Introducing the DJI Spark: DJI's Smallest Drone
The Spark Fly More Combo is now for sale in South Africa and offers the same technological features as any of the recent DJI drones, with added accessories to make your experience that much better?

How do I fly a drone? With Intelligent Flight!
FaceAware means that the Spark recognises your face and the DJI Spark drone takes off from the palm of your hand.
Leave your remote at home and control your Spark with your hands and its new feature called PalmControl. Take selfies with simple hand gestures!
Record a video with just a tap – The small DJI Spark will take professional shots for you.
Just imagine your shot and the Spark will capture it with TapFly mode. Tap your phone screen and the DJI Spark will fly in the directions of your tap.
ActiveTrack means that the Spark recognises different objects so you can track them according to how fast they move.
Now that you've got the footage, quickly edit and share your videos straight to social media. The DJI Go 4 App offers an array of filters and automatic editing templates to make the post production easier that ever before.
All these features mean that drones are now easy to fly and editing, fun!
DJI's famous quality footage
The Spark's UltrSmooth technology and 2-axis mechanical gimbal reduces shake and ensures your footage is stable and detailed.
The DJI Spark's camera has a wide-angle with a 25mm equivalent focal lengthFOCAL LENGTHMeasured in mm, it is the distance from the focal point of a lens (its centre or curved mirror where light converges) to the plane of the image sensor (film) when an object is in focus. A shorter focal length lens sees a wider image and a longer focal length brings your subject closer. For example, a 15mm lens sees a very wide image and is perfect for landscape photography. Conversely, a 500mm lens sees a very narrow image, brings the subject much closer and is thus great for subjects that are far away, like a bird in a tree. With zoom lenses, its minimum and maximum focal lengths are indicated, for example, as 24-105mm. A zoom lens allows you to change the lens' focal length, with shorter (wide-angle) and longer (telephoto) options, whereas a fixed focal length lens requires you to move back and forth to find the correct image composition. and an apertureAPERTUREAperture, shutter speed and ISO form what is known as the exposure triangle in photography. Aperture refers to an opening inside the lens, similar to the iris of your eye, that changes in diameter to control the amount of light that enters a camera. Aperture is expressed in f-stops: the lower the number, the larger the aperture, e.g. f/1.4 is larger than f/8. A larger (or wider) aperture allows more light to pass through the lens to the sensor (film) as a picture is taken, particularly useful in low-light conditions. A larger aperture also produces a shallower depth-of-field, and thus more background blur. that can go as big is f2/6. So you can expect very little colour aberration and distortion and lots of detailed, sharp and vivid images. Impressive five elements are arranged into a single group that fits into its compressed frame.
Shoot stabilised video at 1080p and stills at 12MP with its ½.3 inch CMOS sensor. The larger pixelPIXELThe shortening of 'picture element', a basic unit of programmable colour forming the dots that make up an image. Pixel size depends on a camera's resolution, which is measured in megapixels (MP), meaning millions of pixels. The more pixels on a sensor, the smaller they have to be to fit. An image's number (or density) of pixels correlate to the amount of information and image holds. Cameras with more pixels on the sensor have a higher pixel density and thus more resolving power, able to capture smaller details with much more clarity and accuracy. Higher resolution images can be cropped more agressively and also produce better quality large prints.s mean that the Spark is more sensitive to light and records colours beautifully.
The Spark offers all of the previous DJI drone's shooting modes while boasting two new modes: Pano and ShallowFocus.
This Spark mini-drone packs a powerful punch
The Spark effortlessly soars through the air with its aerodynamic, lightweight design and powerful propulsion offers steady flight in strong wind conditions of up to 50 kph.
With innovative HD Wi-Fi technology, you can now fly farther and see more; just image 720p real-time video transmission from up to 2km away.
Get up to 16 minutes uninterrupted flight time with a fully charged battery.
And to take things up a notch, switch to SportMode and see the beast unleashed. This featured sets the gimbal mode to FPV so the camera moves as you fly. Enhance the experience by picking up a pair of DJI Goggles and see the world from a new point of view.
Your small DJI Drone is protected
FlightAutonomy
Spark's FlightAutonomy system includes the main camera, vision positioning system (VPS), 3D sensing system, dual-band GPS, high-precision inertial measurement unit, and 24 powerful computing cores. This allows Spark to hover accurately anywhere with VPS assistance at up to 30 m, sense obstacles from up to 5 m away, and land safely.
Return to Home
Like all recent DJI drones, Spark can return to its home point automatically ensuring there is sufficient GPS signal. If the battery gets too low, when the connection is lost, or you hit the Return to Home (RTH) button, the Spark flies back to the present home point while sensing obstacles in its path. This mini drone's downward-facing camera captures images of the area surrounding the home point and references these images during RTH for a safe landing.
Flight Protection
DJI's GEO system lets you know where drone flights may raise safety or security concerns, such as near airports or stadiums. This provides the information needed to fly Spark safely and responsibly.
Intelligent Flight Battery
12 Intelligent protection functions help deliver safe flight. Spark uses a high energy density LiPo battery for optimal performance and additionally, Spark's battery estimates remaining flight time, letting you know when to land in real time.
DJI Camera
Sensor
1/2.3" CMOS
Lens
FOV 81.9° 25 mm (35 mm format equivalent) f/2.6
(shooting range: 2 m to ∞)
ISO Range
Video: 100-3200
Photo: 100-1600
Shutter Speed
2 - 1/8000 s
Image Max Size
3968 × 2976
Still Photography Modes
Single Shot
Burst Shooting: 3 frames
Auto Exposure Bracketing (AEB): 3 bracketed frames at 0.7 EV bias
Interval: 2/3/5/7/10/15/20/30/60 s
Video Recording Modes
MP4 (MPEG-4 AVC/H.264)
Supported SD Card Types
Sandisk 16GB UHS-1 Micro SDHC
Sandisk 32GB UHS-1 Micro SDHC
Sandisk 64GB UHS-1 Micro SDXC
Max Bitrate Of Video Storage
24 Mbps
Supported File Formats
FAT32
Operating Temperature
0° to 40° C
Controllable Range
Pitch: -85° to 0°
Stabilization
2-axis mechanical gimbal
What's in the box?
DJI Spark Aircraft (Green)
Remote Controller
Propeller Pair
Propeller Guards
Intelligent Flight Battery
Charger
Power Cable
Battery Charging Hub
Micro USB Cable
Storage Box
Shoulder Bag
Limited 1-Year Warranty
If you want to know more about this product, we know that you'll love these articles:
Related Products