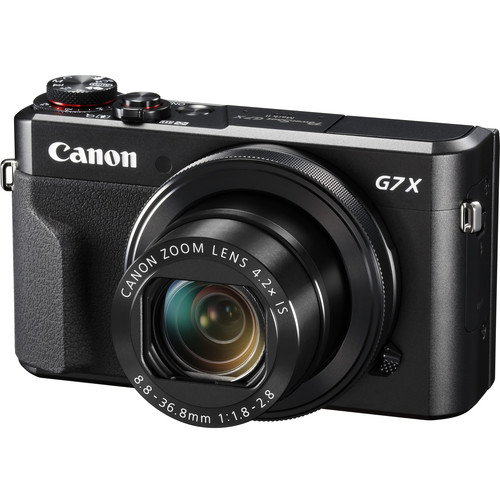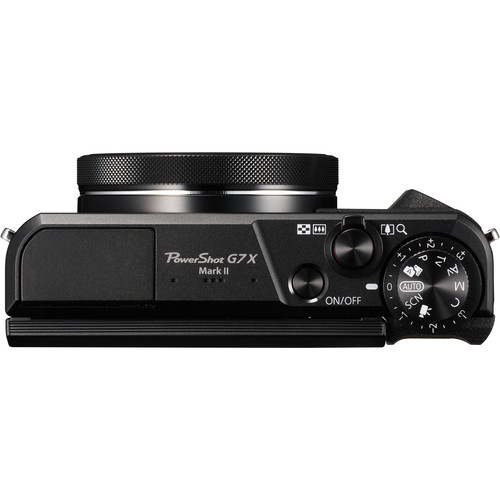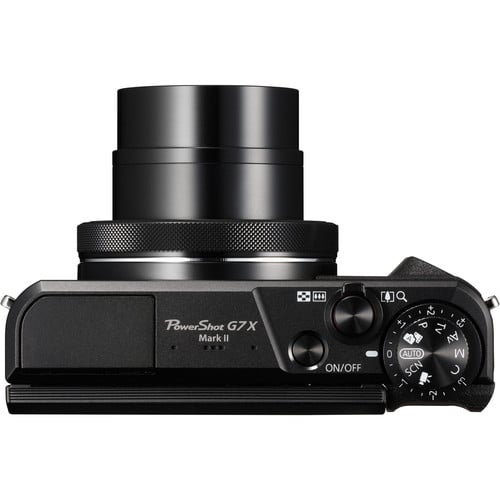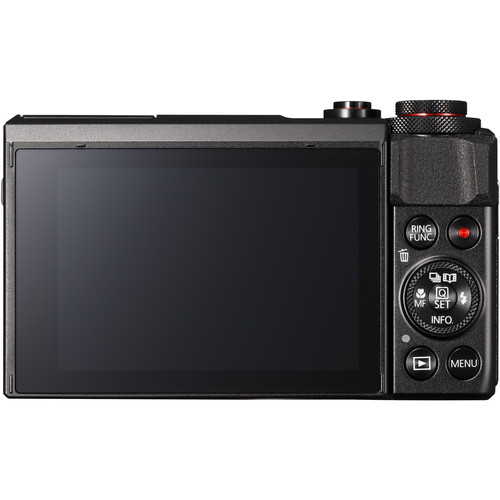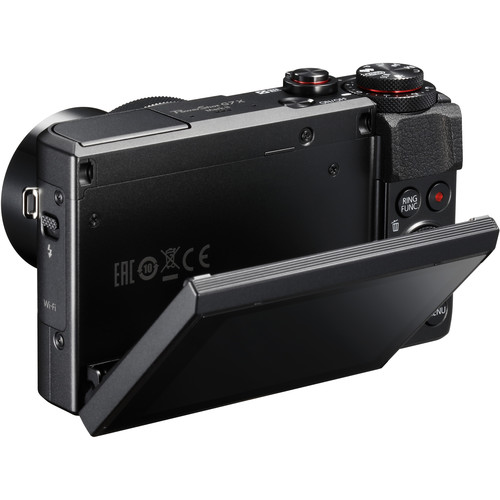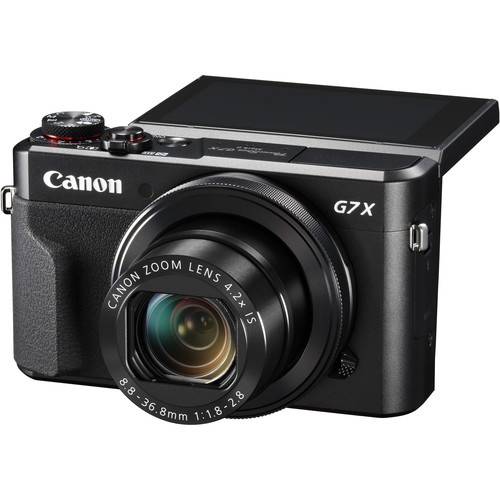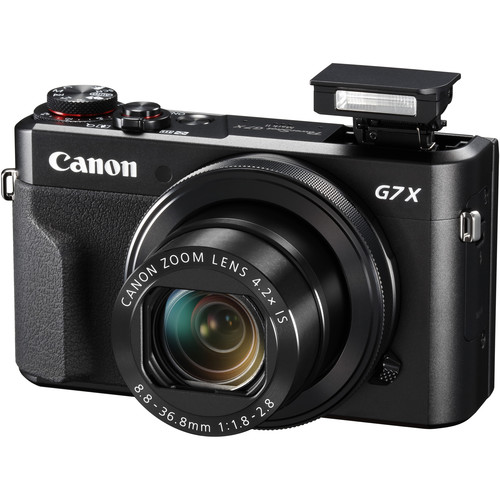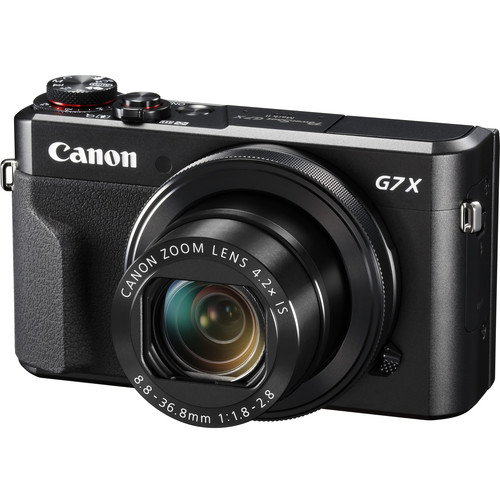 The Canon PowerShot G7 X Mark II Compact Camera is the perfect travel companion for any serious photographer with a large 20 Megapixel CMOS Sensor, superior optics and RAW capability. A large 1-inch Type Back-illuminated CMOS sensor, joined with a powerful DIGIC 7 image processor delivers crisp, clear, low-noise images even in tough lighting conditions. The 4.2x optical zoom system provides a convenient range of perspectives from wide-angle to telephoto to allow you creative freedom. The intelligent IS considerably reduces camera shake when shooting at slow shutter speeds or recording video handheld. Built-in Wi-Fi and NFC enable easy sharing of your images to any compatible smartphone or tablet.
R
9,295.00
Awaiting Stock

Free Delivery in SA
on orders over R1000
Recommended Accessories
The Canon PowerShot G7 X Mark II Compact Camera is characterised by great image quality and its large feature-set. Featuring a 20 MegapixelPIXELThe shortening of 'picture element', a basic unit of programmable colour forming the dots that make up an image. Pixel size depends on a camera's resolution, which is measured in megapixels (MP), meaning millions of pixels. The more pixels on a sensor, the smaller they have to be to fit. An image's number (or density) of pixels correlate to the amount of information and image holds. Cameras with more pixels on the sensor have a higher pixel density and thus more resolving power, able to capture smaller details with much more clarity and accuracy. Higher resolution images can be cropped more agressively and also produce better quality large prints. 1-Inch Type Back-Illuminated CMOS sensor and DIGIC 7 image processor, the G7 X MkII is capable of delivering an expanded sensitivity of ISO ISO Exposure is controlled by three elements: Aperture, Shutter Speed and ISO. The ISO speed determines how sensitive a camera's sensor is to incoming light. A higher ISO speed absorbs more light, resulting in a brighter exposure, however, a higher ISO also results in more digital noise in low-light conditions. Cameras with larger sensors (like full-frame cameras) typically have higher ISO speed capability and produce less digital noise at high ISO settings. Digital cameras include a control for adjusting ISO speed, some of which can be set to adjust automatically in combination with certain other exposure settings. ISO is indicated in numbers usually starting at 100 and going upward (200, 400, 800, 1600 etc.) doubling in sensitivity each time. Most cameras also indicate 3rd stop intervals (100, 125, 180, 200 etc.)25600 and achieves smooth image quality with reduced noiseNOISEThe appearance of random pixels scattered over a photo, similar to the grain effect seen in film photography, which degrades photo quality almost as if it is stained. It occurs when taking photos in low-light conditions, with very slow shutter speeds on high sensitivity (ISO) settings. It is caused by amplification done by the sensor when high ISO settings are used. You can counteract digital noise by lowering the sensitivity (ISO) setting of your camera - the lower the ISO setting, the lower the noise in the image. Typically cameras with larger sensors (like full-frame cameras) will inherently produce less noise due to larger pixels on the sensor. when working in low-light conditions. Due to the agility of the DIGIC 7 processor, it is also capable of capturing still photos at up to 8 fps as well as Full 1080p HD video at 60fps. Complementing the top-notch sensor and processor combination is a versatile 4.2x zoom lensZOOM LENSAllows a camera to, unlike a fixed-focal length or prime lens, change smoothly from a long shot to a close-up or vice versa by varying the focal length. A true zoom lens, also called a parfocal lens, is one that maintains focus when its focal length changes. Due to more moving parts, zoom lenses often produce images of slightly lesser quality than their prime lens counterparts. However due to the inherent flexibility of being able to vary the focal length, they are extremely popular for photography where composition needs to be adapted quickly - such as at weddings, for example., featuring Canon's acclaimed optics, which provides a 24-100mm equivalent focal lengthFOCAL LENGTHMeasured in mm, it is the distance from the focal point of a lens (its centre or curved mirror where light converges) to the plane of the image sensor (film) when an object is in focus. A shorter focal length lens sees a wider image and a longer focal length brings your subject closer. For example, a 15mm lens sees a very wide image and is perfect for landscape photography. Conversely, a 500mm lens sees a very narrow image, brings the subject much closer and is thus great for subjects that are far away, like a bird in a tree. With zoom lenses, its minimum and maximum focal lengths are indicated, for example, as 24-105mm. A zoom lens allows you to change the lens' focal length, with shorter (wide-angle) and longer (telephoto) options, whereas a fixed focal length lens requires you to move back and forth to find the correct image composition. range. This covers wide-angle to short-telephotoTELEPHOTOA lens with long focal length capable of making distant objects appear nearer thus larger. Essentially, it isolates and magnifies the subject so that it appears as a full image when shooting from a distance. Telephoto lenses are ideal for photographing subjects that are further away, such as wildlife and sports photography. perspectives. A large f/1.8-2.8 maximum apertureAPERTUREAperture, shutter speed and ISO form what is known as the exposure triangle in photography. Aperture refers to an opening inside the lens, similar to the iris of your eye, that changes in diameter to control the amount of light that enters a camera. Aperture is expressed in f-stops: the lower the number, the larger the aperture, e.g. f/1.4 is larger than f/8. A larger (or wider) aperture allows more light to pass through the lens to the sensor (film) as a picture is taken, particularly useful in low-light conditions. A larger aperture also produces a shallower depth-of-field, and thus more background blur. maintains consistent performance throughout the zoom range. This fast aperture also benefits shooting in difficult lighting conditions. The lens design is surrounded by a familiar control ring that offers intuitive control over settings, and a large 3.0 inch tilting touchscreen LCD provides a natural means for composing imagery from a variety of shooting angles. Additionally, the G7 X Mark II also features built-in Wi-Fi with NFC for wireless sharing of imagery to smartphones or tablets, as well as remote camera control from linked mobile devices.
20.1MP 1" CMOS Sensor & DIGIC 7 Image Processor
The Canon PowerShot G7 X Mark II utilises a high resolution 20.1 Megapixel sensor and DIGIC 7 processor combination to deliver notable image quality in the compact camera range. Back-Illuminated CMOS technology enables the sensor to further enhance colour accuracy, tonality and produce low-noise imagery even in dim lighting conditions with an expanded sensitivity up to ISO 25600. The G7 X Mark II is capable of an impressive continuous shooting rate of up to 8 frames per second and can achieve this in JPEG as well as RAW formats. In addition, the DIGIC 7 processor avails the ability to record Full HD 1080p60 video in the MP4 format and with stereo sound.
Fast Focus & Intelligent Image Stabiliser
DIGIC 7 processor technology delivers fast auto focus and focus tracking speed allowing you to maintain sharp focus on moving subject, even in difficult lighting conditions and low contrastCONTRASTThe difference between areas of different brightness levels in a photograph: A high-contrast image has a greater difference between light and dark areas, whereas a low-contrast image has a narrow range of tones. Contrast is used to direct a viewer's attention to a photographer's subject either with colour contrast (bold versus duller colours) or tonal contrast (bright versus darker tones). situations. Helping you to capture sharp, blur-free, images is a powerful Dual Sensing Image Stabiliser system that intelligently detects camera shake and stabilises the captured image.
The Intelligent IS image stabilisation system minimises the appearance of camera shake for a variety of shooting scenarios:
Normal IS: Corrects for a wide variety of camera movement types when shooting stills.

Panning IS: Intended for use when making tracking shots, this setting ensures that IS will not interfere with desired lateral camera movements.

MacroMACROProducing photographs that render extreme close-ups of extremely small subjects like insects, hence its popularity among nature photographers. It requires using a macro lens with a large reproduction (magnification) ratio of at least 1:1, which renders a subject larger than life size. Macro lenses are capable of focussing at extremely short distances (some as little as a few centimetres), allowing the photographer to get very close to the subject. (Hybrid) IS: Used for both stills and video recording, this setting corrects for shift-type camera shake that is common when photographing close-up subjects. It also compensates for motion blur associated with recording video while walking.

Tripod: Image stabilisation is deactivated when shooting stills atop a tripod.

Dynamic IS: This setting is effective when recording video using wider focal lengths and simultaneously walking or moving.

Powered IS: Ideally suited for shooting video with telephoto focal lengths, this mode compensates for the camera movements that become more apparent with greater zoom magnifications.

Active Tripod IS: Unlike the stills tripod mode, this video-specific tripod mode compensates for slight amounts of shake that can be caused when recording movies from a tripod.

Sleek & Clever Body Design
The Canon PowerShot G7 X Mark II sports a sleek and compact design with a large 3-inch touchscreen LCD with a high 1.04-million-dot resolution for an ultra clear view of your subject. The touchscreen is tilt-able to 180º upward and 45º downward, which aids in shooting from a variety of interesting camera angles.
The lens is surrounded by a manual control ring designed for intuitive control over pre-selected exposureEXPOSUREExposure is controlled by three elements: Aperture, Shutter Speed and ISO. Achieving the correct exposure is similar to collecting rain in a bucket, up to an optimum level. The rate of rainfall is out of your control (light), yet you can control these three factors: the bucket's width (lens aperture), the duration you leave it in the rain (shutter speed), and how effective your bucket is in collecting rain (ISO). These three elements work together to control the amount of light per unit area, preventing underexposure (too dark) or overexposure (too bright), giving you a natural looking image. functions. The control ring can be operated in one of two modes: with clicked intervals for tactile recognition of setting changes, or without clicks for a smooth and quiet transitions between adjustments.
The PowerShot G7 X Mark II now features built-in Wi-Fi and NFC connectivity, allowing you to wirelessly share your images or movies to any compatible mobile device with ease. The camera can be linked up to a smartphone or tablet and can be remote controlled using the Canon Camera Connect app.
Megapixels
20.1 Megapixels
Sensor Size Type
1-inch Type
Sensor actual Size
8.8 x 13.2mm
Sensor Type
Back-Illuminated CMOS
ISO Range
Auto, 125-6400 (Extended Mode: 125-25600)
Focus Points
AiAF (31-point, Face Detection or Touch AF with Object and Face Select and Track), 1-point AF (any position is available or fixed centre)
Fastest Shutter Speed
1/2000 sec
Longest Shutter Speed
15 sec, Bulb Mode
Flash Sync Speed
1/2000 sec
Video
1920 x 1080p: 59.94 fps, 29.97 fps, 23.98 fps
1280 x 720p: 29.97 fps
640 x 480p: 29.97 fps
File Formats
Still Images: JPEG, RAW
Movies: MP4, MPEG-4 AVC/H.264
Audio: AAC LC
Built-in Flash
Yes
Wide: 0.5 - 7 m
Telephoto: 0.4 - 4 m
Built-in Lens Focal Length
8.8 – 36.8 mm (35 mm equivalent: 24 – 100 mm)
Built-in Lens Maximum Aperture
f/1.8-2.8
Built-in Lens Minimum Aperture
Not Specified
Weather Sealing
Moderate Weather Sealing
If you want to know more about this product, we know that you'll love these articles: