Canon PowerShot D30 Waterproof Compact Camera (Blue)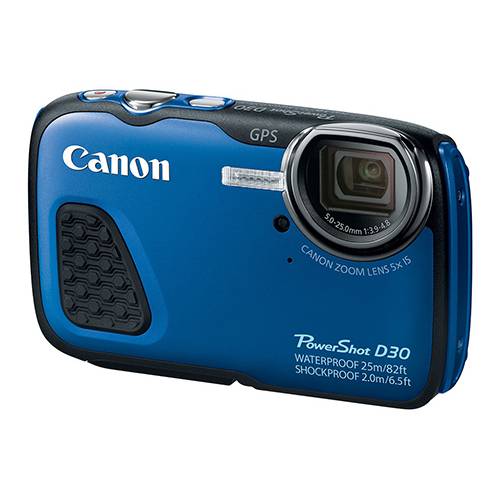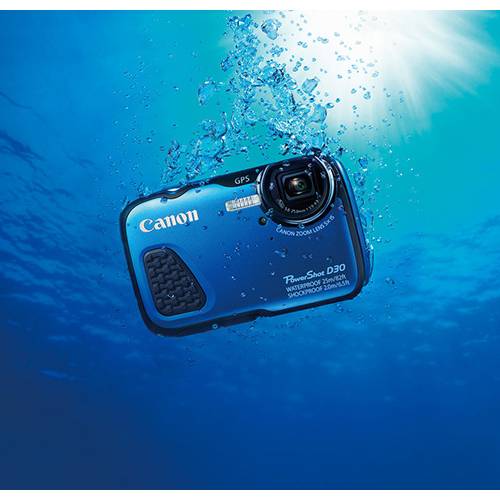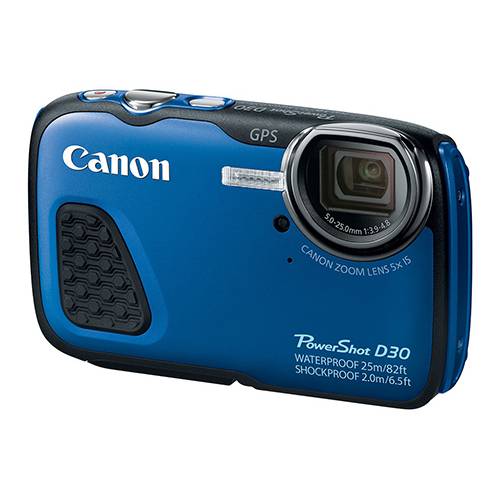 R
4,135.00
Awaiting Stock
Talk to one of our friendly and knowledgable consultants
about this product. Call us on +27 12 348 3693 or
click to chat with one of our online consultants
Recommended Accessories
Enjoy advanced underwater performance down to 25 m with the tough and reliable PowerShot D30. Ideal for every outdoor adventure it features HS System for superb shots and GPS to track the thrills.
This compact and tough digital camera offers leading waterproof performance that lets you shoot underwater down to 25 m. Constructed for harsh conditions, the PowerShot D30 is also shockproof to drops from up to 2 m¹, freezeproof for using it in temperatures as low as -10 °C and is fully protected from dust – so it's ideal for the most extreme outdoor activities, from snowboarding to SCUBA diving. It's also 'childproof' and can withstand the rough handling that children might subject it to on family adventures.
Superb underwater shots
Capture great shots under any light with HS System - an exclusive combination of a high-sensitivity 12.1 MegapixelPIXELThe shortening of 'picture element', a basic unit of programmable colour forming the dots that make up an image. Pixel size depends on a camera's resolution, which is measured in megapixels (MP), meaning millions of pixels. The more pixels on a sensor, the smaller they have to be to fit. An image's number (or density) of pixels correlate to the amount of information and image holds. Cameras with more pixels on the sensor have a higher pixel density and thus more resolving power, able to capture smaller details with much more clarity and accuracy. Higher resolution images can be cropped more agressively and also produce better quality large prints. CMOS sensor and a powerful DIGIC 4 processor. HS System excels in low light – typical of underwater environments - while Underwater mode and Custom White Balance allow you to quickly adjust to the natural colours at depth, so it's easier to capture the real aquatic atmosphere. Use Underwater MacroMACROProducing photographs that render extreme close-ups of extremely small subjects like insects, hence its popularity among nature photographers. It requires using a macro lens with a large reproduction (magnification) ratio of at least 1:1, which renders a subject larger than life size. Macro lenses are capable of focussing at extremely short distances (some as little as a few centimetres), allowing the photographer to get very close to the subject. for sharp, clear close ups of marine life.
7.5 cm (3.0") PureColor II LCD with Sunlight mode
Enjoy excellent visibility whether you're in bright sunshine or underwater using the large 460k dot LCD screen. For enhanced clarity in very bright conditions, Sunlight Mode activates a stronger LED backlight for maximum brightness. Active display with Tap Control offers comfortable reviewing of images even when wearing gloves.
GPS
GPS tags the location of your photos and videos while the Logger function keeps track of your journey. Use the Map Utility software to pinpoint shooting locations and to share them with friends.
28mm, 5x optical zoom; Intelligent IS
Shoot panoramic landscapes and great group shots with 28mm wide-angle and use the 5x optical zoom to get closer. Intelligent IS keeps photos and videos sharp and detailed even on the move, at full zoom or in low light, automatically adjusting the optical Image Stabilizer to the scene from 7 modes.
Camera
Megapixels
12.1 megapixels
Sensor Size Type
1/2.3" type
Sensor Type
Back-illuminated CMOS
Framerate
Up to 1.9 fps
ISO Range
Auto, 100-3200 ISO
Focus Points
9
Lens Mount
Built-in
Memory
SD / SDHC/ SDXC
Fastest Shutter Speed
1/1600 sec
Longest Shutter Speed
15 sec
Flash Sync Speed
1/1600 sec
Processor
DIGIC 4 with iSAPS technology
Video
1920 x 1080: 24 fps / 1280 x 720: 30 fps
File Formats
JPEG, MOV [Video:MPEG-4 AVC / H.264, Audio: Linear PCM (monaural)]
Built-in Flash
Yes, [Wide:] 30cm – 3.5m / [Telephoto:] 1.0m – 3.0m
Built-in Lens Focal Length
5.0 – 25.0mm (35mm equivalent: 28 – 140mm)
Built-in Lens Maximum Aperture
f/3.9 - f/4.8
Weather Sealing
Waterproof to 25m and Shockproof to 2m
If you want to know more about this product, we know that you'll love these articles: