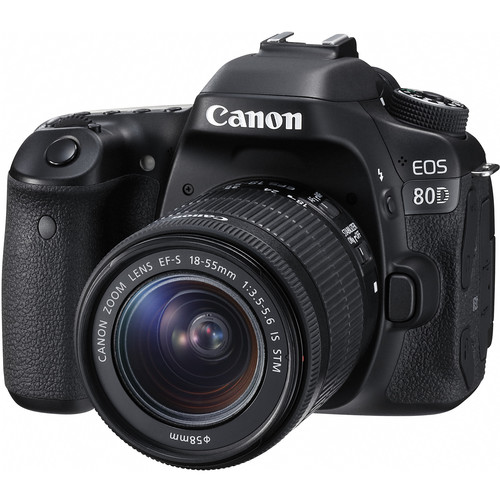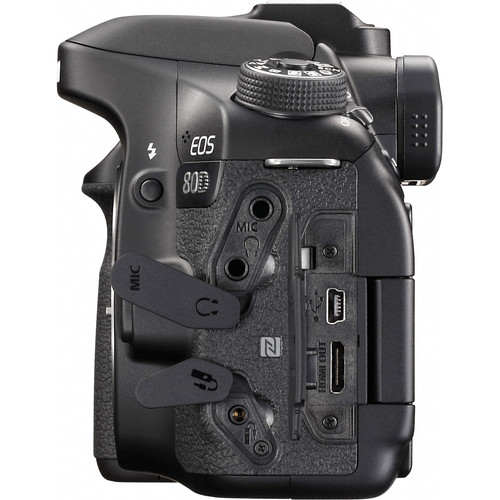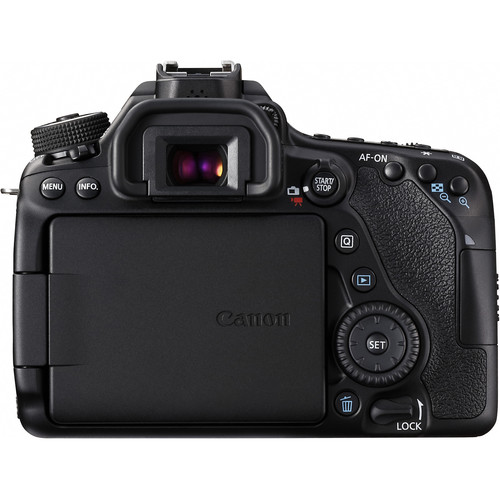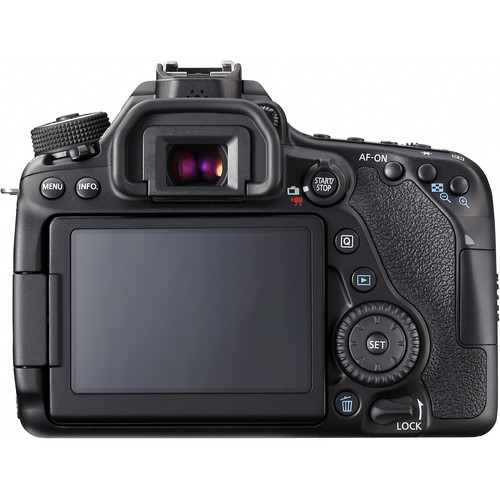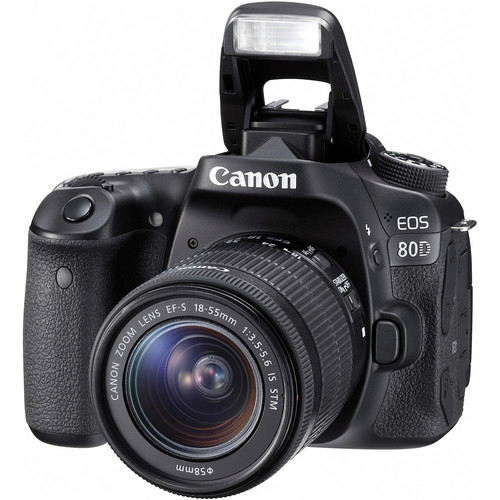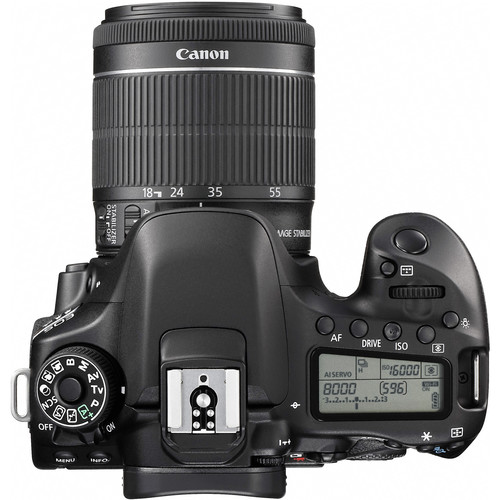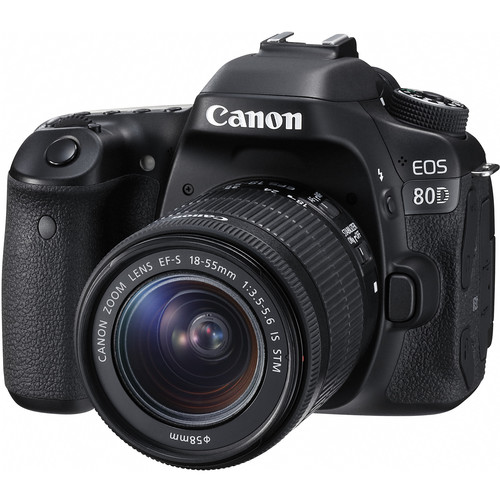 The Canon EOS 80D DSLR Camera features an impressive 45-point all cross-type AF system that provides high-speed, precise AF in virtually any kind of light. To help ensure photographers don't miss their shot, an Intelligent Viewfinder with +- 100% coverage provides a clear view and comprehensive image data. Improvements like a powerful 24.2 megapixel (APS-C) CMOS sensor and Dual Pixel CMOS AF for Live View shooting enhances performance across the board. Complementing advanced operation are built-in wireless connectivity and Full HD 60p movies that can be saved as MP4s for easy sharing. Merging power, precision and operability, the Canon 80D is a dynamic DSLR camera for anyone ready to realise their creative vision.

R
18,295.00
Awaiting Stock

Free Delivery in SA
on orders over R1000
Recommended Accessories
Who Is This Camera For?
Advanced amateur photographers with a budget for good-quality mid-range gear with features that compete with some high-end models.

Professional and hobbyist sports and wildlife photographers who value strength, weather-resistance and durability
Videographers: Full HD 1080 video recording at 60 fps and a movable flip screen that is easy to see even in bright sunlight.
A Clear Step Above Entry-Level Bodies
Tell me more about the lens?
The lens a high-quality, standard zoom lensZOOM LENSAllows a camera to, unlike a fixed-focal length or prime lens, change smoothly from a long shot to a close-up or vice versa by varying the focal length. A true zoom lens, also called a parfocal lens, is one that maintains focus when its focal length changes. Due to more moving parts, zoom lenses often produce images of slightly lesser quality than their prime lens counterparts. However due to the inherent flexibility of being able to vary the focal length, they are extremely popular for photography where composition needs to be adapted quickly - such as at weddings, for example. that's ideal for everyday shooting. It covers a useful 18-55mm focal range that captures everything from stunning landscapes to beautiful portraits with smooth background blurring as well as fast paced action. It is easy to carry wherever you travel, as the lens features a compact, lightweight body with stylish aluminium exterior and an EF-M mount to match your EOS M.
Smooth, quiet STM focusing in movies

Dynamic IS for smooth movies

Pin sharp images with four-stop Image Stabiliser

Fast autofocus in stills, full time manual override
Tell more more about the camera!
Features
24.2 megapixelPIXELThe shortening of 'picture element', a basic unit of programmable colour forming the dots that make up an image. Pixel size depends on a camera's resolution, which is measured in megapixels (MP), meaning millions of pixels. The more pixels on a sensor, the smaller they have to be to fit. An image's number (or density) of pixels correlate to the amount of information and image holds. Cameras with more pixels on the sensor have a higher pixel density and thus more resolving power, able to capture smaller details with much more clarity and accuracy. Higher resolution images can be cropped more agressively and also produce better quality large prints. APS-C CMOS sensor

DIGIC 6 image processor

3.0" 1.04m-dot vari-angle touchscreen

Full HD 1080p video recording at 60 fps

45-point all cross-type AF system

Dual pixel CMOS AF

Expanded ISO ISO Exposure is controlled by three elements: Aperture, Shutter Speed and ISO. The ISO speed determines how sensitive a camera's sensor is to incoming light. A higher ISO speed absorbs more light, resulting in a brighter exposure, however, a higher ISO also results in more digital noise in low-light conditions. Cameras with larger sensors (like full-frame cameras) typically have higher ISO speed capability and produce less digital noise at high ISO settings. Digital cameras include a control for adjusting ISO speed, some of which can be set to adjust automatically in combination with certain other exposure settings. ISO is indicated in numbers usually starting at 100 and going upward (200, 400, 800, 1600 etc.) doubling in sensitivity each time. Most cameras also indicate 3rd stop intervals (100, 125, 180, 200 etc.)25600, up to 7 fps shooting

Built-in Wi-Fi with NFC

RGB+IR 7560-pixel metering sensor
Flash sync up to 1/250th sec


45-Point all Cross-Type Auto Focus System

For next-level AF operation, the EOS 80D camera has a wide-area, 45-point, all cross-type AF system. Excellent in dim light, it has improved low luminance performance to EV -3 and is compatible with most EF lenses (lenses with maximum apertureAPERTUREAperture, shutter speed and ISO form what is known as the exposure triangle in photography. Aperture refers to an opening inside the lens, similar to the iris of your eye, that changes in diameter to control the amount of light that enters a camera. Aperture is expressed in f-stops: the lower the number, the larger the aperture, e.g. f/1.4 is larger than f/8. A larger (or wider) aperture allows more light to pass through the lens to the sensor (film) as a picture is taken, particularly useful in low-light conditions. A larger aperture also produces a shallower depth-of-field, and thus more background blur.s of f/8 or higher, and some lenses with extenders attached may operate at a maximum of 27 points). It also features 4 types of AF area selection modes useful for a number of different AF situations. These include user-selectable Single-point AF, Zone AF, where users can select from one of 9 predefined AF zones; Large Zone AF, where one of three zones can be selected; and 45-point AF auto selection, where the camera detects the AF point automatically.
Viewfinder with 100% Field of View
Providing a bright and comprehensive view, the Canon EOS 80D camera's Intelligent Viewfinder helps bring the thrill of SLR photography with each use. Approximately 100% coverage means there's virtually no guesswork when it comes to composition, and with all settings available at a glance, the Intelligent Viewfinder helps photographers keep their eye on their subject so the image can be captured at the right instant. The Intelligent Viewfinder displays AF points and AF mode, has a grid display, a horizontal electronic level, plus numerous other points of information, all of which can be hidden for manual focus, or if the photographer simply wants to observe his/her subject without all the image parameters displayed.
24.2 Megapixel CMOS Sensor
The Canon 80D DSLR Camera features a newly developed 24.2 megapixel (APS-C) CMOS sensor that not only captures high-resolution images, but also features refined individual pixels that enable high ISO speeds of 16000 for still photographs (expandable to 25600) and 12800 for movies (expandable to 16000, 25600). Equipped with high resolution and high sensitivity, the EOS 80D's sensor works with the camera's DIGIC 6 Image Processor to enable Dual Pixel CMOS AF during Live View operation, and while capturing both Full HD 60 fps movies and Full HD HDR movies.
Improved Dual Pixel CMOS for Ultra-Fast focus During Video Shooting
The Canon 80D DSLR Camera features Canon's improved Dual Pixel CMOS AF for fast and smooth AF during Live View and movie shooting. Boasting enhanced speed, smoother tracking and compatibility with all EF and EF-S lenses, the Dual Pixel CMOS AF system excels, providing stellar AF and tracking even in difficult shooting conditions. This Canon technology is made possible by placing two photodiodes per pixel, instead of one, and enabling each pixel to perform phase-difference detection autofocus. This means fast, accurate AF and virtually no loss in image quality with extended coverage across approximately 80% of the image plane.
The benefits of Dual Pixel CMOS AF are clearly evident in video shooting, where bringing scenes and subjects into focus is a critical element of the final composition. On the EOS 80D, Dual Pixel CMOS AF helps ensure focus is achieved naturally and precisely, even when switching between subjects. Combined with the predictive power of Movie Servo AF, subjects in motion are smoothly and consistently tracked – once focus is locked, it virtually doesn't let go.
Built-in Wi-Fi & NFC for Superior Connectivity
The Canon EOS 80D camera incorporates wireless technology right into its compact design. The camera's exposureEXPOSUREExposure is controlled by three elements: Aperture, Shutter Speed and ISO. Achieving the correct exposure is similar to collecting rain in a bucket, up to an optimum level. The rate of rainfall is out of your control (light), yet you can control these three factors: the bucket's width (lens aperture), the duration you leave it in the rain (shutter speed), and how effective your bucket is in collecting rain (ISO). These three elements work together to control the amount of light per unit area, preventing underexposure (too dark) or overexposure (too bright), giving you a natural looking image. settings, such as aperture, shutter speedSHUTTER SPEEDAperture, shutter speed and ISO form what is known as the exposure triangle in photography. Shutter speed is the length of time that a single frame is exposed for, more specifically how fast the shutter opens and closes to permit light entering the lens, to reach the sensor. A slow shutter speed means a longer exposure time useful for motion blur like the silky look of flowing water, whereas a fast shutter speed means a shorter exposure time useful for freezing the appearance of motion in images like a hummingbird in flight. It is measured in seconds starting at 1 second and halving our doubling in time. For example: 1/2s, 1/4s and 1/8s are all fractions of a second with 1/2s being the longest exposure time, 1/4s half of that and 1/8s another half etc., ISO, focus and shutter can be operated wirelessly using a compatible iOS® or Android™ smartphone with the free Canon Camera Connect app. Using a compatible smartphone with the Camera Connect app installed, you can shoot remotely from a distance, even in Live View mode, for those difficult-to-capture shots; you can also review images on the EOS 80D without having to take it out of the bag, and easily transfer and save images directly from the camera to a smartphone. Full DLNA (Digital Living Network Alliance) compatibility means easy sharing between the Canon EOS 80D and other DLNA products, like HDTVs, smartphones and more. Still images can even be transferred between two wireless-enabled Canon cameras over a Local Area Network (LAN). Images and video can be uploaded instantly to the CANON iMAGE GATEWAY for easy sharing on social networking sites, and photos can even be printed on a wireless PictBridge-certified printer without the need for a PC. Remarkably, the EOS 80D has all of these wireless features without the need for any additional accessories; they're built right in!
Built-in NFC (Near Field Communication) helps provide a virtually seamless connection to numerous compatible Android™ smartphones, and the Canon Connect Station CS100. To transfer your photos and videos, simply tap the EOS 80D camera to the Connect Station CS100 and the transfer is done! With the Connect Station CS100, you can store, view and organise all of your photos and videos from just one device.
Smooth as Silk for Recording Video
The Canon 80D camera makes it easy to capture and share high-definition, high-quality movies quickly, easily and with virtually no compromise. In bright daylight or at dusk, whatever the speed of the action, the EOS 80D can help make sharp, beautifully exposed movies that are as easy to share as they are to capture. The camera's Dual Pixel CMOS AF system focuses fast, and Movie Servo AF tracking helps maintain focus even when the action gets going. The Vari-angle Touch Screen monitor also makes it easy to compose from most any vantage point, while Creative Filters and a clever Video Snapshot feature encourage experimentation. The ability to record movies as both MOV and MP4 files makes sharing fast and easy. Manual volume recording control, digital zooming and a headphone terminal add to the EOS 80D's impressive collection of high-end moviemaking features.
HDR Movie
The EOS 80D camera introduces a number of new HDR (High Dynamic Range) modes that offer a great range of highlight and shadow detail for naturally rendered images, especially in contrastCONTRASTThe difference between areas of different brightness levels in a photograph: A high-contrast image has a greater difference between light and dark areas, whereas a low-contrast image has a narrow range of tones. Contrast is used to direct a viewer's attention to a photographer's subject either with colour contrast (bold versus duller colours) or tonal contrast (bright versus darker tones). ing lighting. In HDR Movie mode, the Canon 80D captures two HD movie frames at different exposures, one standard and one underexposed, in short succession at up to 60 fps, then combines them together for playback at up to 30 fps. HDR effects for still photography include Natural, Art standard, Art bold, Art vivid and Art embossed.
Vari-Angle Touch screen LCD
The EOS 80D camera comes with a Vari-angle Touch Screen 3-inch Clear View LCD monitor II for shooting videos and stills at a variety of angles, high or low, with up to 270° of vertical rotation and up to 175° of horizontal rotation. Whether shooting with a tripod or handheld, the EOS 80D's LCD excels in moviemaking at virtually any number of angles and positions, making it easy to create great movies of athletes on the field, kids in the park, documentary interviews and more. The screen is touch-sensitive, delivering intuitive touch panel operation. Two-finger touch gestures can be used for zooming or changing images. Menu and quick control settings can be accessed, and focus point and shutter release can be activated with the touch of a fingertip using Touch AF. Displaying fine detail (at approximately 1.04 million dots), this screen can be ideal for composing and reviewing images. The LCD's surface is also treated with a smudge-resistant coating to help minimise fingerprints and maintain a bright, clear image display, even in bright light.
DIGIC 6 Image Processor
The EOS 80D camera is equipped with Canon's DIGIC 6 Image Processor, which helps provide excellent image quality and processing speed in both photos and video. High light sensitivity allows for high resolution with less noiseNOISEThe appearance of random pixels scattered over a photo, similar to the grain effect seen in film photography, which degrades photo quality almost as if it is stained. It occurs when taking photos in low-light conditions, with very slow shutter speeds on high sensitivity (ISO) settings. It is caused by amplification done by the sensor when high ISO settings are used. You can counteract digital noise by lowering the sensitivity (ISO) setting of your camera - the lower the ISO setting, the lower the noise in the image. Typically cameras with larger sensors (like full-frame cameras) will inherently produce less noise due to larger pixels on the sensor. when shooting in dark conditions at ISO 12800. The DIGIC 6 Image Processor also powers the camera's performance capabilities, providing full resolution high-speed continuous still shooting and distortion correction in-camera. Video recording in MP4 format provides seamless compatibility with mobile devices and tablets. Highly compressed MP4 video not only preserves space on your memory card but also improves playback on mobile devices. Recording HD videos using HDR movie feature is possible, expanding creative possibilities.
Amazing Low-Light Performance with a Native ISO Range of 100-16000
Thanks to its DIGIC 6 Image Processor and its remarkable noise-reduction technology, the Canon 80D DSLR camera features a wide ISO range of ISO 100–16000 (expandable to 25600) for stills and ISO 100–12800 (expandable to 16000/25600) for movies, performing brilliantly in low-light shooting even without a flash. Used with one of Canon's EF or EF-S lenses with Optical Image Stabiliser, the EOS 80D can record beautiful images even when light sources are scarce.
7560-Pixel RGB+IR Metering Sensor
Among the advanced electronics onboard the EOS 80D camera, a fine-tuned RGB+IR metering sensor not only helps ensure accurate exposure, but also uses Colour Tracking to detect skin colour and help provide precise AF. This is particularly useful when establishing focus for portraits in situations where other AF systems may falter. When a skin tone is detected, AI Servo AF starts off on skin-coloured points, then tracks the subject based of the original AF point's color information, maintaining focus on the person even when they're in motion.
Speed for Nearly any Action Situation with 7 fps
Capable of shooting up to 7 fps during continuous shooting, the Canon EOS 80D is an amazing camera for quick action. Canon's remarkable shutter, combined with speedy, sophisticated electronics, helps ensure virtually instant response and performance. A rapidly occurring scene can be captured moment by moment, second by second, so that even brief opportunities are captured in crisp clarity.
Megapixels
24.2 megapixel
Sensor actual Size
22.5 x 15 mm
ISO Range
Auto, 100-16000 (Extended Mode: 100-25600)
Focus Points
45 cross-type focus points
Lens Mount
Canon EF-S mount
Fastest Shutter Speed
1/8000 sec
Longest Shutter Speed
30 sec, Bulb Mode
Flash Sync Speed
1/250 sec
Video
High Definition MOV
1920 x 1080p / 29.97 fps (90 Mbps) / 23.98 fps (90 Mbps)
----
High Definition MP4
1920 x 1080p / 59.94 fps (60 Mbps) / 29.97 fps (30 Mbps) / 29.97 fps (12 Mbps)
/ 23.98 fps (30 Mbps)
1280 x 720p / 59.94 fps (26 Mbps) / 29.97 fps (4 Mbps)
File Formats
Still Images: JPEG, RAW
Movies: MOV, MP4, MPEG-4 AVC/H.264
Audio: AAC, Linear PCM (Stereo)
Built-in Flash
Yes, guide number 12m @ ISO100
Weather Sealing
Moderate weather sealing
Maximum Aperture
f/3.5-f/5.6
Minimum Aperture
f/22-f/38
Barrel Type
Plastic barrel
Full Time Manual Focus
Yes
Minimum Focus Distance
25cm
What's in the box?
Canon EOS 80D DSLR Camera (Body Only)

LP-E6N Lithium-Ion Battery Pack (7.2V, 1865mAh)

LC-E6 Charger for LP-E6 Battery Pack

Hahnel HL-E6

EW-EOS80D Wide Camera Strap

Eyecup Eb

RF-3 Body Cap for Canon EOS Cameras

Canon EF-S 18-55mm f/3.5-5.6 IS STM Lens

If you want to know more about this product, we know that you'll love these articles: