King of the jungle (or should we rather say the Savanna?). Lions are majestic creatures and captivate many with their fierce power, pride and thrilling roar. We might think that lions are abundant because we often find them in large prides when visiting national parks, but in the gripping documentary The Last Lions by award-winning Dereck and Beverly Joubert, they educate us on just how precious our beloved lions really are. 
"From the lush wetlands of Botswana's Okavango Delta comes the suspense-filled tale of a determined lioness ready to try anything — and willing to risk everything — to keep her family alive. In the new wildlife adventure, The Last Lions, filmmakers Dereck and Beverly Joubert follow the epic journey of a lioness named Ma di Tau ("Mother of Lions") as she battles to protect her cubs against a daunting onslaught of enemies in order to ensure their survival. The gripping real-life saga of Ma di Tau, her cubs, the buffalo, and the rival pride unfolds inside a stark reality: Lions are vanishing from the wild. In the last 50 years, lion populations have plummeted from 450,000 to as few as 20,000."
To celebrate these magnificent predators, we have asked Gerhard Steenkamp to share with us a few of his favourite lion photographs and believe me, he delivered on those! For these, he used the Nikon D4 with a 600mm f/4 lens.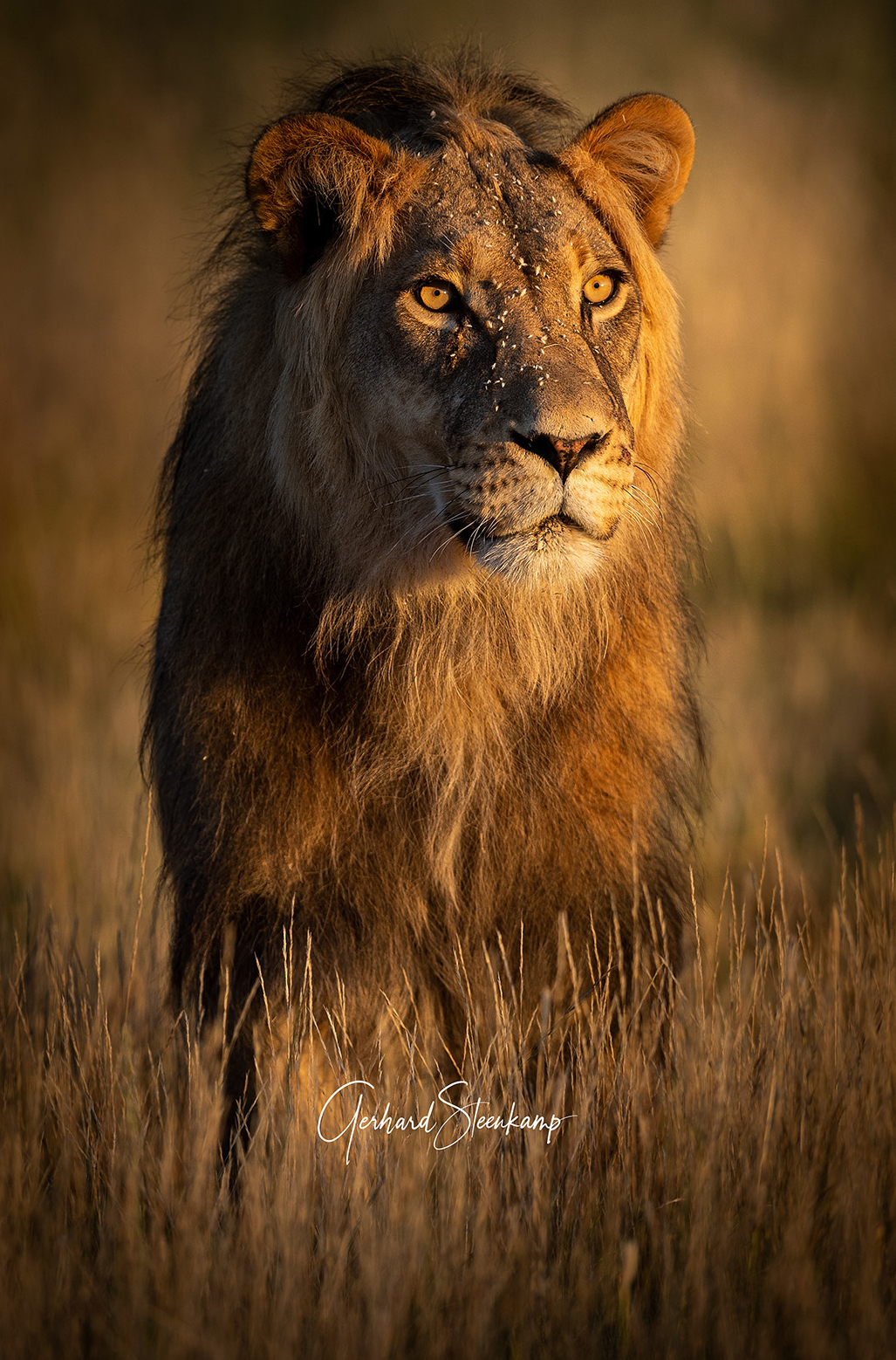 1/2000 sec,  f/5.6, 1100 ISO
1/2000 sec, f/5.6, 4000 ISO
There is nothing more exciting than heading out early for the golden hour and finding the Kalahari King's mane highlighted by the morning sun. It also does wonders for accentuating those deep yellow eyes. In March 2021, Gerhard took this photo (on the left ) just after sunrise at Kij Kij waterhole in the Kgalagadi. This particular location is well known for lion activity and even lion cub sightings as the dune road enters the riverbed at this spot. This makes photographic opportunities abundant! The quality is phenomenal too as large open areas make for the perfect bokeh background that is blurred to a soft dark yellow making your subject stand out even more.
On the right, we have the perfect example of why everybody loves a first light photo: rays of sunlight kissing the face of one of the Rooiputs males as he makes his way through the three-thorn bushes. Gerhard pushed his ISO to 4000 to make sure that the lion and his surroundings are exposed. Most wildlife photographers use large telephoto lenses to cover the distance between themselves and the subject. Here again, Gerhard relies on the Nikon 600mm f/4 lens.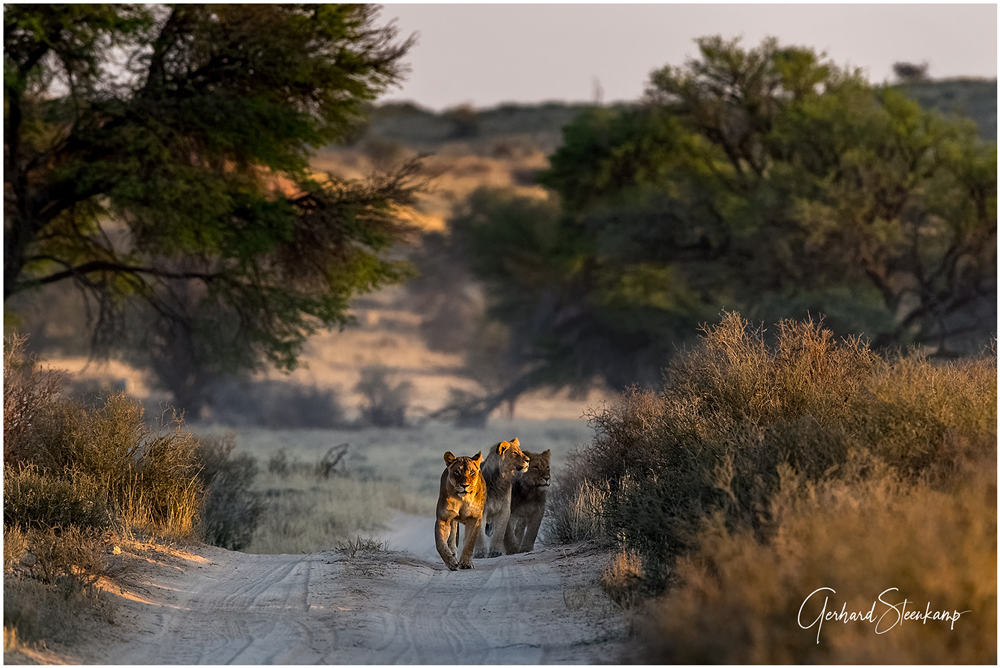 1/1250 sec, f/5.6, 1600 ISO
If you want a true lion experience, then I would recommend camping at Rooiputs in the Kgalagadi National Transfrontier Park. It is only 23km from the entrance gate – no ablutions and no fences!
The perks are that you get ahead of the main gate's incoming traffic and see and experience wildlife as it is. Having lions roaring through the night and the possibility of finding them the next morning is exhilarating, but even better is the chance of finding a lion walking towards you! In the above photograph, Gerhard found these lions in the road just outside of the Rooiputs camp early morning in October 2018. The morning light during the summer months tends to get harsh and bright fairly quickly, so utilising that time is essential.
Getting closer for more action shots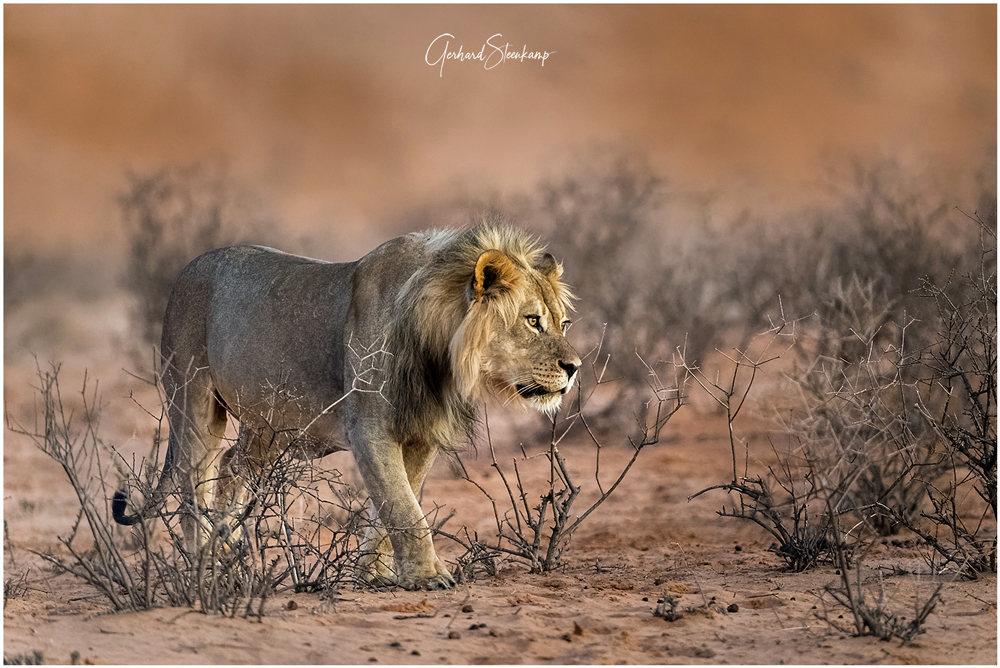 1/250 sec, f/4,  4000 ISO
Africa is not for the faint of heart! But, if you prefer Rooiput also has a lodge that is situated on the dunes. It takes photographic opportunities to another level with guided game drives and photographic safaris. This beautiful blonde male lion was photographed by Gerhard Steenkamp just before sunrise at the lodge. His settings are yet again perfect for the light conditions with ISO pushed to 4000 and f/4 to let in as much light as possible while keeping that shutter speed high enough to freeze the moving lion.
Lions showing their muscle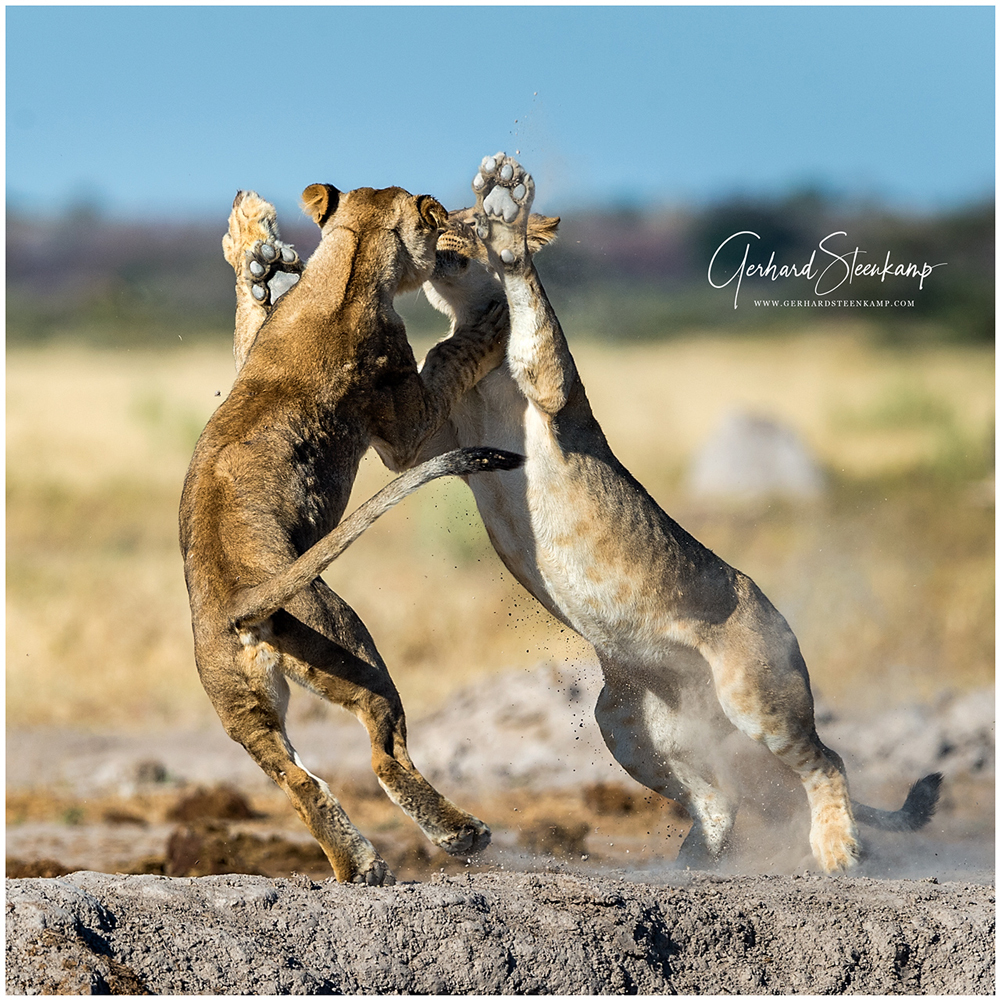 1/2500 sec, f/5.6, 400 ISO Nxai Pans in Botswana, June 2016