Professionele fotograaf en safari gids
– Villiers Steyn van Vision Photography in die Laeveld –
maak ons lyn wys.
Vleiende lyne
Vergeet van jou daaglikse probleme en vind avontuur in lyne. Ja, konsentreer op die lyne, want as jy húlle reg plaas sal jou foto's meer treffend wees as ooit tevore.
Orals om ons is lyne. Ons sien hul in parallelle paaie, die gekurwe randte van geboue, meanderende riviere, kronkelende berge en selfs die uitgestrekte horison. Elkeen van hierdie lyne het die potensiaal om die komposisie van jou foto te versterk mits jy dit reg plaas binne-in die "fotoraam".
Beklemtoon die kurwes
Sagte S-kurwes is van die mooiste lyne om af te neem. Hierdie lyne is waarookal jy gaan of dit nou jou swembad se sagte rand of die pragtige tweespoorkronkelpad in the bosveld is. Probeer die lyne só afneem dat hulle in die hoeke van die foto anker. In die geval van 'n tweespoorpad moet jy die wielspore naaste aan jou in die onderste twee hoeke anker om die illusie te skep asof die kyker self die pad afstap. Effektief lei jy die kyker na die "binnerkant van die foto".
Van een hoek na die ander
Diagonale lyne lyk gewoonlik mooier as reguit lyne wat bloot van links na regs of van bo na onder loop. Wees bedag hierop terwyl jy na foto geleenthede in jou omgewing of op reis soek. Dit kan iets so eenvoudig soos 'n boomtak in jou tuin wees, of selfs iets meer dramaties soos die helling van 'n berg of sandduin op Namibië se agterpaaie. Die geheim is om die lyne só vas te vang dat dit vanaf die een hoek regoor die middel van die foto na die ander hoek loop en die foto in twee of meer eweredige dele verdeel om sodoende 'n gevoel van balans in die foto skep.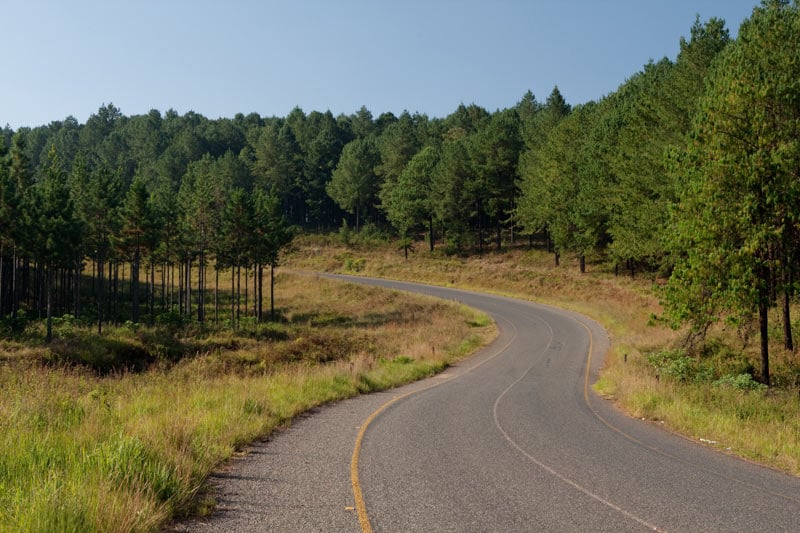 Volg Villiers se avonture: