The Rode Videomic Pro is a high-quality audio mic that's well priced and easy to use. Unlike other mics of similar quality on the market, the Rode Videomic Pros overall convenience and universal compatibility make it an appealing mic for amateurs and professionals alike.
What is the RODE Videomic Pro about?
Rode has introduced its new Videomic Pro (not to be confused with the Videomic) and with its new and improved suspension rig the Rode Videomic Pro is an innovative solution for both intermediate and advanced shooters who are looking to enhance audio control and sound clarity. Straight out the box, the Rode Videomic Pro is easy to use, easy to mount and the best part is the quality of the audio itself is mindblowing.
Who is this microphone for?
Aimed at amateurs and professionals alike the Rode Videomic Pro is reinforcing the idea that large, bulky expensive film and sound equipment are a thing of the past especially for large film and production houses. Gone are the days of large production cameras and perversely expensive sound recording equipment.
Pros and Cons
Some of the best features
Polar Pattern: The mic's super-cardioid polar pattern is highly directional, focusing on the subject in front of the camera, and minimising any surrounding sounds. The mic does a great job of picking up sound from the direction it is pointed in and rejecting sound from other directions. The quality of the sound itself is pretty impressive.
Noise filters: In addition to the microphone's native 40Hz-20kHz response a selectable high-pass filter at 80Hz is available, which will prevent low end noise such as air conditioners, wind and traffic from being recorded. The -10dB level attenuation (or PAD), selectable on the back-side of the microphone, allows recording of loud sound sources, such as live music or motorsport. The VideoMic Pro also offers a +20dB boost, which allows the camera's input sensitivity to be lowered and essentially minimise noise created by the camera's audio circuitry.
Battery Life: The Videomic Pro features a condenser element that utilizes a standard 9 Volt battery (sold separately). The mic will run for around 70 hours on a single battery so you don't need to worry about swapping out batteries too often.
Warranty: The best part is that the Rode Videomic Pro comes with the Rode 10 year warranty. You do however need to register your product online to validate your warranty.
A lacking feature
Wind Screen works only for light wind: The mic comes standard with a foam windscreen and although the windscreen does help reduce noise from low wind speeds, if you want to use this mic in relatively windy conditions, consider getting a windsock such as the Deadcat Artificial Fur Wind Shield that can reduce noise with greater wind speeds and unwanted background audio.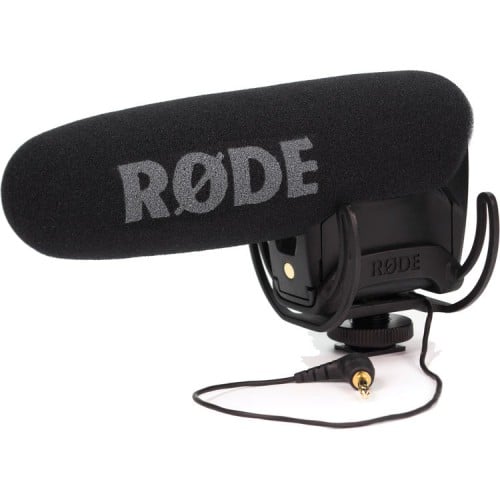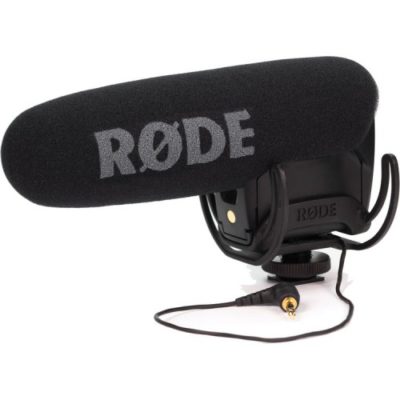 Ultra Compact and Lightweight
Broadcast-Quality Condenser Mic
Supercardioid Polar Pattern
Integrated Shock Mount and Windscreen
3-Position Level Control
2-Step High Pass Filter
Standard Camera Shoe Mount
3/8″ Threaded Mount
3.5mm Output Plug
Uses a Single 9V Battery
Rode Video Mic Pro
Limited 10-Year Warranty (upon registration of the product with RODE)
Design and build quality
The Videomic Pro is not like any other accessory shoe item, in that it has its own innovative suspension rig, which ensures camera noise doesn't vibrate up to and get recorded by the microphone. The construction of the mic is small, keeping the overall size down to a minimum.
The Rode Videomic Pro is definitely sturdy enough to take on the woes of video production and lightweight enough to not overwhelm small handheld camcorders.
The on/off switch and battery housing are easily accessible on the back of the mic. The switch has three positions — off, on and high-pass filter. Off and on positions are self-explanatory. The high-pass filter cuts out frequencies below 80Hz and helps accentuate voices.
The battery housing holds a single 9V battery. Swapping out an old battery is simple and only takes a few seconds on site, which makes life easier when shooting for long periods of time without having too much downtime. That being said, the fact that the mic uses a 9V battery is slightly problematic as this battery type is not as accessible as regular AA batteries, however, they can be found in most franchise supermarkets and the problem is thus only extremely minor. The higher voltage of this battery is required to properly power the condenser capsule this microphone works with.
Compatibility
The standard sized shoe mount on the Rode Videomic Pro fits almost any camera mount and also includes a 3/8″ thread in the base for easy mounting on a wide variety of tripods and boom poles. Ideal for almost every single make of camera provided it has a universal shoe mount that fits most camera hot shoes.
Compatible with accessories like the VMP Deadcat Artificial Fur Wind Shield, the PG1 Cold Shoe Pistol Grip, the VXLR Minijack to XLR Adaptor and the VC1 Minijack 3.5mm stereo extension cable.
Conclusion
The Rode Videomic Pro is one of the easiest ways to upgrade from an on-camera mic to a professional sounding solution without costing you an arm and a leg. The sound properties are decent and the design is multi-functional so if you're looking for a sound and audio recording solution with professional output; this mic could end up being one of your best investments.