Nikon is making significant strides in the mirrorless camera division with the introduction of its trinity f/2.8 lenses. These lenses are set to redefine the possibilities for photographers and enthusiasts alike, enabling them to cover a broad spectrum of scenarios and genres. 
The trinity is comprised of the Nikon Z 17-28mm f/2.8, Nikon Z 28-75mm f/2.8, and lastly Nikon Z 70-180mm f/2.8 lens.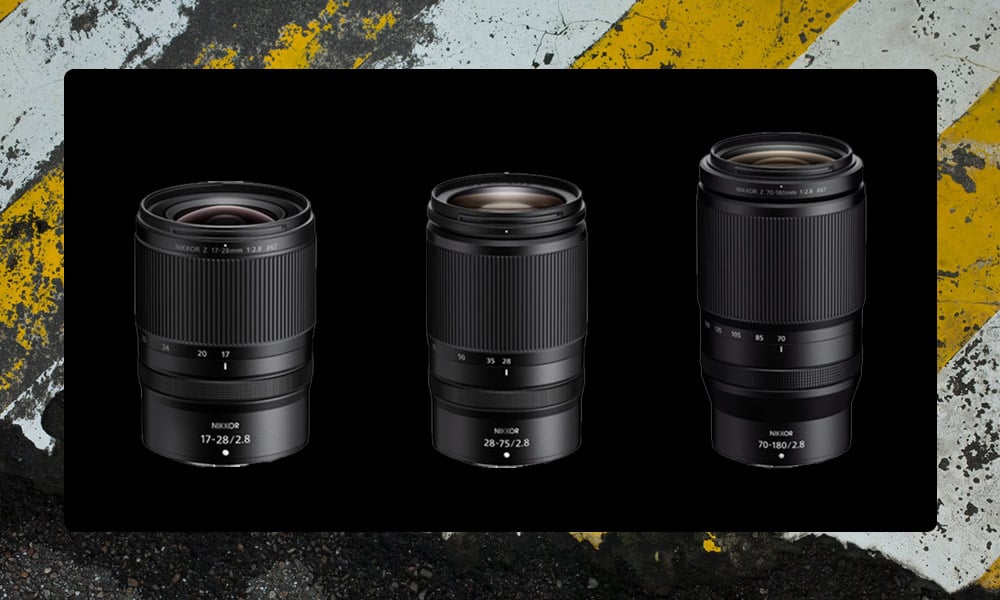 NIKKOR Z 17-28mm f/2.8 Lens
Wide versatility
The Nikon Z 17-28mm f/2.8 lens opens up a whole new world of creativity. As a full-frame camera lens, it provides an expansive field of view, allowing photographers to capture stunning landscapes, architecture, and wide-angle scenes with remarkable clarity and detail. Renowned for its minimal distortion and built-in silent wave motor for smooth video operation. 
Compact and Lightweight at 450g

Fast, precise and quiet AF system

Full-Frame | Z Mount

Well-balanced for videography
NIKKOR Z 28-75mm f/2.8 Lens
Bright and beautiful 
The Nikon Z 28-75mm f/2.8 lens is a mid-range marvel that strikes a balance between wide-angle and telephoto, making it the ideal lens for a variety of shooting scenarios. Whether you're capturing portraits, street photography, or everyday moments, this lens delivers superb results with a constant f/2.8 aperture and fast focusing system.
Compact and Lightweight at 565 g

Full Frame | Z Mount

Stepping Motor AF System

All-rounder for photo and video
NIKKOR Z 70-180mm f/2.8 Lens
More light, more reach
The latest member of the trinity range, the Nikon Z 70-180mm telephoto lens, completes the set. This lens caters to those seeking a telephoto zoom range with the convenience of a constant f/2.8 aperture. It's perfectly suited photographing subjects at a distance for instance wildlife photography. If you want to increase your apparent focal length of your lens, you can pair it with the Z Teleconverter TC-2x – you'll experience no loss in focusing or speed.
Compact and Lightweight at 795 g

Full Frame | Z Mount | Telephoto versatility

Macro-style close focusing

STM Autofocus Stepping Motor

Weather-Sealed Design
What makes these lenses unique are their constant f/2.8 aperture. This aperture setting enables photographers to unlock a world of creative possibilities. It excels in low-light conditions, producing beautifully blurred backgrounds, and delivers the speed needed to capture fast-paced action with precision and clarity.
Together, these three lenses form Nikon's trio of affordable f/2.8 zoom lenses. They offer an incredible blend of value for money, quality, and speed. The combination of affordability and exceptional optical performance makes them a compelling choice for photographers looking to elevate their work.
In summary, Nikon's trinity is set to expand the horizons of mirrorless photography. They offer photographers and creators an affordable and versatile toolset that excels in various scenarios, from wide-angle vistas to portraits and distant subjects. With their constant f/2.8 aperture, these lenses bring outstanding low-light capabilities, background blur, and speed, ensuring that every shot is a masterpiece.