Tested By Experts. Be Safe & Save.
A refurbished product has been taken out of its original packaging and returned to the manufacturer, and therefore cannot be sold as new.
Products are returned for a variety of reasons, including damaged packaging, a minor defect, buyer's remorse, or after they have been used briefly as a demo model.
All items are then thoroughly inspected, tested, cleaned, repaired if needed, and certified factory refurbished, ready to be sold at a discount.
Why refurbished products?
Every DJI Refurbished product is thoroughly tested by DJI Experts and includes DJI standard warranty. This includes:
Substantial savings for a fully functional product
The same high quality as new DJI products
Standard DJI Manufacturer Warranty guaranteed
DJI Care available for enhanced coverage
What does refurbishment entail?
Damage Assessment: In-depth inspections to identify the causes of any previous product failures.
Replacement: Replacement of damaged or defective parts including aircraft shells and sensor modules. New components are marked with new serial numbers for easy identification.
Functional testing: Tests of non-flight features including gimbal, remote controller, battery, and many others.
Flight testing: Tests of all flight systems including propulsion and video transmission.
Data processing: Firmware upgrades to the latest version, flight path information erased and aircraft deactivated.
Final checks: All visible parts checked and cleaned or replaced as necessary.
Packing and shipping: Packed with new accessories, including user manual, propellers and vibration damper.
Keep Flying with Premium Care
By purchasing from Outdoorphoto, you will receive a coverage amount equal to the market price of your aircraft for repair services within the validity period, providing you with worry-free flight.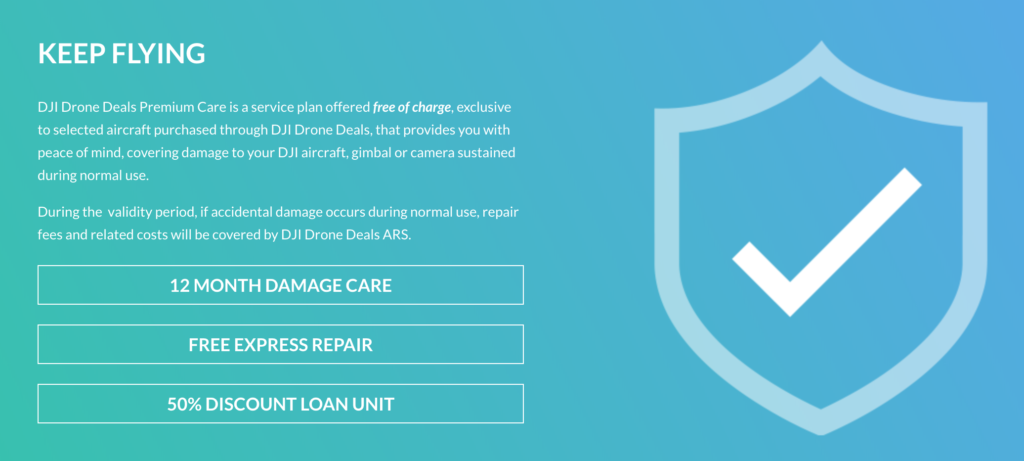 Premium Care includes a 5% charge on all repairs, so if quote to repair is R10k, the client pays only 5%.
Other benefits include an expedited repair service, and 50% discount on DJI aircraft rental while your Aircraft is under repair.
Premium Care will be terminated without notice in the following situations:
The service has expired
Your DJI product was repaired by non-official DJI repair centre
If a customer has found to have broken a product on purpose, the service will be terminated automatically.
The Premium Care service is valid for 12 months from activation of aircraft, and will automatically terminate once repair cost equals the market value of aircraft.
What's not covered?
Lost or partially lost aircraft, gimble or camera
Stolen, forgotten or abandoned product
Damage caused by flight under unsuitable conditions
Remote controller
Abrasions or shell damage that does not affect the performance of the product
Direct or indirect losses caused by force majeure
Repair requests outside of the period of validity
Damage resulting from modifications that are not in accordance with manual recommendations, or the use of incompatible batteries and charger
Damage resulting from 3rd party accessories
Flying aircraft in Sport Mode will automatically void your Premium Care.