Tell us a bit more about yourself and your life growing up.
When I was younger I was always a busy body playing outside and making up imaginary friends and places, living in my own little creative world filled with fantasy and dreams. I always found something to entertain myself with. I was fascinated by my mom and dad always with a video camera or still camera in hand capturing special memories. This inspired and instilled an appreciation of what can be captured and treasured through photography. I grew up as an imaginative child and believe this set the path and passion for my conceptual work.
When did your art journey start?
I started taking photos of family and friends' social events at the age of 13 and haven't stopped since. My official studies commenced in 2018 with DPC Photography Courses. During this time I attended different photography workshops and assisted different photographers from weddings, advertising to Conceptual. I still assist and collaborate with different photographers and videographers, it's a never-ending learning journey.
Tell us about the process of creating an art piece and which gear do you use?
The process consists of me creating a look and feel board. Every detail such as location, wardrobe, colour, lighting, mood, props and make-up needs to flow and compliment my imaginary vision. 
I use Godox Lighting and Light Modifiers and I also own two Fujifilm Camera Bodies a Fujifilm XT-20 and my favourite camera off course is my Fujifilm XH-1.
Where do you get your inspiration from?
I find inspiration in everyday things such as fashion, make-up looks, series, fine art, music, light and most importantly the beauty of nature. I constantly find myself daydreaming, thoughts and ideas flowing with a desire to create something fresh and new.
During lock-down I participated in the ISO Challenge which kept me inspired. A keyword consisting of three letters was shared and you needed to create a new word and use this as your subject. One of the words was "dis" and Disorientated stood out. I had so many ideas on how I wanted to make the most effective and creative portrait possible. I owned only two flashlights. I had no fancy backdrop and wanted a dark background. I used our Jacuzzi cover as a backdrop and one light setup using my Godox AD200. This image was all shot in-camera, my excitement when I managed to pull off two faces in one image was UNREAL! Ever since the Iso Challenge I learned and realized that experimenting is key and creativity has no limit.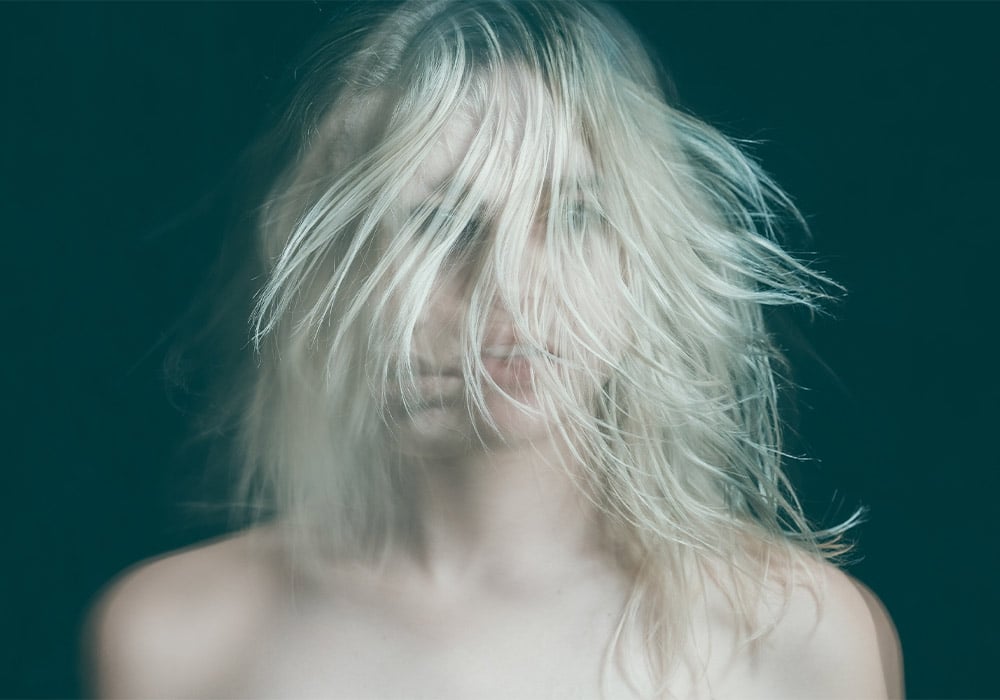 We saw you won the Honourable Mention Award 2021 at The Africa Photo Awards, tell us more about that.
My first time entering The Africa Photo Awards was in 2020. It was my first attempt to enter a renowned and prestigious photography competition and thought why not give it a go. I entered the Portraits category and made Top 10 with two Self-Portraits titled Mistreated and Winter. I was once again overwhelmed with excitement and never in my wildest dreams thought I would make it, but I took a chance and it paid off!
2021's goal was to work harder on my projects and to enter The Africa Photo Awards again to keep myself motivated and inspired. Three of my images were selected in the Portraits category and I made it to the Top 10. I was also awarded Honorable Mention for my image titled Pale Winter. I was ecstatic as this image is a personal favourite. I worked very hard on this image. Thoughts and ideas mulled through my mind for months and my vision was to capture tranquillity, daydreams and peace. Another project from my French Victorian Series, The Smoking Girl & Misunderstood was also selected.
I am excited and feeling proud to have achieved The Honourable Mention Award 2021. I am sincerely grateful for 2nd place and aiming for 1st place this year. With that being said, gonna work even harder next year!  
My Description:
Pale Winter
Self Portrait Series titled Pale Winter 

Shot in a minimalist style to draw attention to the subject

The Humming Bird is my Mom's favourite bird and represents Grace, Beauty, Strength and LOVE

Wardrobe minimal so it doesn't draw attention away from the subject
It's an ongoing Self Portrait Series. This was also shot and edited a day before entries closed for The Africa Photo Awards. It was months of planning and a day of shooting and editing. You may wonder why after all this planning, only shot a day before the deadline? I push myself to unknown limits but deliver my best work under pressure. Not an ideal plan but it works for me.
On which paper do you print and which frames do you feel finish off your work and why?
I obviously print at the incredible Art of Print… That's why I'm on this blog! Hehe! Just a huge shout out for the incredible service and professionalism, especially Tammy Marshall for treating my Art as Art! Thank You!
My personal favourite for prints is on Smooth Cotton. I find the smooth texture amazing and the colour of each print to be on point and par with my edited images. I love natural frames. Why, cause I like to keep my frames simplistic and minimalistic for me it's all about the artwork.
Any advice for aspiring artists?
My advice would be, never stop attending educational talks on photography/videography and workshops. You might know and feel confident about your style and methods but there is always something new to learn. Being an Assistant has taught me so much and inspired me to work towards my own goals. Most importantly, never compare your work to other artists always try to think outside the box and practice, practice, practice. We all go through creative blocks just keep positive and keep working hard and you will reap the rewards.
My Plans for the Future:
This question got me thinking I want to evolve as a photographer and focus more on my conceptual work as I feel this is my strong point. I have big dreams to travel the world one day to experience different cultures and places. I believe this will unlock a different type of creativity and take me to the next level. My ultimate dream is to have my very own studio and to be able to work on multiple photography projects at the same time. I'd also love to have a solo exhibition one day.  
"Ek gaan ook vir my ma 'n huisie by die see koop!"