I had a short time to play with two suction cup models, the Delkin "Fat Gecko" and the Manfrotto 241 Pump Cup, as mounting solutions for the Canon 5DmkII I was using as my primary camera.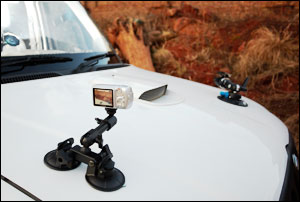 The Delkin "Fat Gecko" is rated as being able to carry 8 pounds (about 3.6kg) and has two suction cups that can be rotated and angled to function at an angle to give you superior stability. It has a short extension arm and two ball heads at either end, that can more or less give you 360-degree angles. Whichever way you want to shoot. The end of extension arm has a standard tripod screw mount with locking screw to mount the camera on.
The Manfrotto 241 is a single suction cup design, but the suction cup is two to three times the size of the Delkin's cups combined. Its heavy duty, and the whole unit weighs about double that of the Delkin, although its only rated to carry about 3kg. Even though this may be the case, the Manfrotto was definitely sturdier with the 5DmkII on top than the Delkin. The suction cup also has a pumping unit with a warning bar. As you work, you have small amounts of seepage, and the pumping unit has a redline marker that acts as a warning. If the red line shows, then there is not enough suction to guarantee the unit to stay put. a nice little feature.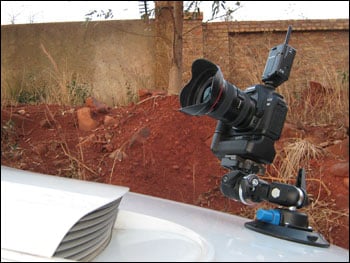 Out of the two, I do prefer the Manfrotto. The Delkin is "ready to use" out of the box, but could not really sustain the weight of the Canon 5DmkII, Vertical Grip and Pocketwizard. The manfrotto had no such problems, with really good stability, but to function, it needed a 5/8″ socket mount, a 208 adapter plate, and a ballhead to mount the Camera on. The main advantage is that you can mount three or four of these and angle them together with various extensions, and create a super solid rig that will not drop your equipment! So for further use and future expansion, the Manfrotto is the way to go.
What I did learn is that no matter how good your suction cup is, you will never have a stable, locked down camera if you have a flimsy car. I mounted these on the hood of my Mahindra Scorpio, which is basically a solid sheet of metal (hey… the bumpers are solid steel tubing!) nothing is moving there, but if you have a Tata Indica, you can be assured that the suction cups WILL bend the side door you are mounting on! There is a lot of force there.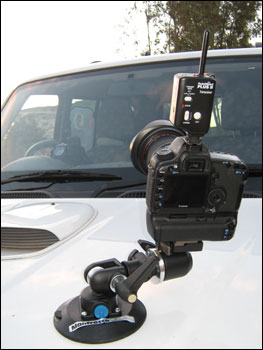 You also want to have a very clean surface to mount onto, so what I do is to clean the surface with alcohol and babywipes, to make absolutely sure there is good adherence to the vehicle (also strap down and cable tie you gear to something solid. You DO NOT want to drive over your camera after falling off the side of your car and bouncing once!)
So… How did we go about shooting the pics?
We started with the main camera, a Canon 5DmkII with a BG-E6 battery grip, a 17-40mm f/4 L wide angle lens and a Pocketwizard PlusII mounted on the Manfrotto 241 Pump Cup (with a 5/8″ swivel and a 208 Plate Adapter) through a standard 486RC2 Ball head to give us a little bit of mobility and direction. All this was mounted on the front left of the SUV's nose, looking across the windscreen to the sunset in the background.
Initially we were going for a dramatic sky, but the clouds just kept on getting less and less, so we sought out some trees to give background.
The Delkin Fat Gecko was mounted on the other side and we placed a small Canon A470 point-and-shoot cam on that to record some video (if the 5D came loose, I wanted some video of the event at least!) and we wanted some video to put with this review.
We started with a few test runs, and then added the interior flash units to light up the driver. I didn't really have time to balance these out and mount them, so they ended up simply lying on top of my camera bag, pointing at me with the light output set to manual control (we ended up a bit hot, but pulled back some detail on CaptureOne, my RAW converter) The Interior flash was done with a version1 Canon 580EX  unit mounted on a Kaiser hotshoe adapter, which I modified a bit in a rush. I cut of the standard sync cable jack, and replaced it with a standard mono audio jack (to fit the Pocketwizard) The version 1,  580ex units does not come with a socket to trigger the flash unit so this is the only way to get them to work with the PocketWizard system.
The advantage of this work-around is that you can then manually run Master and Slave units through the standard iR of the Canon flashes, giving you some more versatility (all manual though!)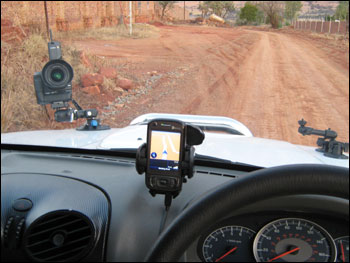 The last problem was the triggering. Option 1 was to set the camera to self timer, run for the driver side and get the vehicle moving. Anybody that knows me, knows that 10 seconds is really cutting it fine, so we went to the good old Canon RC-1 unit to trigger the camera. We did not need to do it at great distance, and this also allowed us to shoot two or three shots on every run. We could also have triggered the camera with the PocketWizard already mounted to it, but I didn't have a cable with me, so the RC-1 had to suffice, and I have to say, it did a commendable job!
The rest was just a matter of getting the lighting balanced with the flash, and getting the right amount of background movement. The movement we got by simply letting the SUV start to coast downhill, nothing speedy! You really do not want to start and stop too fast, and one thing to remember is that you will almost never get a sharp image when shooting low light and longer exposures. There is just too much movement and torsion on the body panels of the vehicle. That is where the flash also comes in handy. The flash essentially gives you a fast "shutter speed" in-between your slow one, giving you sharp edges, and the illusion of sharpness.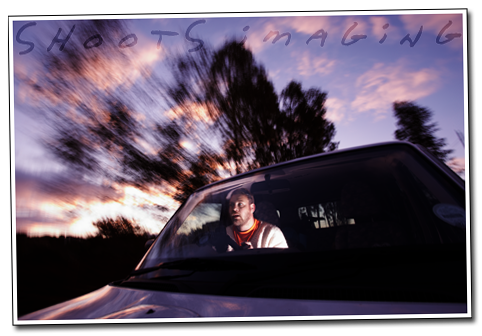 ---
Equipment Used:

Main Camera: Canon EOS 5DmkII + BG-E6 + EF 17-40mm f/4 L
Small Camera: Canon A470
Main POV Suction Pod:
Manfrotto 241 Pump Cup with Swivel
Manfrotto 5/8″ Socket
Manfrotto 208 Plate Adapter
Manfrotto 486RC2 Ballhead
Secondary POV Suction Pod:
Delkin "Fat Gecko" dual suction cup mount
Trigger: Canon RC-1 iR trigger
Flash: Canon 580ex (mk1)
Remote Flash triggers: Pocketwizard Plus II
Vehicle: Mahindra Scorpio SUV
Model: Sean Nel (Just me!)
---
by Sean Nel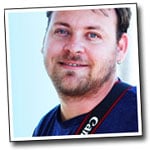 Images Copyright: Sean Nel
The post Suck it up! – POV with the Manfrotto 241 Pump Cup… appeared first on ODP Magazine.