As photographers, we have to learn and master a great number of techniques from shooting in manual to perfecting our post-processing skills. (Let's not mention all the industry-specific lingo and their pronunciations… can someone say bokeh?) We are creatives and while we are busy creating we forget about the business side of things. It is for this reason (and because he had to learn the hard way) that Deryck van Steenderen wrote, Exposed – The Business of Photography.
Now you can stand a chance to win this absolutely essential book, which is at the top of our recommended reading list.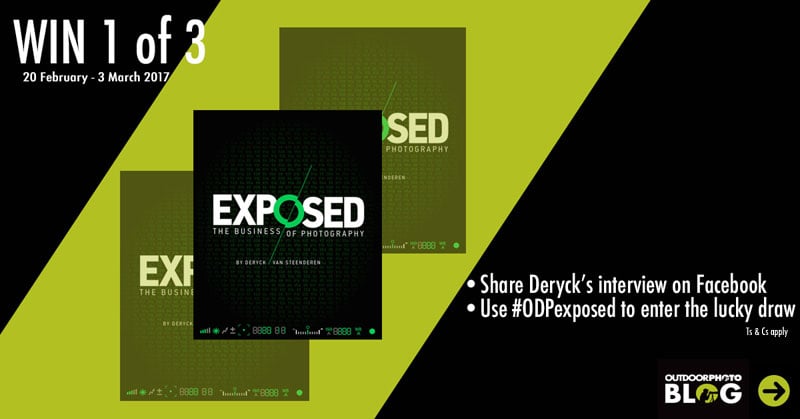 Follow these simple steps to win:
Share the interview on Facebook (via die Facebook share button found on the blog)
Use #ODPexposed to enter into the lucky draw
Get down to business with Deryck van Steenderen
Deryck is the master of many things, so many in fact, that what he does can no longer be described in a single word. He started his journey as a commercial photographer and then morphed into an entrepreneur with his own successful business as creative director and producer of photographic and moving images. And of course, he is also an author.
Covering the prized possession
The book, Exposed – The Business of Photography was written with the intent of preparing every aspiring photographer for the challenging situations they might find themselves in, in the industry of photography. Deryck shares plenty of tips and tricks that will give you the power and know-how to make a successful career as a photographer, doing what you love.
Exposed was written specifically for the South African professional photography market keeping local law and photographic trends in context.
Terms and Conditions
You may enter as many times as you like
Submissions only qualify if you share the interview with Deryck van Steenderen on facebook, tag @Outdoorphoto use #ODPexposed as well as your favourite
The winner will be drawn at random
One person cannot win more than one book
Outdoorphoto will contact the winners on Facebook and make the official announcement by 10:00 on 4 March 2017
Only entries received from 20 February 2017 until 3 March 2017 will be considered
The prizes as stated, are non-transferable to another individual and may not be exchanged for cash or  any other product/s
Each winner is responsible for any expenses and arrangements not explicitly included in the prizes, including any necessary courier fees
The promoters reserve the right to, at any time, amend or alter the terms of the competition, withdraw the competition and reject entries from entrants not entering into the spirit of the competition
Reasonable efforts will be made to contact the winners. If the winners cannot be contacted, or are unable to comply with these terms and conditions, the promoter reserves the right to offer the prize to the next eligible entrant
Failure to respond and / or failure to meet the eligibility requirements may result in forfeiting the prize