If there's one animal left unchecked on your Big Five list after a weekend in the Kruger National Park, it's probably the leopard, and if you want to tick off cheetah too you may have to extend your stay with a week or two. But if there's one predator that eludes even the most regular visitors for years at a time, it's the African wild dog.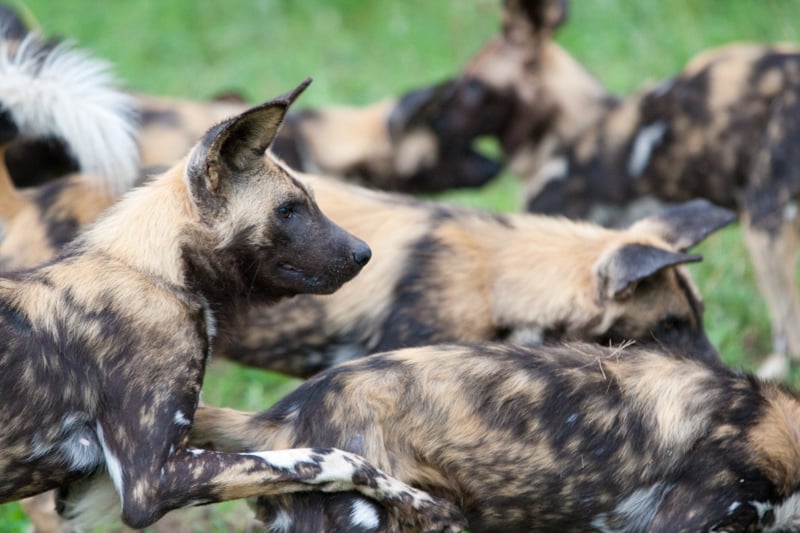 Wild dogs are extremely social and therefore wonderful to photograph.
It might seem baffling that an animal that lives in packs, loves running in the road and isn't intimidated by humans can be so elusive, but the single biggest factor contributing to infrequent sightings is numbers. With only between 150 and 200 wild dogs in a park the size of a small country, it's no wonder so few people ever see them. They are highly mobile, so even though they often use roads, they only do so for a short period of time before disappearing off into the thickets again. It's no surprise that only a handful of people end up in the right place at the right time.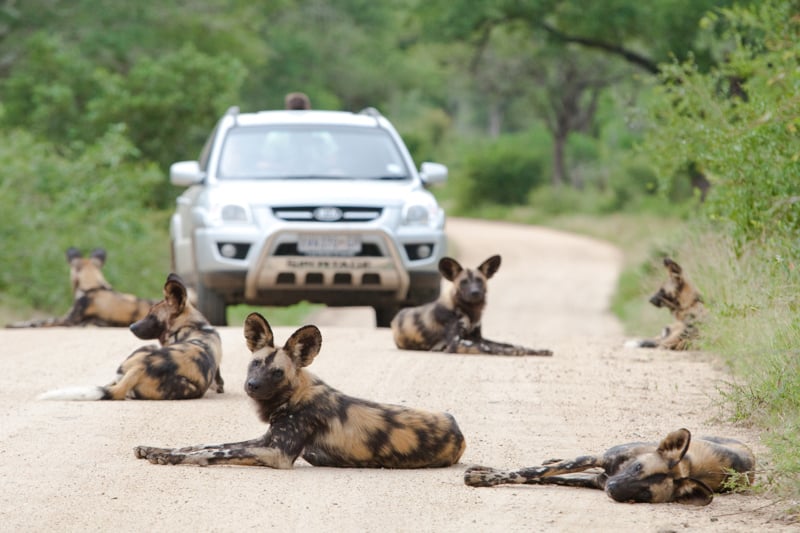 Wild dogs are more curious than shy, which makes it easy to get close to them.
The good news is that it isn't all up to luck. Fortunately, wild dogs occupy very specific areas of the park and you can therefore increase your chances of spotting them if you drive these specific roads:
1. The H11 tar road between Skukuza and Paul Kruger Gate
It's hard to believe, but the short 12 kilometre-long entrance road between Paul Kruger Gate and Skukuza is one of the best places in the whole park to bump into wild dogs. They frequently cause traffic jams here as they surprise visitors entering or exiting the park on this busy stretch.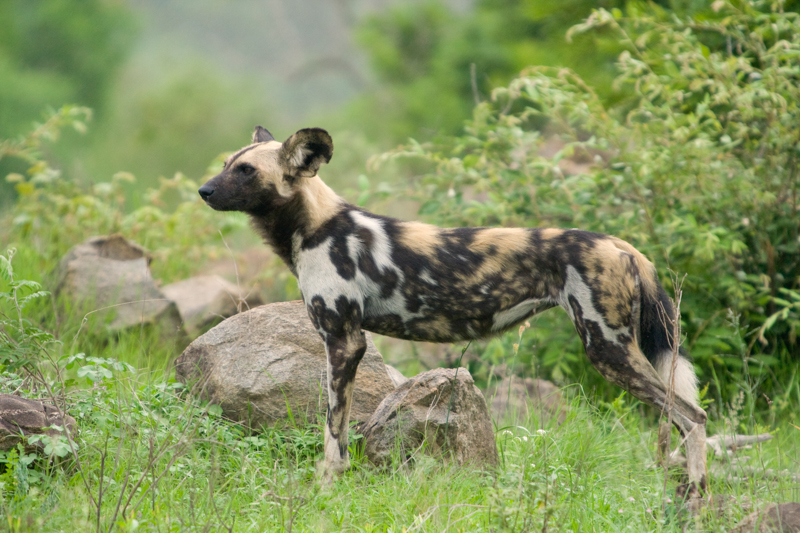 Each wild dog has a unique coat pattern of black, white and light brown blotches.
2. The S1 Doispane Road
The S1 Doispane Road splits off from the H11 approximately 4 km south of Paul Kruger Gate. It's much quieter vehicle-wise and definitely more scenic than the H11, but with an equally good chance of spotting wild dogs. If you don't find them driving one way, return on the S3, which runs parallel.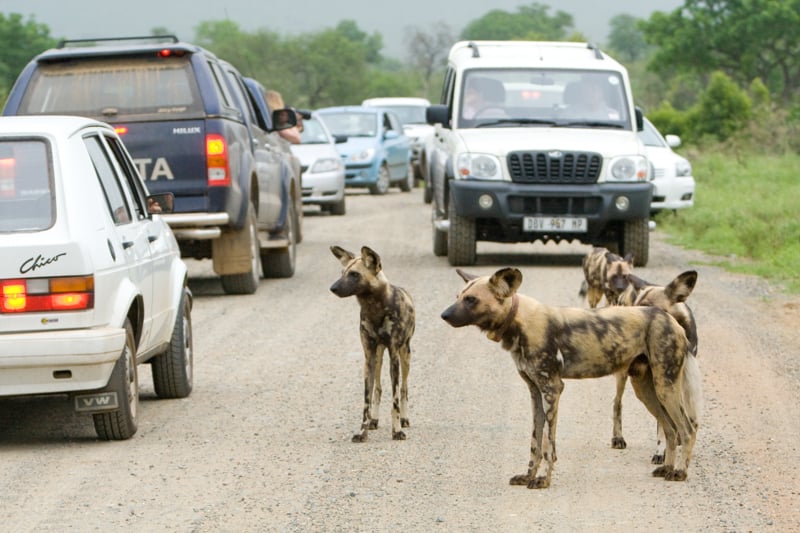 A small pack of wild dogs cause a traffic jam on the S114 gravel road.
3. H1-2 tar road between Skukuza and Tshokwane
If you're not successful west of Skukuza (on the H11 or S1), try driving east of camp on the H1-2. Wild dogs are very often found between the Sabie River crossing and the turn-off to Rhino Post Safari Lodge near the Marula Loop's eastern turn-off, especially at dusk and dawn.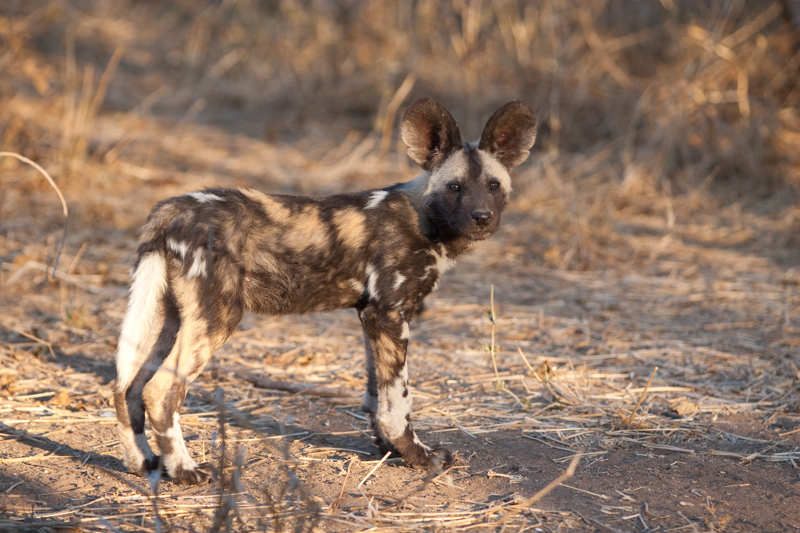 Wild dogs usually den between May and August in the Kruger National Park.
4. The H7 Orpen-Satara Road
For many years now a pack of wild dogs have occupied the area surrounding Orpen Camp on the western boundary of Kruger. They are frequently seen between Orpen and the turn-off to Rabelais Dam 9 km inside the park.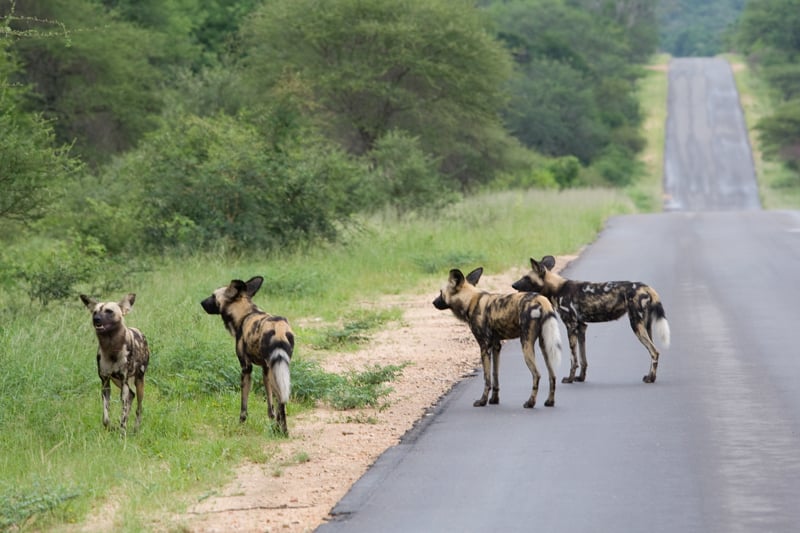 The H11 tar road between Skukuza and Paul Kruger Gate is great for wild dogs!
5. S114 gravel road between Skukuza and Berg-en-Dal
The S114 is a 48 km-long gravel road that runs parallel to the popular H3 tar road between Skukuza and Berg-en-Dal. It's a long, straight, corrugated road with little scenery to get excited about, but for some reason, wild dogs love it. Most sightings seem to occur on the southern tip around the S25 Crocodile River Road turn-off, but they also frequent the area around Renosterkoppies waterhole in the north.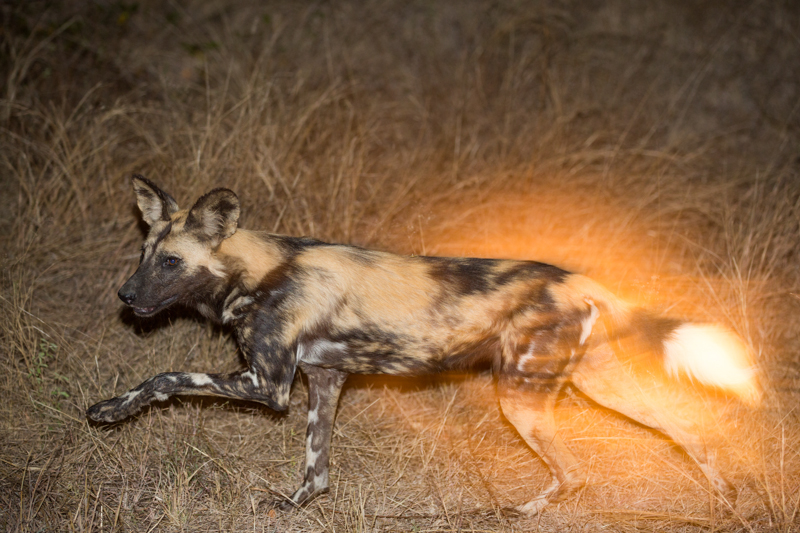 Since they're also active at night, wild dogs are sometimes seen on night drives.
There's no guarantee that you'll see wild dogs when you drive these roads, but you'll certainly be giving yourself a sporting chance. If you stick to the areas they love, you're bound to cross paths with them sooner or later…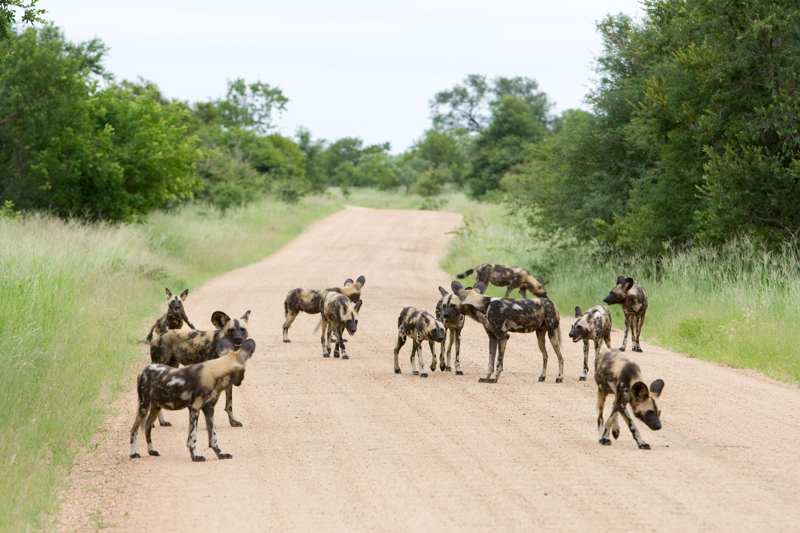 Wild dogs love using the roads in Kruger, but generally don't stay on it for too long.
TOP TIP:
In Kruger, wild dogs den during the winter (May to August). Because they generally stay close to the den sites during this period, it's worth checking the camp sightings boards for wild dog sightings in these months. If a pack was spotted in a specific area, there's a good chance that they'll be seen there again.