The RODECaster series is a range of all-in-one audio production consoles, effectively condensing an entire broadcast studio into a single user-friendly device. This simplifies the process of recording content with top-notch audio quality. These consoles cover everything from connecting microphones and applying processing to achieve professional sound quality, as well as mixing and recording, with loads of powerful features packed in. Whether you're into podcasting, live streaming, or creating any content that demands high-quality audio, a RODECaster paired with a microphone is all you need to produce a polished production from start to finish.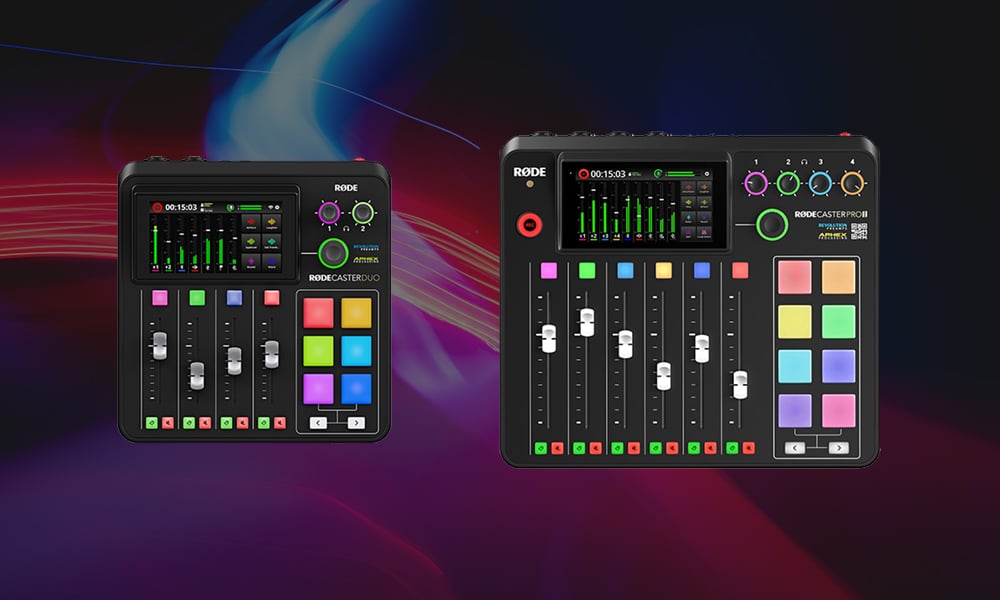 Both devices run on the same high-performance Quad-Core audio engine, ensuring identical processing power and audio quality for the RODECaster Duo and RODECaster Pro 2. They share the same operating system, and all future firmware updates are simultaneously deployed to both devices, ensuring you won't miss out on new features. In terms of analogue inputs,  the RODECaster Pro 2 boasts four combo jacks on the back for connecting microphones and instruments, while the Duo has two. Both feature ultra-low noise and high-gain revolution preamps, delivering incredible audio quality with any microphone. The number of inputs is the most significant distinction between the two consoles and will be the deciding factor when making your purchase. 
If you put together podcasts or other content where you need to connect up to four guests or other audio sources, the RODECaster Pro 2 is for you. Conversely, if you're a solo creator or typically only have two people on your podcast, the RODECaster Duo will work perfectly. This distinction also extends to the number of headphone outputs, with the RODECaster Pro 2 accommodating four guests and the Duo accommodating two. Both consoles feature a built-in wireless receiver for connecting RODE wireless microphones like the Wireless ME or Wireless GO II. However, the RODECaster Duo possesses a unique feature not found in the RODECaster Pro 2 – a 3.5 mm TRRS input on the front, which can be used for connecting headphones or a headset. This makes the Duo suitable for gaming, video conferences, or presentations. The RODECaster Pro 2 offers six physical faders on the mixer to accommodate the additional analogue inputs, while the RODECaster Duo has four. Both consoles provide three virtual faders in addition to the physical ones, which means you can mix a total of nine audio channels on the RODECaster Pro 2 and seven on the Duo. Both consoles are equipped with powerful smart pads for triggering sounds, voice effects, and other actions, with eight smart pads on the RODECaster Pro 2 and six on the Duo. Due to its fewer audio inputs, smaller mixer, and fewer pads, the RODECaster Duo is more compact and lightweight, measuring about ⅔ the size of its larger sibling, although the RODECaster Pro 2 still remains quite compact.
In summary, both consoles offer identical studio-quality audio processing onboard, advanced Bluetooth connectivity for incorporating phone calls, and dual USB-C interfaces on the back for connecting to computers and smartphones What it comes down to is how many analogue inputs you require.
| | | |
| --- | --- | --- |
| | RODECaster Pro 2 | RODECaster Duo |
| Combo jack inputs: | 2 | 4 |
| Headphone outputs: | 2 | 4 |
| No. of smartpads: | 6 | 8 |
| Physical faders: | 4 | 6 |
| Front 3.5mm TRRS jack: | Yes | No |