RØDE Microphones is the global powerhouse in providing professional audio equipment. We explore their products to help you find the best microphone for your needs.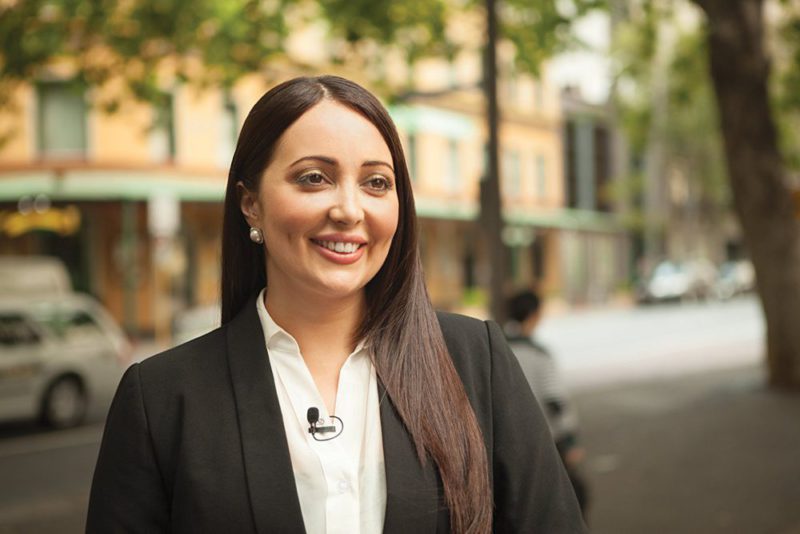 For Easy Setup When You're On-The-Go
Electronic News Gathering (ENG)
The RØDE smartLAV Lavalier Microphone is a discreet clip-on microphone that receives signals from all directions, recording lovely broadcast-quality sound within close range from the speaker. Its small design is ideal for use with a wide range of film, television and broadcast scenarios.
What makes this lav mic so special is its convenience. Weighing only 1 g, it's extremely wearable and comes with a mounting clip for attaching to collars, ties and jackets. Once mounted near the neck of the speaker, simply connect it to a smartphone or tablet headset jack and record via the RØDE Rec App for iOS, or any another app of your choice. (It's compatible with any audio app that accepts input from the headset connection, and pairs perfectly with the RØDE Rec app for Apple iOS devices.)
Thanks to the professional grade omnidirectional condenser capsule, it will pick up sounds from all around the speaker, and the supplied foam pop shield will minimise wind noise and those pesky 'b', 't' and 'p' vocal explosives for a more natural-sounding recording.
The lav mic turns your smartphone into a fully-fledged field recorder with a wide range of equalisation presets to suit various recording situations, in addition to professional editing functions. When you're happy with the recording, you can also publish to SoundCloud and Dropbox directly from the app.
This wired lavalier mic produces quality recording at an affordable price, making pro quality audio accessible to a new generation of creators. Better yet, you won't need additional wireless equipment, making it ideal for Electronic News Gathering (ENG) and any other situation that requires an external hands-free mic such as product reviews and interviews.
The RØDE VideoMic Me is a compact and lightweight, high-quality directional microphone that connects directly to the iPhone TRRS microphone / headphone socket. It is designed to give you incredible audio when shooting video, doubling as a type of selfie microphone. The microphone's directionality reduces surrounding noises to focus on exactly what you're filming, greatly increasing the quality of your mobile videos.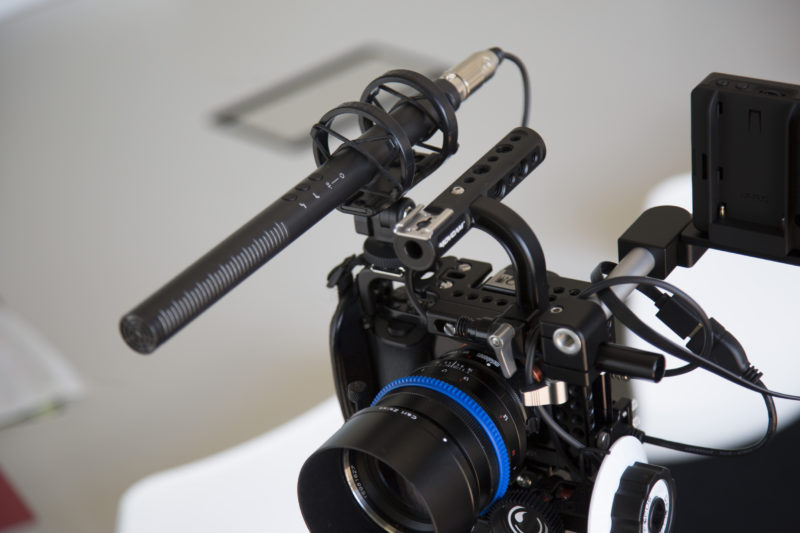 For Noisier Outdoor Environments
The RODE NTG-2 is an affordable entry-level shotgun mic that lets you record audio with your video, perfect for professional TV or film productions. It only records the sounds you want – these are the sounds in front of the mic – and rejects any low-frequency sounds like the whoosh of traffic. If that's not enough, it only weighs 161 (without the battery), making it an ideal boom microphone. Power it with a 48 V Phantom Power over the XLR cable or by placing 1x AA battery in the mic itself.
It comes with a WSVM windshield to minimise light wind noise and plosives during recording, and you can purchase the DeadCat furry windshield to block out unwanted sounds in even noisier outdoor environments.
Transmitter: The lightweight transmitter can be fitted to a belt or clothing and features a locking thread to ensure the microphone connection is as secure as possible. RØDE's omnidirectional Lavalier microphone is included in the kit to provide the highest possible audio reproduction quality.
Receiver: The receiver features an OLED display with information on level, battery status (receiver and transmitter), mute and channel selection.
Wirelesss Audio Recording
The RØDELink Filmmaker Kit has everything you need to start shooting video wirelessly, including a receiver, transmitter, broadcast-grade lavalier microphone, and a captive TRS cable. You can mount the unit on a belt-clip, 3/8″ thread or standard camera shoe mount, which is round making it even more comfortable to wear at walking angles.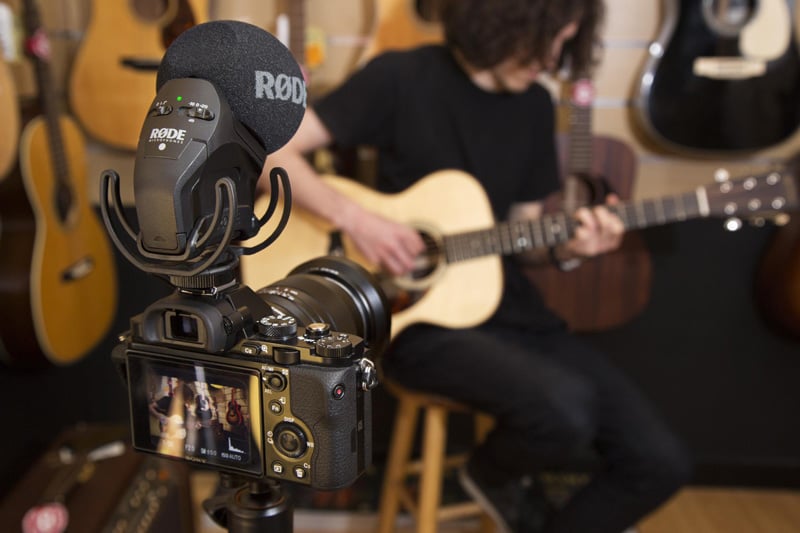 For Broadcast-Quality Audio
The highly-directional RODE VideoMic is even better at picking up the right sounds thanks to an integrated shock mounting (Rycote) system that isolates the VideoMic capsule and electronics from its all-metal shoe mount. This eliminates sounds that may come from vibrations in the microphone, making it ideal for use with consumer video cameras and personal audio recorders. It does everything the NTG-2 does, just better and works well for recording loud sound sources such as live music or motorsport. The standard sized shoe mount includes a 3/8″ thread in the base, which means that you can even mount it on a boom pole or stand (note that cameras with proprietary sized mounts require an additional adaptor).
The RODE VideoMic Pro (with Rycote) is a true shotgun microphone designed for use with camcorders, DSLR cameras and portable audio recorders as a source of primary and reference audio. It renders broadcast-quality audio via a 3.5mm minijack connector (outputting the mono signal to both left and right channels) with an incredibly low self-noise of just 14 db. Easily accessible on the rear face of the microphone are the power, filter and level controls. In addition to the microphone's native 40Hz-20kHz response, a selectable high-pass filter at 80Hz is available, which will prevent low-end noise such as air conditioners and traffic from being recorded. Read our full review of this mic.
The RØDE VideoMic Pro+ is a true shotgun microphone for use with camcorders, DSLR cameras and portable audio recorders as a source of primary and reference audio. It's a new addition to the best-in-market on-camera category with an optimised windshield shape. This compact directional on-camera microphone is a true shotgun microphone designed for use with camcorders, DSLR cameras and portable audio recorders as a source of primary and reference audio.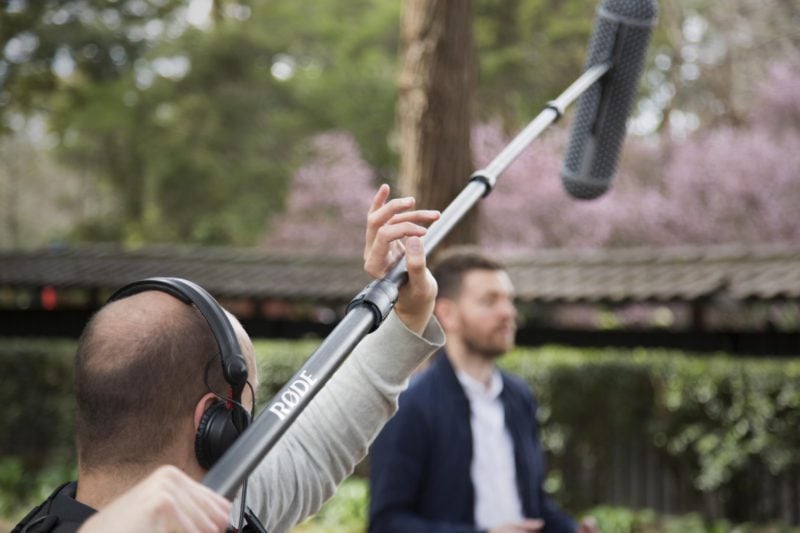 When recording dialogue, mounting your microphone to a boom pole will allow you to record better quality audio as it allows you to get closer to the speaker while staying out of the shot. To follow your sound source, use the boom pole to swivel the mic in a range of directions. A boom pole also helps you to achieve a good sound-to-noise ratio as holding the mic overhead the actor (and pointing toward their nose) helps eliminate ambient sounds.
If holding a boom pole over your head seems like a daunting task, rest assured that precision-balanced RØDE boom poles are expertly designed to turn your frown upside down:
Made from a lightweight aluminium alloy (less than 1 kg), RØDE boom poles won't tire your arms as easily.
Thanks to an ergonomic grip handle, they're comfortable to hold.
The smooth extension and retraction system, together with the intuitive twist-lock mechanism, lets you extend the telescopic boom pole with minimal handling noise.
PS: Telescopic boom poles are conveniently compact and portable as they fold up to less than 1 m in length.