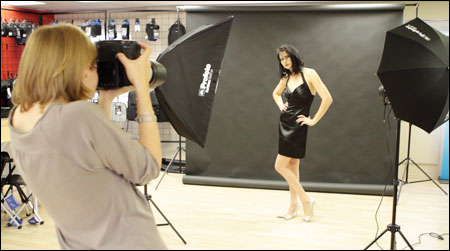 The Setup:
What we did was to ask Luba Nel to give us a few hours of her time and shoot 2 models for us in the typical fashion she shoots for her Commercial Beauty Stock. Luba's work features all over the show (book covers, magazine covers, the "Beauty Section" of Cosmopolitan) and as a high end retoucher that really need to get the best original images to work from, she really does not want to struggle with lights that is slow or inconsistent in their output.
We opened up the session to a ODP members to see how she works, and they can attest that once she gets going, the lights need to keep pace. We asked Marike (Milk & Honey) to do the make-up and used Phindi and Jua (see Profile) as the test subjects.
We decided to use only 2 lights (sometimes just one) and a reflector. I think photographers tend to over think a studio setup, and a lot can be achieved with a minimal setup and a reflector or two. (That doesn't mean I don't like shooting with 37 lights, though!) and we varied between the large Octobox, medium umbrella, and large softbox. The base set was two D1 500watt lights with stands and umbrellas plus a Profoto Air Remote (The standard D1 Air 500 studio starter kit)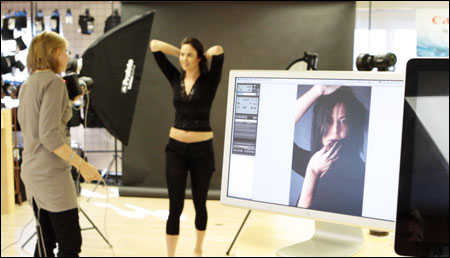 Luba shot a Canon 5DmkII and 70-200mm f/2.8 L tethered to a 17″ Mackbook Pro (with a Cinema Display for the crowd mirroring the screen). Light were triggered with PocketWizards (simple Plus II's ) as well as the Profoto Air Remotes. We wanted to see if the Air Remotes can keep up.
The Shoot
First off was Phindi. Phindi is not a professional model but she can act (something we look for in a model) and can give us expressions, transferring emotion and an Idea to the image. Starting with Phindi gave us the chance to feel out the lights a bit. I wanted us to play with the lights just like a brand new user would. I wanted to know how difficult it would be to get to grips with the workings of the system. In the end the "figuring out" part took us the whole of… oh… 2 minutes! The units are dead simple to operate and comes down to point and shoot. Digital alteration of power and off you go. We just made small power adjustments, and distance from subject adjustments to get the light falloff the way we wanted, and that was it. Shoot away.
After about an hour, we switched over to Jua. Jua is a Pro Model. She is always on time, she always brings extra, and she always gives you more than you can rightfully expect. That said, Jua is also one of the few models that can keep up with Luba. and once they hit the groove, they just shoot and shoot and shoot, and every shot is a winner.
With Jua in front of the lights, we also switched over to the Profoto Air Remotes. We know the PocketWizards can handle the pace (12fps not one dropped) so now to see how good the Airs were. The nice thing about the Air Remotes is that you can adjust the lighting setup from your unit on the camera. Something we can't do with the PocketWizards. Sure, they light is only 2m away, walk over and do it, but when you are shooting a complex scene with multiple lights and groupings, it's very handy to be able to adjust a light that is shooting from the second floor on the building next door, or from outside the window on an interior shoot. Small things that can be handled by an extra assistant, but it saves a lot of time and stress when you have to produce the goods!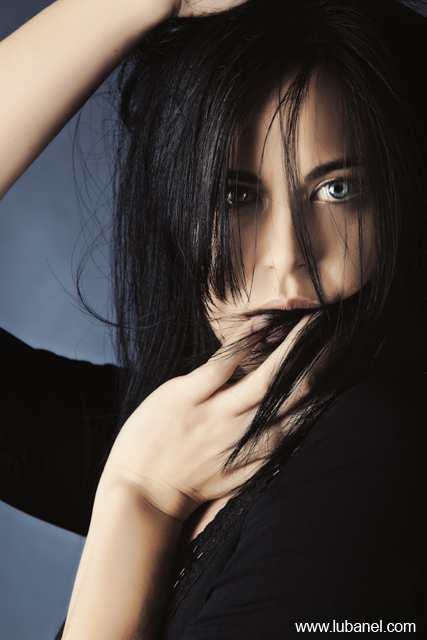 (mouse-over for "before")
The remotes worked well, and we couldn't see them failing at any point, so 10 points there. A bonus would have been if they could integrate with my current PocketWizards (we already have a few) that can trigger other light sources (like our 580′s which we sometimes hide in a potted plant) I am sure some kind of thingamjig will make it's appearance at some point.
Now the lights. Here we saw the benefits of running bigger lights at half power. The D1 lights has an impressive recycle time (0.2 sec at 10% power to 0.95 sec at full power) and t.5 flash duration of 1/1000th to 1/2600th of a sec which is more than decent  at stopping motion. To compare, comparitive Elinchrome lights has a t.5 flash duration of 1/900th of a second.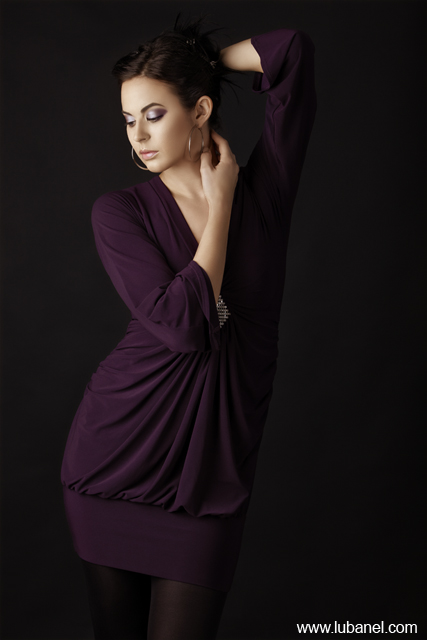 (mouse-over for "before")
Adding more lights to the mix, and letting them run at half power allows us to "double tap" our shots and just generally shoot at a faster pace. As it was, we were shooting at close on full power for most of the time, which resulted in missed frames. The D1′s has a nice feature here. Like many lights, it has an audible recharge tone, but if you shoot and the lights didn't give you the correct power output, the tone changes, so without looking, you know that you missed a shot. This is a handy feature when you get up to speed and start to shoot fast. Unfortunately, at the end of the shoot, Luba started missing about 1 in 5 shots. Is this bad? not at all, especially at the speed she was going with Jua! Almost any other lights setup would have cost us every second shot in the same situation, head for head, power for power.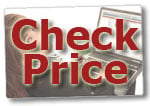 All in all, I think these are amazing lights. Exceptionally well built, rock solid, and performing up to spec. Nothing is exaggerated, and everything worked exactly as promised. The price is expensive, but these are investment lights. They should happily live longer than most things in your studio. Having owned various brands of lights and having replaced various lights in the past, I can confidently tell you that buying good lights in the beginning is a massive cost and time saver over the long run (especially if lights die the day before an extensive shoot and you have to scramble to rent more lights!)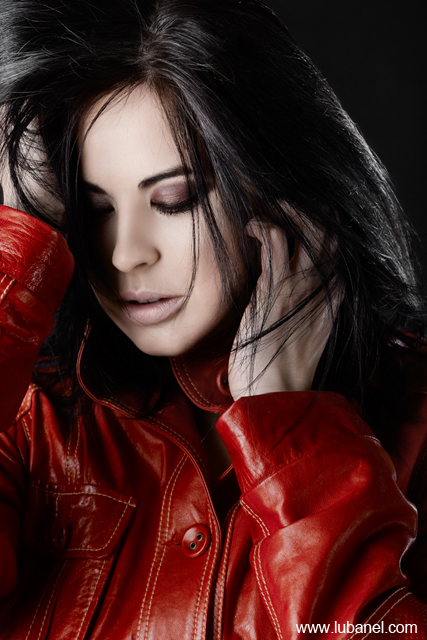 (mouse-over for "before")
---
Some notes on the editing:
Post-production: I prefer to light my subject in such  way, that makes my post-production work much easier, specially when I need to edit large volumes. As Jua's skin is very smooth & even in texture, I could go for contrast lighting without fear of emphasizing problematic areas.
Note: ALL BEFORE & AFTERS are shown with model's permission
There a lot of limitations to stock work which make post-production an interesting and challenging experience: no sharpening, no blurring, no extreme contrast. An image must be even, continuous in tone, with well preserved texture in highlights areas and non-blocking shadows.
Natural close-up (20min):
Prep:
I wanted to play with hair on the face, and I asked Marike to save me the trouble of editing smudged gloss. She came up with a solution of a nude, matt lip colour that created texture and blocked natural pink of Jua's lips. The make-up on the eyes was very "plain" with good contouring and strategically placed highlights.
Post:
Retouching on this shot was done in 20 min. I wanted to preserve the freshness of the moment and was afraid to over-edit. I opened up some shadows on her face and deepened countering shadows by using selective masking form the channels. Lightened up the eyes by using Dodge & Burn technique, which was also used on the existing highlights of the face. This technique often helps to create an illusion of sharpness, as it increases the contrast between neighboring areas. Some small stray hairs were also removed, but not too much. There was a bit of foundation in the lid crease – to remove it I zoomed in very close and did very light touch-ups with a Healing Brush. The skin texture is all Jua – after the shadows on the face were evened out, the natural beauty of the skin took over. I did a slight "film colour" effect on the shot not to cover the imperfections, but as a final touch for a "mood factor". The cleaned up shot translates beautifully into black and white as well, with simple channel conversion.
Final Skin Edit
Purple Dress (40min):
I was not sure where I was going to take the image in terms of colour when I converted it from RAW. It helps to make a 16Bitt conversion into tiff, so that there's just a  bit more "play" space in Photoshop. I thought of doing a fake tan, so the conversion was too red and saturated. Once in Photoshop, I removed some red from the skin tone to give it more even coloring as well as did some selective channel adjustment to get rid of some green & blue in the skin. The lighting set-up created some small deep shadows on the face, which I removed with Dodge & Burn technique. The same treatment was applied to even out tone on the neck, shadow side of the cheek and temple. I also removed a bone on the wrist, which usually would be left alone, except this time the contrast against dark dress was too much. I liked the warmer colour for the dress and as I was trying it out I decided to leave it on the skin as well, which saved me some extra masking. Once the colour of the image was set, I applied some selective colour balance on eyeshadow and the lips. I did not have to retouch the make-up as it was excellently applied. As a finishing touch, some highlights and shadows were emphasized with extra Dodge & Burn.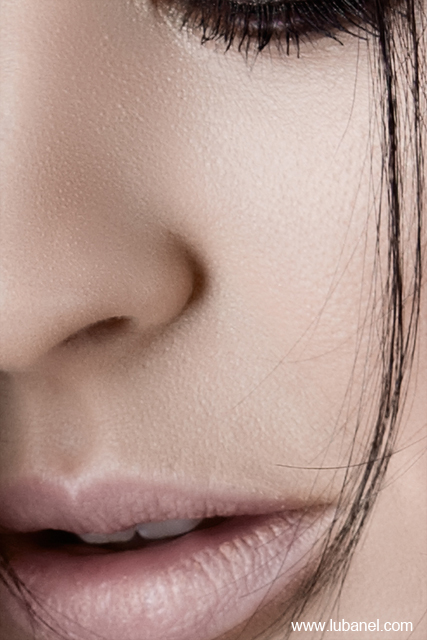 (mouse-over for "before")
Red Jacket (1hour):
This shot was a bit more work because of the stray hair that picked light and looked gray. I zoomed in really close and work along the lines of the hair to preserve the natural flow. Also some stray hair across the nose was removed. Once some red tone was removed from the skin, I used Dodge & Burn to even out the skin tone even further as well as soften the shadows on the face. Luckily this shot has a lot of skin that is evenly lit, so my work on skin texture was very fast. Jua has amazing pores, which were left as is. I wanted to create the contrast between red, black and skin, so I pulled as much colour out of the skin as possible without it looking gray. The highlights on the hair were emphasized with a lightening curve with a mask based on a blue channel. Make-up was retouched with a bit of liberty from my side as I pulled a digital smoky eyeliner, as well deepened the shadows and highlights. Once again, I need to emphasize, that if Marike did not provide me with an excellent application and wonderful texture, my work would have been much harder.
---
All images copyright Luba Nel
Review by Sean Nel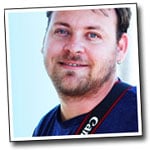 The post Profoto D1 test shoot appeared first on ODP Magazine.