Roland designs and manufactures powerful multi-channel mixing switches for quality live event production in HD or SD. These innovative solutions incorporate a video switch and an audio mixer and more in streaming-ready devices that are easy to use on location, which make these professional audio-video products are ideal for commercial live mixing, live streaming and broadcasts.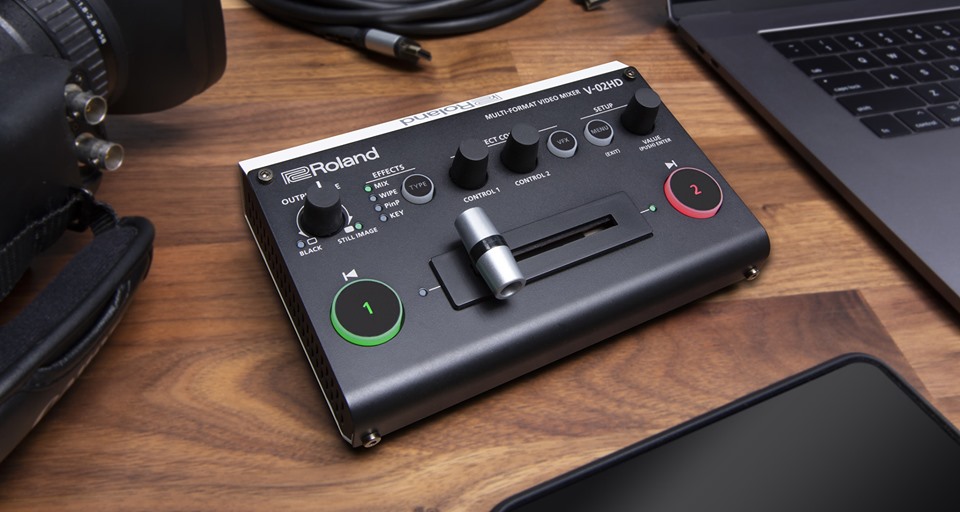 The Roland V-02HD is a portable HD switcher small enough to fit into your gear bag. Its compact size and lightweight design make it well suited for use on mobile video productions, and it mounts onto a standard tripod. This versatile multi-format video mixer replaces several standalone units, namely a simple switcher, a high-quality scaler, an input expander, an audio solution and inline video effects or composition. It is an affordable option for small production crews on a budget. Recording or streaming with a live switcher onsite lets you present the client with an immediate deliverable and the V-02HD video mixer makes the entire process fast, easy and fluid for the camera operator.
The Roland V-02HD switcher takes the HDMI output from two cameras and seamlessly switches to a connected recorder or live streaming encoder. The operator can then switch between cameras using the dedicated controls or even by using their feet, via a connected footswitch that lets them continue operating their camera. Audio from both cameras and external sources can be mixed together within the V-02HD and monitored through the dedicated headphone output. Finally, the resulting mix is embedded with the video switch and output over HDMI. The V-02HD transforms a two-camera shoot into a small one-person production studio, for reliable recording or live-streaming even with minimal resources.
2x HDMI Inputs, 1x HDMI Output

Discrete Scalers on Inputs & Output

14x Real-Time Adjustable Effects
The Roland V-1HD video mixer is another portable solution for HD video production that accommodates up to four HD inputs. It is an easy to use tool for students of all ages to broadcast or record sporting events, performances and other activities around campus, or even for presentations in conference rooms or at live events allowing for switching of video from different sources such as computers and video cameras.
The V-1HD effortlessly mixes high-resolution computer and HD camera sources and gives visual artists unique filter effects and transition performance features including Roland's legendary "TRANSFORMER" buttons. The inputs each have a frame buffer/TBC so you don't need to genlock your input sources together. You can control the switcher manually by using the built-in controls, or connect it to a computer or iPad running optional software for electronic control. Select your working resolution and switch between your four input sources. Built into the switcher is a 12-channel audio mixer which can de-embed and embed audio signals from HDMI.
4x HDMI Inputs with Frame Buffers
Hardware or PC Control
12-Channel Digital Audio Mixer
Manual T-Bar
The Roland V-1SDI is a flexible and versatile video switcher that makes it easy to connect and switch professional 3G SDI cameras and playback sources along with HDMI sources including cameras, smart phones, computers, tablets, Blu-ray players. Compact and portable, the V-1SDI delivers professional switching results with its easy to use hardware interface complete with T-Fader and easy-to-see backlit buttons. With support for 3G-SDI, the V-1SDI can operate at full 1080p resolution and can take advantage of the longer cable distance of SDI making this compact solution suitable for events and applications in even large spaces with the most professional level of SDI camera sources.
3x SDI Inputs, 2x HDMI Inputs
Internal I to P Processing
Multiview HDMI Output
HDCP Compliant
The Roland V-40HD is ideal for any live event or installation that requires the freedom to connect a variety of sources whether they be digital or analog, computer or video format. It is particularly positioned to support configurations using popular HDMI cameras as well as computers. The V-40HD handles true multi-format video meaning there is no need to match input sources to the output resolution. Every input has it's own broadcast quality scaler that individually scales each source as required to fit any output resolution chosen.
The V-40HD boasts twelve inputs on four channels plus one (background), and 5 output connectors with independent scalers on the inputs and output allowing you to connect HDMI/DVI, RGB, component and composite sources. It supports input/output resolutions up to 1080/60p or 1920×1200.
4x Multi-Format Channels from 12 Inputs
HDMI / Component / Composite Inputs
Broadcast Quality Scaler on Each Input
Up to 1080p/60/50 Input & Output Formats
The Roland V-4EX is an all-in-one SD video mixer that provides accessible and quality video performance and web streaming with HDMI in/out, USB streaming out, and built-in multiviewer with touch control. The V-4EX's sleek and compact design lends itself to portable applications as well as permanent installations when size and space are considerations, and its versatility and unique features make it suitable for many applications, including clubs, concerts, worship, events, meetings, trainings, weddings, education and sporting events.
3x SD Video HDMI / 4x Composite Inputs
1x 1080p HDMI Input with Scaler
NTSC/PAL Internal Progressive Processing
4x Built-in Frame Synchronizers