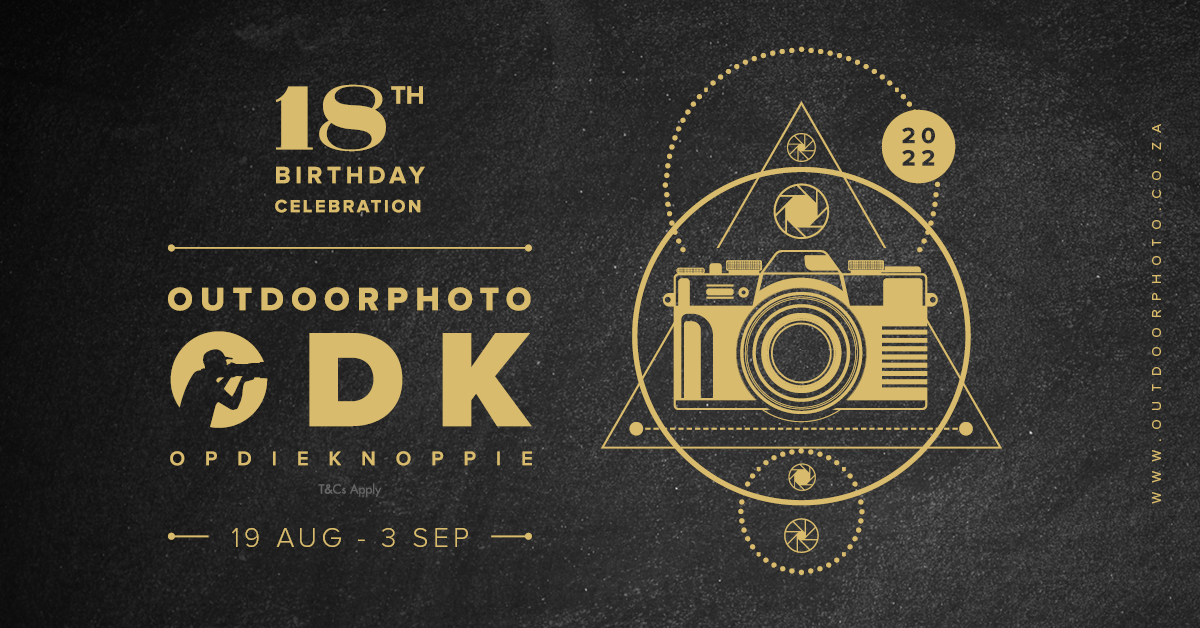 Our Opdieknoppie birthday sale
It is Outdoorphoto's birthday again! Join us from 19 August to 3 September 2022 for Opdieknoppie, where we offer great savings on photo and video gear, free limited-edition gifts and over R100k in prize giveaways. If you qualify for any of the automatic lucky draws, remember to keep an eye out for the winner announcements on our social pages. (Winners will be announced in the first week of September)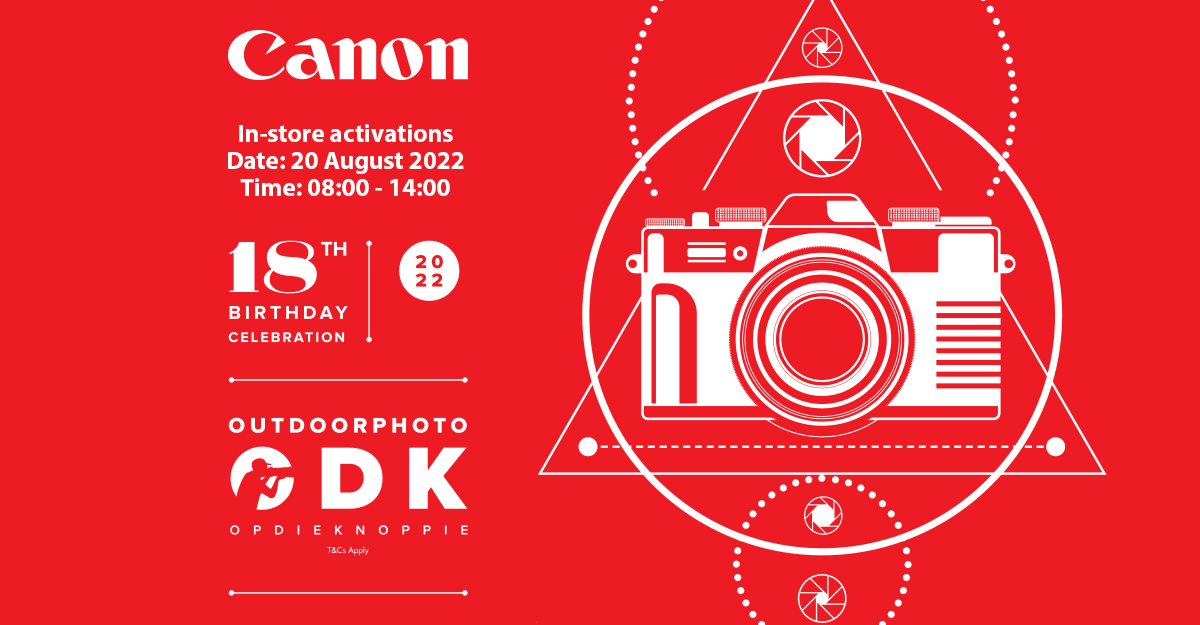 Join us for Canon Demo Day in store on the 20th of August and get spoiled with a free goody bag. 😉
There will be demo units at an outside shooting station which includes the EOS R3, R5, R6, R7 en R10 as well as RF 1200mm, RF 800mm, RF 600mm, RF 400mm, RF 100-500mm and RF 70-200mm. Come for a free sensor cleaning in-store and enjoy a free coffee while you wait!
In-store workshops:
Join Art of Print for an open exhibition on the 19th of August.
This exhibition incorporates digital illustrations from various artists, showcasing their unique talent. Pop in anytime between 17:00 and 21:00 for a glass of wine, buy prints and meet amazing artists.
All the illustrations will be on display and for sale at the exhibition. 
Date: Friday, 19 August 2022
Time: 17:00 – 21:00 
Location: Outdoorphoto
Cost: Free
Andre Badenhorst is South Africa's unofficial king of colour and old friend of Outdoorphoto. His striking conceptual portraits are loved by many local artists and brands. He discusses the pre-production phase, ie concept development, creating the final look and feel and ends the session with a practical shoot.
Date: Saturday, 20 August 2022
Time: 10:00
Location: Outdoorphoto
Cost: Free
Not to be missed – This workshop with Stefan Kotze includes access to shoot three cars and a superbike! Lighting setups are provided by Godox and Sony supplies gear to test out and shoot with.
You also stand a chance to win a Sony voucher to use at Outdoorphoto worth R 44,995.00! (T&Cs Apply.)
Date: Friday, 26 August 2022
Time: 16:30 – 21:00
Location: Outdoorphoto
Cost: R500 pp – Pizza and drinks are included.
Naledi Tshegofatso Modupi, better known as Mo, is a multi-dimensional visual artist known for her versatility and ability to seamlessly manoeuvre between digital art territories and traditional art mediums. Her work is inspired by the beauty of blackness and characteristics associated with women and celebrates women's unique and empowering stories.
Join her illustration workshop where she shares her love for digital art!
Inspiration behind her work and how her journey began.
Process: How she creates her digital art pieces.
What she has learned and still learning about being a digital artist.
Date: Saturday, 3 September 2022
Time: 9:00
Location: Outdoorphoto
Cost: Free
Buy any RODE product during Opdieknoppie and automatically get entered into the lucky draw to win one of these prizes:
RODE bundle 1:
RODE bundle 2:
With every purchase over R1 000, you will also receive a free limited edition Opdieknoppie 2022 mug.
Your creative journey continues!
Your creative journey does not have to stop when our sale ends – our in-store consultants are always happy to answer any follow-up questions. Get in touch with us by phone at 012 348 3693 or send a mail to info@outdoorphoto.co.za.
T&Cs Apply
This promotion is valid for the assigned Opdieknoppie 2022 special products only.

Purchase any of the assigned Opdieknoppie 2022 products before or by the end of 23:59 on Saturday, 3 September 2022 to qualify for the discounted prices.

Any order received after 23:59 on Saturday, 3 September 2022 will not be honoured as part of this promotion.

All deals are valid while stock lasts or until Saturday 23:59, 3 September 2022.

Any items not paid in full by 23:59 on Saturday, 3 September 2022 will automatically revert to the original price.

The stock level on our online shop is updated intermittently, therefore we recommend that you phone us at 012 348 3693 to confirm stock availability before placing your order online.

Tamron: Lenscaps, lens rear caps, lenshoods and tripod collars are excluded from the giveaway.

Outdoorphoto reserves the right to amend these terms and conditions without prior notice.