Art of Print did a "virtual sit down" with Evelyn Gibson to find out more about her passion for photography and how she sees the world through her lens.
What is your current favourite genre to photograph?
"Right now, I am really loving street photography", says Evelyn and judging by her dynamic images, we can see she has a passion for it.
When out and about, how do you go from looking for the perfect subject to capturing it?
"I basically venture out, always armed with my camera in hand and shoot in the streets, as I often find there is a perfect shot waiting around almost every corner." But, she warns, always be aware of your environment when doing so as one can never be careful enough. Evelyn continues to say, "I have been fortunate enough to have traveled the world where there are photo opportunities abound. I find myself looking for images that not only speak to me but also tell a story of the surroundings, the lives people live and their daily emotions. That is what I want to capture."
In the Colourful streets of Cuba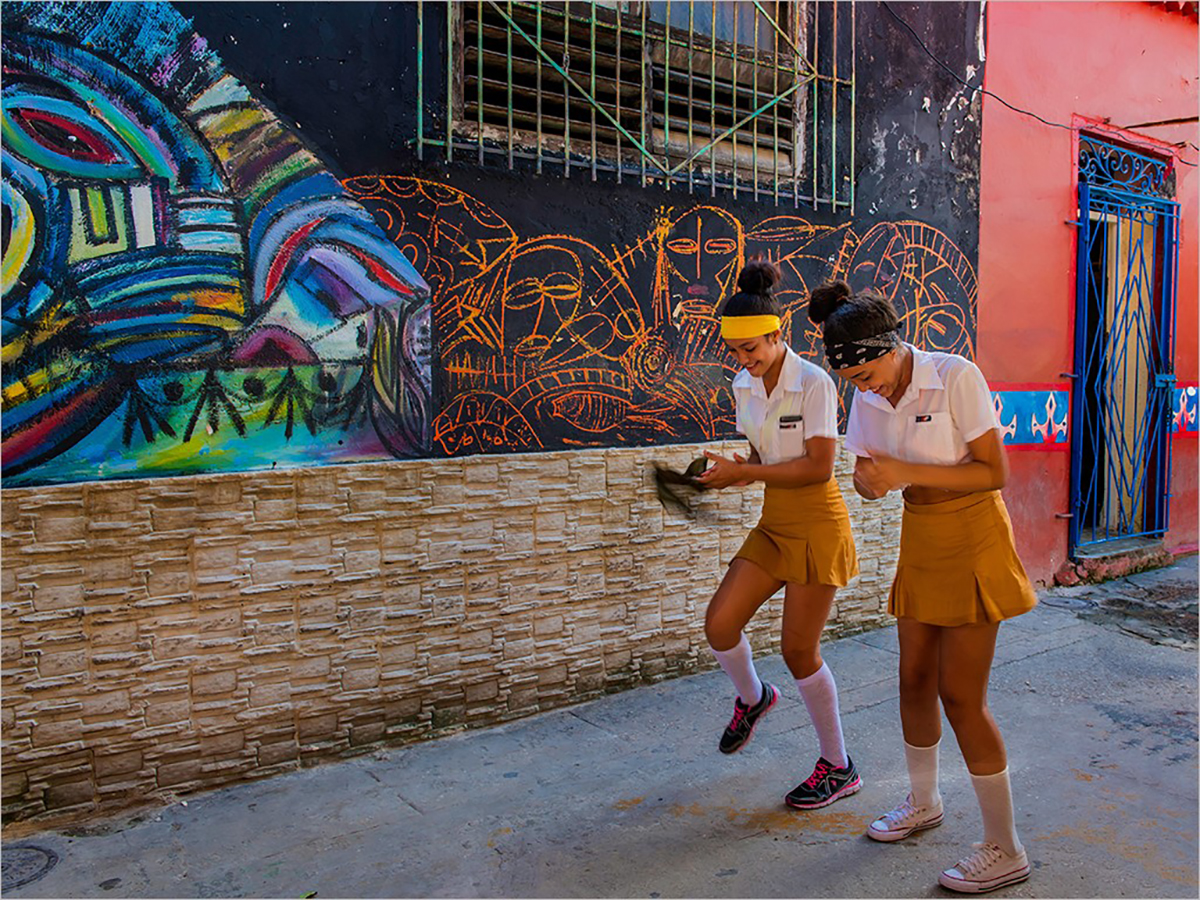 Dancing in the Street in Havana, Cuba
What kind of post-production do you do on your photographs and what editing tools do you use to get to your result?
"I use Adobe Lightroom for the first tweaks and then move into Adobe Photoshop where I dodge and burn using a method I have used for many years. I have also found that with street photography, I prefer converting my images into black and white, and for this, I use Nix Software. After the conversion, I do another round of dodging and burning until I am satisfied with the end result," says Evelyn. Evelyn enjoys both colour and black and white photography but feels that with street photography, converting the images to black and white sets a timeless tone to her work.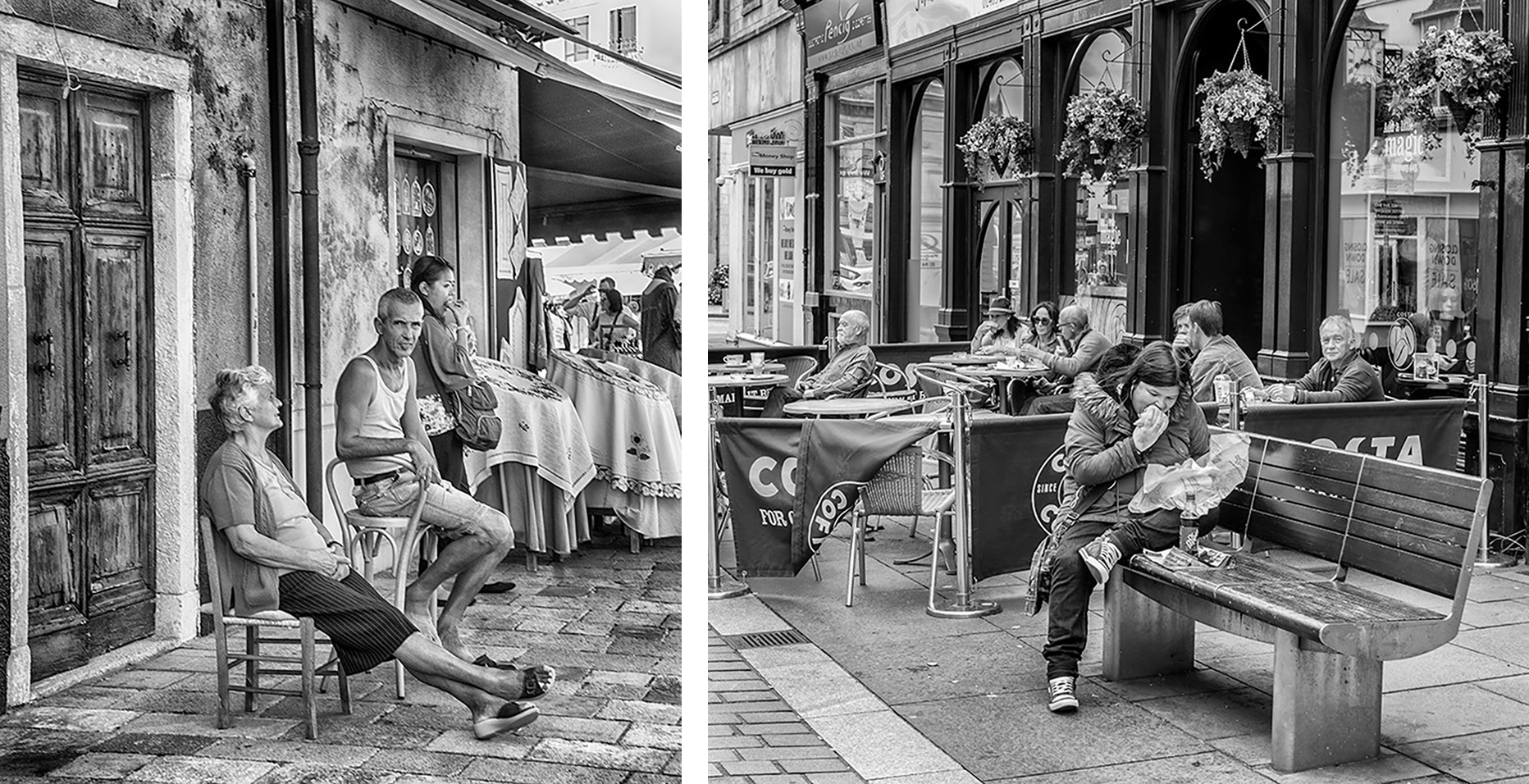 Street Photography Croatia                                                                                                          Lunch time snack Edinburgh, Scotland
Are there any photographers you absolutely adore and draw inspiration from?
"Absolutely," says Evelyn. "When it comes to creative work, I love Hein Waschefort and Martin Barber's work whom both are South African photographers. Then I also adore being in the bush and doing wildlife photography. With this genre, the Tusk team wins hands down.
Is there a specific message you want to convey with your photographs, and how do you get that message across? What is YOUR story?
"A photographer friend of mine from the UK once said to me that light is the river on which technique sinks or floats. Emotion, spirit, conveying mood, atmosphere and meaning need to be there when the image is captured. When the viewer looks at the image, they must almost as if they are able to walk into the image and become part of it and this is what I try and convey in my images," smiles Evelyn.

A Penny for all their thoughts – taken in the famous square in Venice                                                                   The Bodies – taken in Newtown Johannesburg
How did you get into photography?
"I have always been a good point-and-shoot photographer, which I am sure was passed down from my dad who was a great photographer and a magician in his darkroom. So when I retired, my husband bought me a film camera and I decided to do a two-year photography course through Open Window Academy", says Evelyn. She furthermore says she has no regrets starting out with film photography but admits that moving over to a digital format has allowed her to express her creativity. "But", says Evelyn, "I always try and get it right in camera and this is where studying film photography has been an incredible advantage for me."
Another influence in her photographic journey has been her involvement as Pro of the Photographic Society of South Africa (PSSA). She is also part of the PSSA Honours Judging Group, allowing her the opportunity to see and judge photographic work from all over the country and exposing her to many different genres.

Taken in Havana, Cuba                                                                                                                             Cheers, taken at the Edinburgh Festival in Scotland

What gear can you not be without?
"Definitely my Nikon cameras!", exclaims Evelyn. She recently invested in a Nikon mirrorless camera which she is thoroughly enjoying, but she will not be getting rid of her DSLR cameras as they play a large part in her wildlife and sports photography.
What motivates you to continue taking pictures?
"My main motivation is leaving lasting memories behind for my family, and what better way to do it than capturing that one perfect second on a photograph!"
In terms of printing and mounting/framing, what do you like and why?
"I simply love the DiaMount® process Art of Print offers because it gives the image an almost 3D-like feel and just adds so much punch to the colours. I also enjoy canvasses as that again gives an image a different feel altogether," says Evelyn.
To view more of Evelyn's photography you can visit her website, Facebook page or Instagram.