Stable & versatile – from handy tabletop tripods to advanced carbon fibre tripod kits.
Add a pair of modern, sleek legs to your camera kit. Benro is known for manufacturing professional camera tripods that are both sturdy and versatile. Their range includes lightweight, travel-friendly aluminium tripods that fold back within themselves for an easy fit inside your carry-on luggage and more sturdy carbon fibre tripods that support your heavy DSLR shake-free even with the extended centre column. This allows you to shoot at eye-level with confidence, whether it is landscape or wildlife photography. Benro's stability also allows you to extend your exposure time for sharp night photography.
Add a pair of sleek modern carbon fibre or aluminium legs to your camera kit, or go explore with Benro's ultra lightweight travel options that fold up within themselves for easy storage. Benro designs triple transfunctional tripods that transform your tripod into a tripod, monopod or walking stick, so you have less to carry around when taking in the scenery. Invest in professional camera tripods and browse through our online selection for camera tripod prices.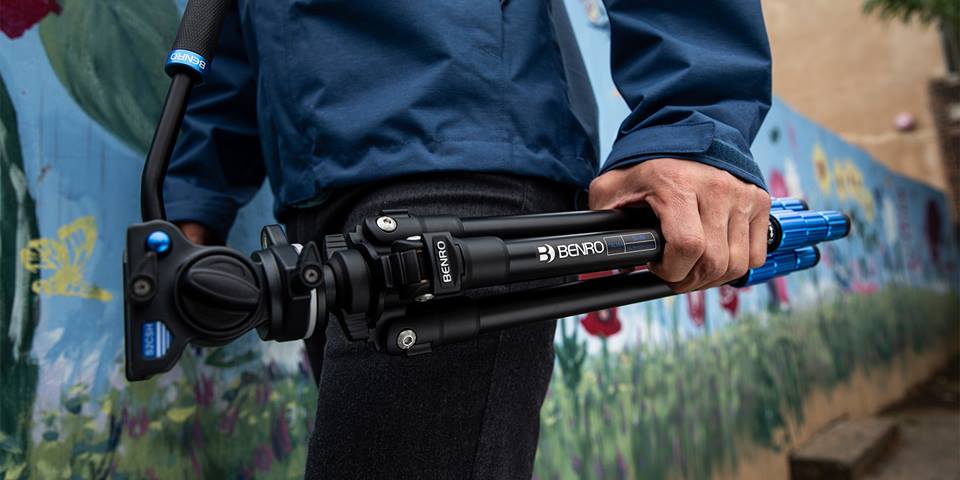 Available in both carbon fibre and aluminium, the Benro Slim tripod is lightweight, supports up to 4kg, and includes an Arca-type ball head with QR plate. Designed to conserve space during storage and transport, the tripod measures 51cm long when folded. Each leg can be positioned individually for uneven terrain. An included bubble level will help you stay level.
Strong & smooth – achieve professional, cinematic camera effects ideal for use in the studio.
Together with an extendable arm, Benro video tripods are fitted with pan and tilt heads for smooth, shake-free professional video production. The Benro video tripod range is designed to accommodate your needs, whether you require a high-load carbon fibre video tripod with spiked feet for the outdoors, or more affordable aluminium video tripods with rubber feet that provide reasonable grip on smooth floors.
For photographers who are on-the-move, follow the action with lightweight yet sturdy carbon fibre tripod legs. For studio applications, Benro's durable, yet lightweight carbon fibre/aluminium design promises a stable and portable video tripod that is ideal for live broadcasts, independent films and even those sought-after momentous wedding videos. Expect easy handling and precise, fluid control for professional video production. If you require fast setup, be sure to invest in a flip-lock, and if you prefer manual tightening for peace of mind, look out for twist-lock options.
The Benro Aero for video is a super compact video tripod with reverse folding legs, making it small enough to fit inside of a backpack, rolling case or carry-on.
Easy & mobile – follow the action with Benro's smooth panning photo and video monopods.
Shooting sports or wildlife with a long telephoto lens can become tiresome without a monopod to steady your shot. So, depending on your shooting style, having a monopod is an indispensable part of your kit. It eliminates up and down movement, thereby reducing camera shake during exposure for crisp, clear images/film; yet moves sideways so that you can pan action like a pro. And, if you find yourself in a crowded place, simply continue shooting without worrying that an extra leg might cause a trip hazard.
If you're a wildlife enthusiast, make the most of your safari with a monopod to support your long telephoto lens. For sports photographers, pan action like a pro, or shoot in crowded places with an easy to set-up monopod. Benro monopods cater to all your needs, which makes buying a monopod easy – whether you need a classic, durable carbon fibre monopod to carry the weight of your pro DSLR; OR a compact, lightweight aluminium traveller tripod that folds up to a handy 45cm.