"Clip-on" lenses for your iPhone
Funded through the Kickstarter crowdfunding platform, olloclip photo lenses push the parameters of what's possible with mobile photography. Designed for use with iPhones, the lens sets include interchangeable fisheye, wide-angle and macro lenses that work seamlessly on both front-and-rear-facing cameras.
Take the olloclip 4-in-1 Photo Lens, for example, which comes with four lenses to meet all your photographic needs. The wide-angle lens lets you take in more of the landscape, the fisheye lens creates a wide panoramic look while the two macro lenses give you clear close-ups. This professional-style lens system easily slips over the top of your iPhone and onto the camera lens within seconds and its precision-coated ground glass optics delivers superior clarity. This versatile lens kit is the perfect social media accessory and will have you taking pictures worth a 1 000 likes in no time.
The Olloclip Filmmaker's Kit.
The Olloclip Filmmaker's Kit.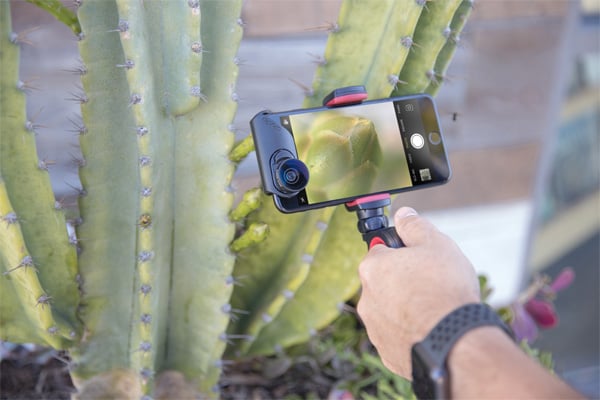 From smartphone to camera with Pictar
Instantly turn your smartphone into a fully functioning camera with the Pictar grip. The comfortable ergonomic design makes it feel like you're holding a real camera without the extra weight and has four external buttons that let you shoot just like a real camera.
The exposure compensation wheel allows you to alter the brightness of your photograph.
Turning the smart wheel allows you to select the mode you want to use.
The multi-state shutter release is electronically calibrated to provide maximum sensitivity.
The zoom ring changes the focal lengths and doubles as a selfie button.
Take smooth, well-lit videos
The Pictar is compatible with most "clip-on" lenses and has a cold shoe mount for flashlights. By using a standard attachment like mount clamps, you can also place your phone-turned-camera on a tripod like the Joby GripTight ONE Gorillapod Stand.
With four LEDs that put out up to 300 lux, the iBlazr 2 LED wireless flash is sure to add that "wow factor" to your photos and fill in shadows for an evenly-lit-photo. Simply attach the flash to your device using the mounting clip and connect it to your device via Bluetooth and you'll be ready to go.
Thanks to mobile accessories like the GorillaPod Stand, iBlazr 2 LED Flash and the DJI Osmo Smartphone stabiliser you can create awesome photos and videos in no time. Think of it as your go-to expert kit. These three easy-to-use products, combined with some clever creativity will take your Instagram photography to the next level.
The DJI Osmo Mobile Gimbal Stabiliser allows you to capture smooth handheld footage and when used in combination with the DJI GO App, you can create exciting time-lapse videos and even stream live footage.
For incredible audio with your footage add the VideoMic Me; a high-quality directional microphone for your iPhone.