Getting started with flash photography can be daunting, but it's often the best way of increasing your professional offering especially if you're a portrait, lifestyle or wedding photograher. Being able to improve the quality of your on-camera lighting will transform average photos into stunning works of art that impress potential clients. Therefore, investing in the right flash modifiers is important as this will allow you to take photos that truly complement the subject.
That solution is the MagMod Starter Flash Kit. This flash modifier system is easy to use and includes all of the basics you need to gain control of your speedlight, namely a MagGrip that slides onto most flashes and uses magnets to secure to the included accessories, such as the MagSphere and MagGrid.
MagGrip
The MagGrip holds everything together. It connects your MagMod accessories onto your flash using a revolutionary magnetic design that makes photography easy. It lets you set up, mount and modify for beautiful light in just seconds.
MagSphere
When taking photos of people, a soft diffused light lights up the face without unflattering lines or shadows. This is where the MagSphere comes in handy as it breaks up harsh, concentrated light for a more softening glow.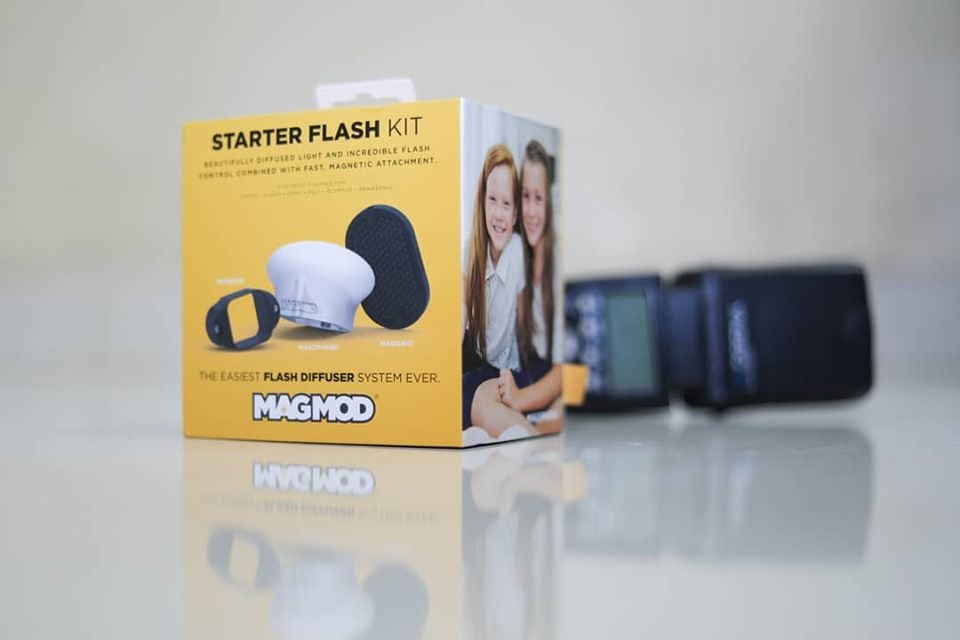 MagGrid
Aviod unwanted light spill with the MagGrid. It precisely focuses the light beam from your flash onto your subject for cleaner shots. One MagGrid provides a narrow 40° beam angle. For an even narrower 20° beam angle, you can stack another MagGrid to the setup.
*Please note that the MagMod Starter Flash Kit only includes one MagGrid.
The benefits of using MagMod
Modular design: All MagMod products work together, allowing you to

combine multiple modifiers, stack gels or even integrate multiple gels with multiple modifiers in any order for even greater control over your light. This means that adding onto the MagMod Flash Starter Kit is possible.

Magnetic mount: Thanks to invisible magnets, all MagMod products simply stick together when applied, making it easy to

 set up, mount and modify for beautiful light in just seconds.

Tough material: Moulded from silicone rubber, MagMod products' tough construction withstands impact and tearing, and are chemical resistant.
Minimalist: Its sleek, minimalistic design means you'll never lose necessary parts, and its compact size reduces unnecessary bulk on your flash, while also saving space in your camera bag and can easily fit in your pocket.
The MagMod Starter Flash Kit has everything you need to start your journey into flash photography. It includes a MagGrip which connects your MagMod accessories onto your flash, a MagSphere which diffuses harsh light and a MagGrid which focuses your light into a precision beam pattern with minimal spill.