Lomography's Simple Use Film Cameras are no ordinary disposable cameras – Lomography has made disposable cameras cool. These modern disposable cameras are exciting! The Colour Negative and LomoChrome cameras are equipped with colour gel filters that, if mixed and matched together, will produce different hues for your photographs. Although the Monochrome camera does not have a filter, it is loaded with amazing Lady Grey film for a moody effect.
Lomography's range of lightweight and compact cameras can simply slide into your pocket, perfect for taking on adventures. All you have to do is capture those unique memories, drop the camera off for the film to be developed, wait and show the photos to all your loved ones. You might have one problem with these cameras though, and that is choosing between the electrifying LomoChrome Purple, more subtle Colour Negative, or the Black and White that will take you down a monochrome journey. Perfect for weddings, parties, Sunday lunches or a cool gift, these Simple Use Film Cameras will brighten up anyone's day.
The Colour Negative Simple Use Film Camera is preloaded with fantastic colour negative film, so you can add a beautiful yet funky twist to the photos you take. Choose one of the three gel filters to create a different coloured image or mix them together to get a whole new effect. The three gel flash filters are sunny yellow, magical magenta and crazy cyan coloured. Want a bright and happy kick to your photo? Add the yellow filter. Looking for a cheerful haze over your portrait? Cyan might just be the answer. Don't take ordinary pictures. Be the person that takes extraordinary photos.
Sometimes, being moody is not such a bad thing! Preloaded with Lady Grey ISO 400 film, capture special moments with this camera. Shooting is possible even in low-light situations thanks to the powerful flash on this cool camera. Every shot is filled with fine grain and rich monochrome tones that create beautiful photos with every shutter click. Master the art of black and white photography without an expensive DSLR. Take this disposable camera to an Indie film festival to capture friendship enveloped by moody lyrics.
Have the ultimate analogue experience with this LomoChrome camera preloaded with Lomography's popular colour-shifting film that can tint your whole world with a purple haze. Cool, right? Just as with the colour negative camera you can also mix and match the colours to create even more exciting effects; there are no limits. With 36 distinguished frames, your world will turn into a wonderland with just the click of a button. This Simple Use Disposable Camera is the perfect go-to camera for the party lover or to surprise guests at your colourful wedding. Lomography has been designing unique and funky cameras since 1992 and with this trendy product, it is easy to see why they are at the top of their game.
Film Format: 35mm Film
Lens Focal Length: 31mm
Shutter Speed: 1/120s
Aperture: f/9
Focusing: 1m to Infinity
Flash: Built-in Flash (Press & Hold to Charge), 15-second Recycle Time
Battery: 1 x AA Battery
Dimensions (mm): 115 x 60 x 33
Take a look at what some of the experts had to say about these easy to use cameras preloaded with Lomography's popular colour shifting film.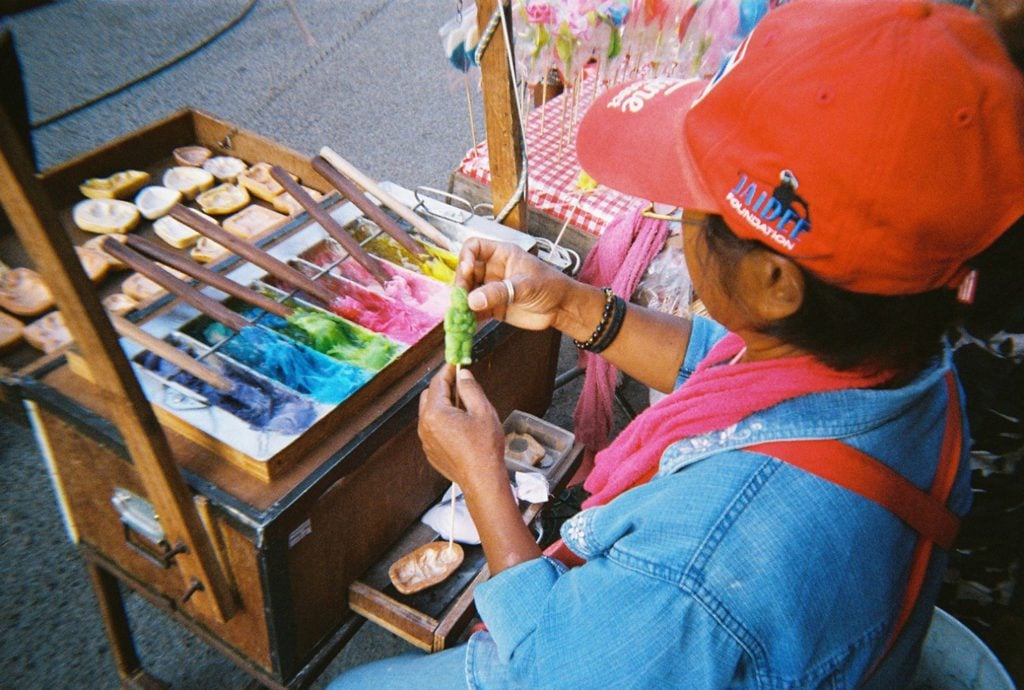 "Lomography's Simple Use camera is definitely a change of pace."
"Lomography never rests. Fresh off last month's introduction of the Lomo'Instant Camera, Lomo has taken the wraps off of yet another camera: the Simple Use Film Camera."
"Instead of being the only option, film photography is a growing trend in the digital age. Carried by this tide, Lomography introduced another set of cameras for the film lovers – the Simple Use Film Camera."