Six super campsites in Southern Africa
This post was originally intended to be a list of only three of our favourite campsites, but with so many incredible places to pitch a tent three just wasn't enough. Instead, for those of you getting the camping gear ready for the summer holidays, here are six of our favourites in and around southern Africa… and we may have to add more later!
1)    Molema Bush Camp, Tuli Block, Botswana
We love a well-thought-out campsite, so Molema always makes the list when we're considering places to stay in Botswana's Tuli Block. Situated under colossal Mashatu trees beside the Limpopo River, three stands have carefully levelled spots for your tent, simple yet decent private ablution cubicles with hot water and flush toilet, and built in braai areas. Keep an eye out for the resident genets around the fire at night.
Good to know: The road from Platjan Border Post to Molema is often pretty badly corrugated, so if you're heading in from that direction, take it slow and try not to arrive after dark.
Contact: +27 78 146 9881 (Dan) or +27 83 291 7751 (Stuart)
Email: reservations@tulitrails.com
Web: www.tulitrails.com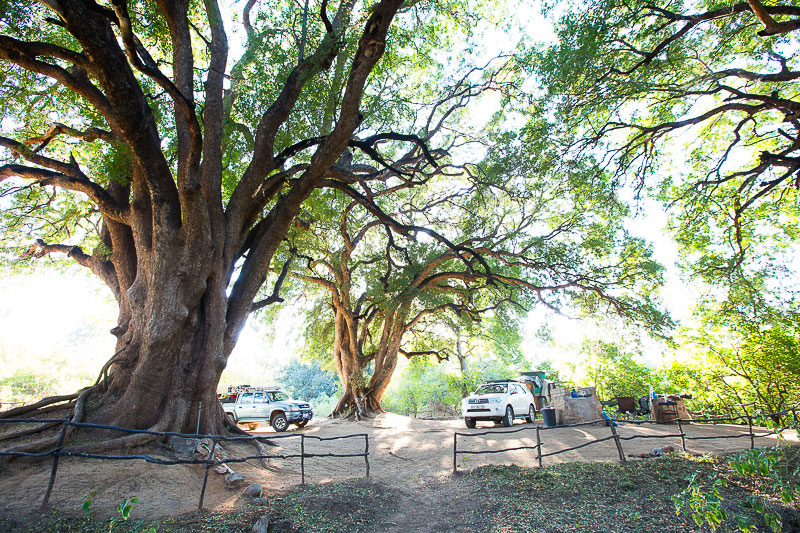 You won't easily find a more scenic campsite in Botswana than Molema.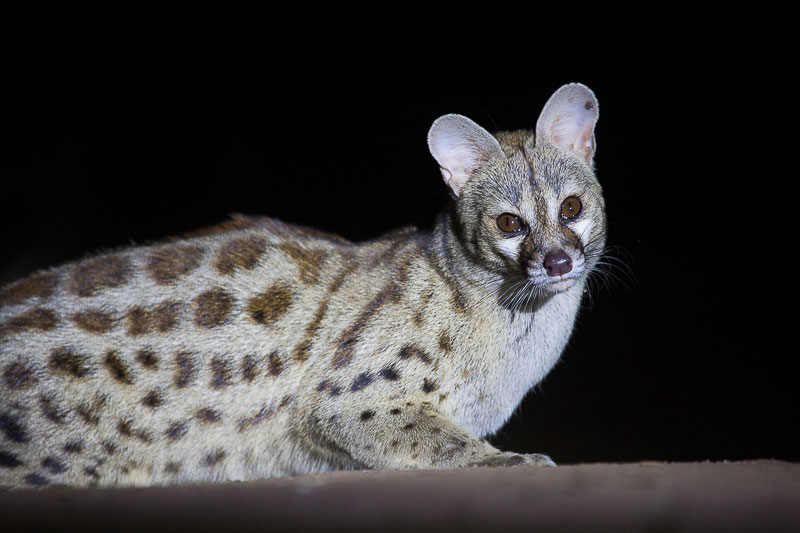 A resident large-spotted genet poses for a photograph.
2)    Balule, Kruger National park
Unlike Kruger's other public campsites, Balule is small – only 15 stands. The limited number of guests and the fact that the camp is not electrified (lanterns are lit every evening) makes for a quieter camping experience and a more intimate wildlife experience. From the fence you often see hippos and elephants.
Good to know: Balule is, understandably, a very popular place to camp, so you'll have to book early to stay.  Also, campsites aren't allocated when you book, so get there early for a spot along the front fence closest to the river.
Contact: 012 428 9111
Email: reservations@sanparks.org
Web: www.sanparks.co.za/parks/kruger/camps/balule/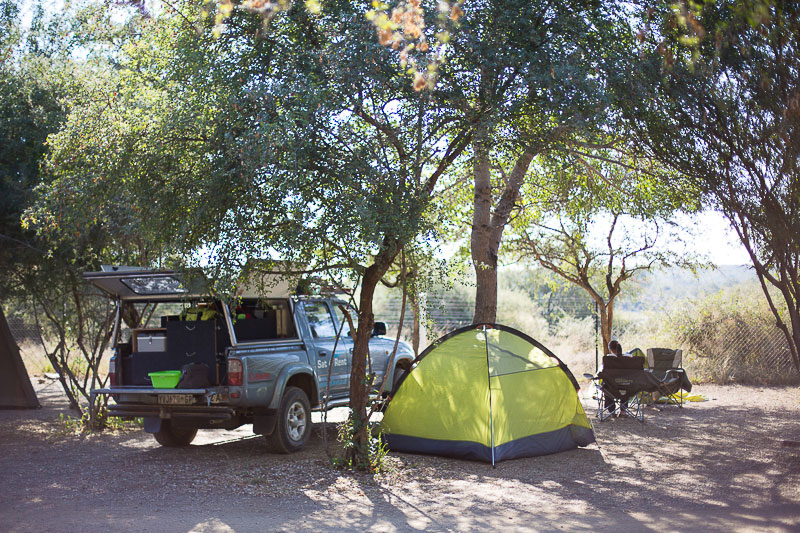 Residents staying at Balule can book in at Satara or Olifants camps.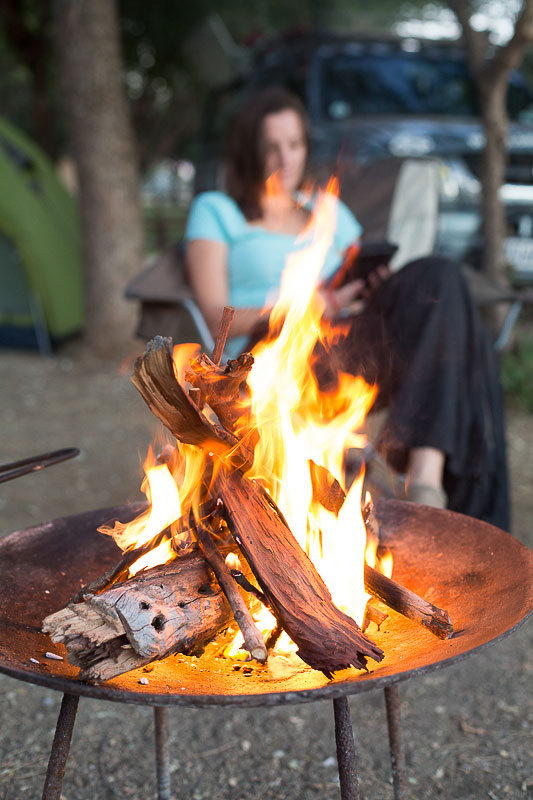 Sitting next to the fence, enjoying the fire and listening to the calls of the wild.
3)    Hlaro, Gonarezhou National park, Zimbabwe
If wilderness camping is what you're into, it doesn't get much better than Hlaro campsite in Zim's Gonarezhou National Park. A private campsite right on the edge of the Runde River in the north of the park, it's a busy area for game (including sable, elephants and the odd bush pig) and is perfectly situated with a view of the park's iconic Chilojo Cliffs.
Good to know: Gonarezhou's exclusive campsites are not for sissies. They're remote, unfenced, and facilities are very limited (you're lucky if you have a longdrop!). You'll need to be entirely self-sufficient. Also, Gonarezhou's animals are still recovering from the horrors they faced in the Mozambican civil war, so they're very wary of people and vehicles – especially the elephants – so be considerate and don't push your luck at sightings.
Email: bookings@zimparks.co.zw
Web: www.zimparks.org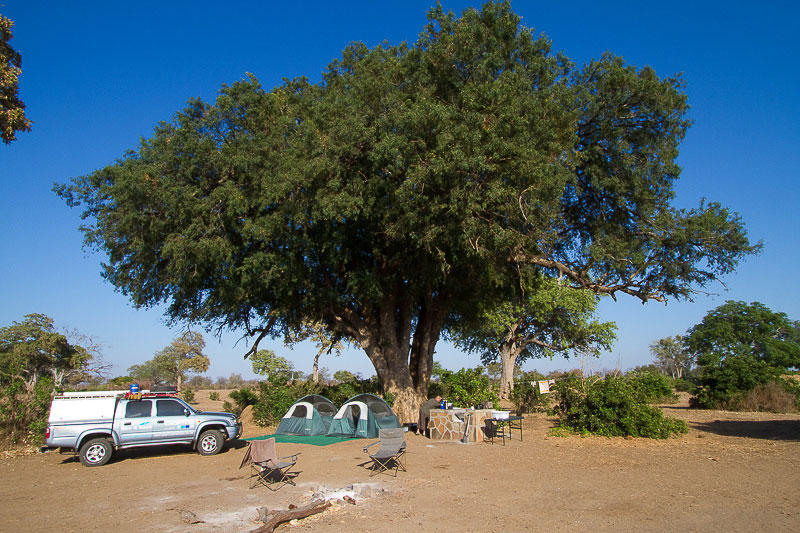 Hlaro campsite in Gonarezhou is situated under a massive nyala tree.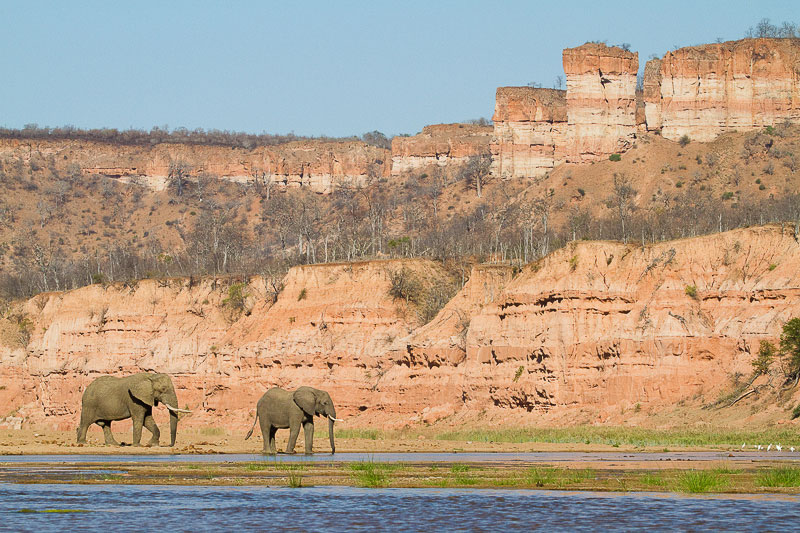 The view from Hlaro often leaves you breathless…
4)    GooMoremi Gorge, Botswana
We've only really used it as a stop-over camp between Martin's Drift border post and some of the more distant destinations in Botswana, but this tucked-away camp is worth stopping for. Five beautifully kept campsites complete with built-in braai facilities and tidy ablutions (flush toilets and solar-heated water for showers) cater for small and large groups, and if you decide to stay another night there's a lovely walking tour up to the gorge, where endangered Cape vultures breed.
Good to know: It's not well signposted, so follow the directions on the website carefully, but if you get lost, the local villagers will point you in the right direction.
Contact: +267 7124 7255
Email: info@goo-moremigorge.co.bw
Web: www.goo-moremigorge.co.bw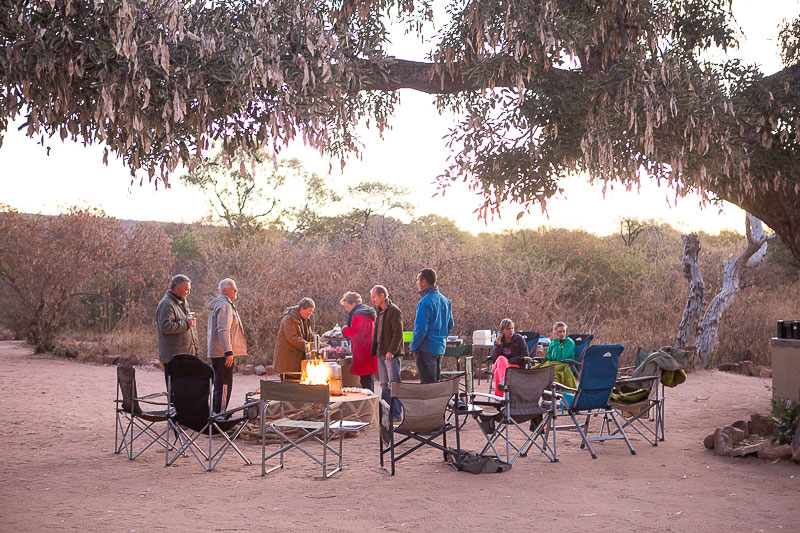 A large group of friends relax around the fire at GooMoremi Gorge.
5)    Mabibi, iSimangaliso Wetland Park, KZN
A lot of people love it, but we're not the biggest fans of camping at the coast, mainly because everything gets sticky, sandy, and damp. However, Mabibi is a coastal campsite that we're always happy to revisit. There's something special about camping beneath the towering trees of iSimangaliso's coastal forest, which are home to an array of birdlife and shelter each of the ten campsites from the summer sun and stiff winds off the Indian Ocean. Each site is equipped with a braai area and tap, and though the ablutions aren't worth writing home about, it's quiet and full of laid-back east coast charm.
Good to know: You'll probably need a GPS with Tracks4Africa to find Mabibi! Also, 137 wooden steps separate Mabibi campsite from the beach, so unless you're there for the exercise, remember to take what you need with you when you go down for the day…
Contact: (+27) 035 474 1504
Email: res@mabibibeachcamp.co.za
Web: www.mabibicampsite.co.za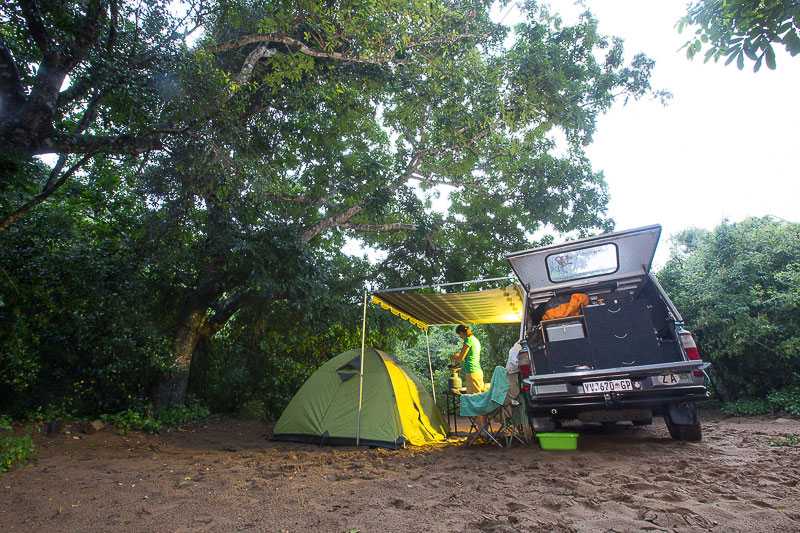 You'll need a 4×4 to get to Mabibi – it get's very sandy in places!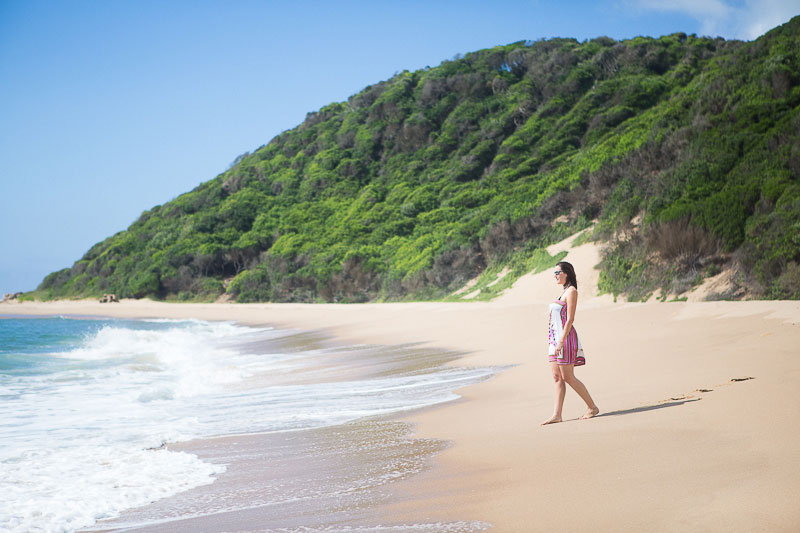 Mabibi beach is remote and unspoilt, unlike most other beaches in South Africa.
6)    Rooiputs and Polentswa, Kgalagadi Transfrontier Park, Botswana
The Botswana side of the Kgalagadi has a much more rustic set-up than the South African side. Campsites are unfenced, and most only have an A-frame for shade and a long drop that may or may not have been used as a chew-toy by lions. Rooiputs's five campsites and Polentswa's three are favourites of many who enjoy this simple set-up. They're close enough to the Nossob riverbed for some fantastic sightings, and you can start every morning game drive ahead of the crowd from Twee Rivieren and Nossob respectively.
Good to know: You'll need to bring everything you need – water, power, fuel, and food – and you'll need to be careful about how you store it all. Lions have been known to take advantage of the shade under the A-frames in the heat of the day, and sometimes they just pop by in the night to use your camping gear as toys. Remember: fresh water is gold in the desert, so don't leave your canisters where hyenas can pinch them.
Contact: (267) 318 0774 or (267) 686 1264
Email: DWNP@gov.bw

The sun sets over a Polentswa camel thorn tree.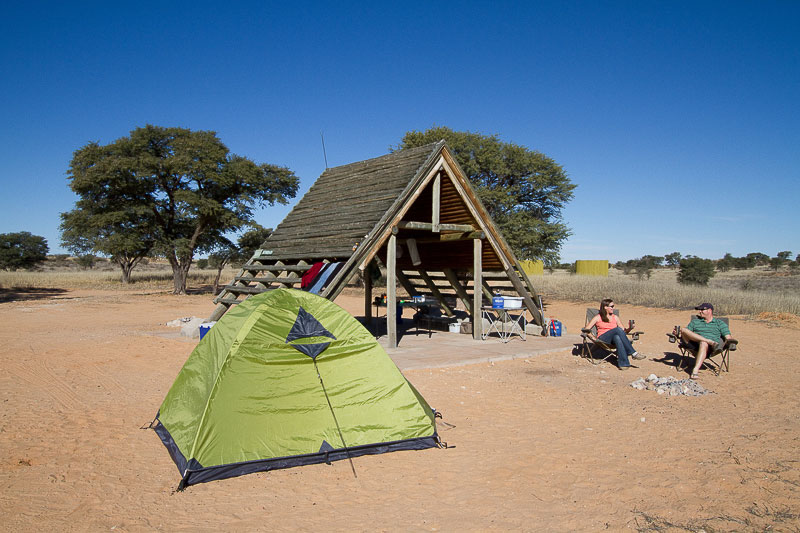 Stand no.1 at Rooiputs may not have lots of shade, but the view from there is great!