Why LensCoat?
Made from waterproof, closed-cell neoprene, LensCoat's thermally insulated covers protect your gear from the elements like rain, snow, salt spray, dirt, sand and dust. The covers also protect your gear from scrapes and bumps, preserving its resale value and extending its longevity.
Lens Covers & Hoodies
The neoprene LensCoat Hoodie helps protect the front element of your lens from dirt, dust, moisture and impact. The hoodie fits easily and snugly around your lens hood or shade in either the shooting position or reversed.
The LensCoat Covers' unique nature-inspired designs help break up the shape of the lens, making it less noticeable to wildlife. Other features include a clear, flexible window over the distance scale, AF, IS and VR controls. Custom holes also reveal the red-dot for easy alignment to the camera body without removing the cover.
Due to the manner in which the lens barrel extends/retracts leaving a small area exposed, some of the lens covers come with an optional piece of neoprene that can easily be put on or removed with the Velcro attachment to cover the lens when zoomed out.
The LensCoat extender covers each have a small hole on the last segment that lines up with the red dot indicator, making it easy to quickly line up your lens with the camera mount even with the cover installed.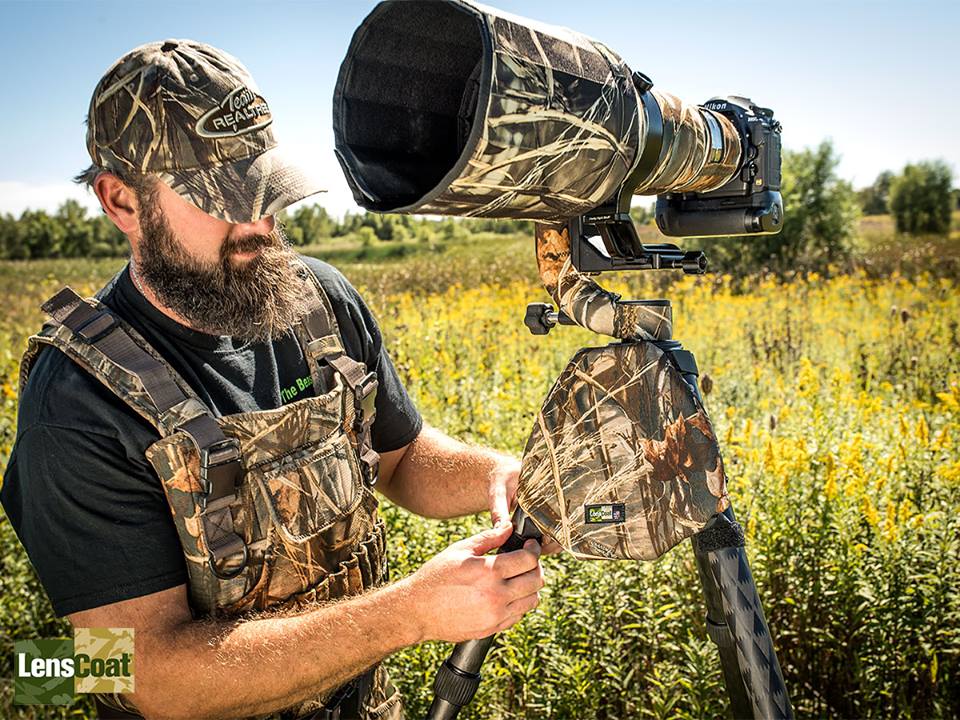 Gimbal Head Covers
LensCoat gimbal covers allow you to blend into your surroundings making you virtually invisible. It has the added benefit of preventing your gimbal head from projecting a glare once the sun hits it at just the right spot. You don't want anything giving away your presence!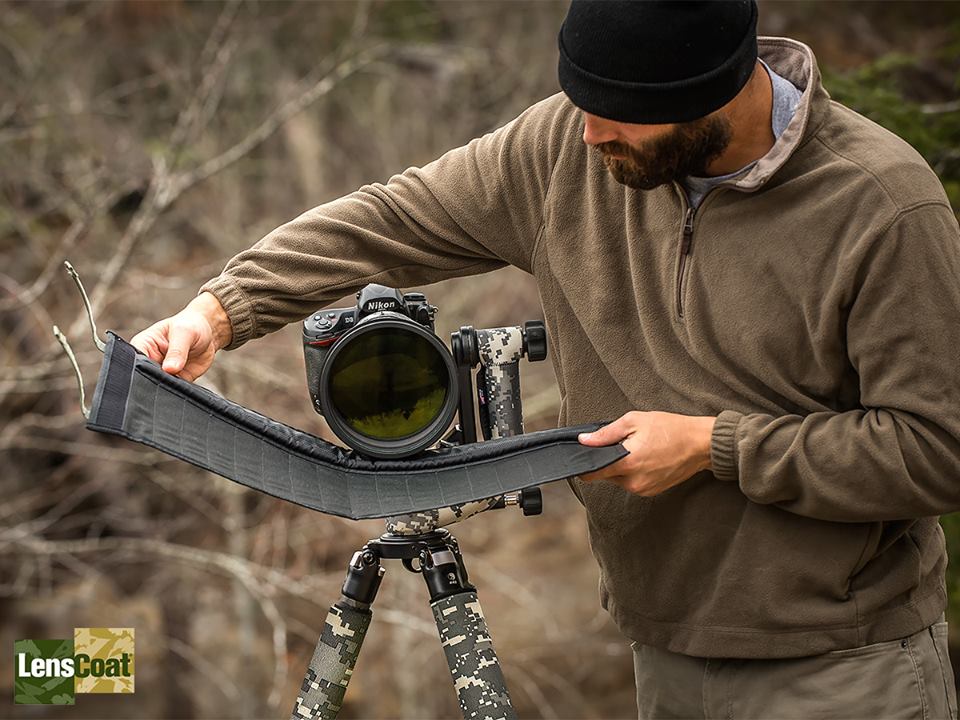 There's never enough room in your camera bag! Keep your gear compact with a TravelHood – a lightweight alternative or replacement to the rigid lens hood that comes with your lens.
Camera BodyGuards
Made from shock-absorbing neoprene, the LensCoat BodyGuard is soft enough to feel comfortable in your hands while still protecting your camera from scratches and unnecessary bumps. It's the ideal accessory when storing your camera away temporarily or when you are travelling for it not only protects your camera but also keeps it free from dust and dirt, while your lens is attached.
Accessories Wallets & Pouches
Compact pouches for gimbals and batteries offer easy storage in and retrieval from your camera bag. The battery pouch also has a belt hoop so you can wear it into the field, never be without battery power when you need it.
Made of lightweight, waterproof material, LensCoat memory card wallets protect your memory cards while keeping them organised in clear pockets for easy identification. Each features a quiet elastic enclosure (no velcro or zippers).