LensCoat has you covered
Founded by nature photographer, Scott Elowitz, the goal for LensCoat was simple; create the highest quality protective gear and accessories for your photo equipment. which is why LensCoat produces extremely high-quality neoprene lens coverings for a wide variety of lenses and other camera accessories.
Loved and used by thousands of nature, sport, wildlife and recreational photographers around the world, LensCoat lens covers protect your photography gear and offer camouflaging capabilities as well.
The ultimate goal remains to protect your lens. So, as the saying goes – you date your body, but you marry your lens. With that in mind, it is important to protect your gear for the following three reasons:
It protects the second-hand value
It enables constant high-quality images
It extends the longevity of your gear
The LensCoat covers are manufactured from super strong and durable neoprene, offering waterproof protection while providing a thermal barrier protecting your hands from cold lenses in lower temperatures. After the covers turned out to be such a success, the creators of this magnificent added more photography gear products to their list, like gimbal heads, neoprene lens bags and more.
LensCoat lens covers offer your valuable equipment protection from scrapes and bumps, preserving its resale value. They also help break up the shape of your lens, making it less noticeable to wildlife. Other features include a clear, flexible window over the AF/IS/VR controls and the distance-scale window. The LensCoat also features custom holes that reveal the red-dot for easy alignment to the camera body without removing the cover.
The hoodie
The LensCoat Hoodie helps protect the front element of your lens from dirt, dust, moisture and impact. The neoprene hoodie fits easily and snugly around your lens hood or shade in either the shooting position or reversed. The hoodie is like a gift for your lens from LensCoat, a gift of protection, a gift you need to protect what you love most; well second-most, just in case your loved ones are reading this as well.
LensCoat continues to innovate and create the highest quality accessories for all of your photo gear. It is used and loved by nature, sport and recreation photographers alike so, no matter what your style of photography, LensCoat has your back.
The Wimberley gimbal head cover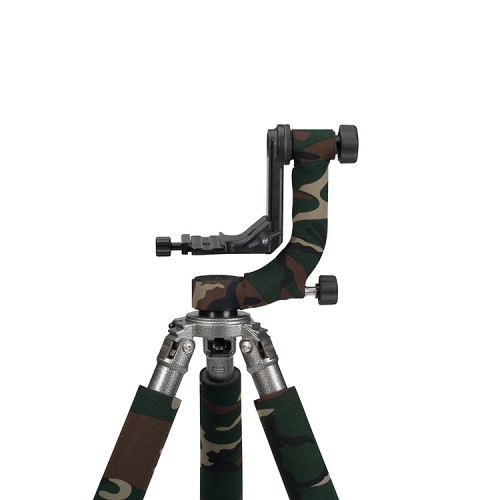 As a wildlife enthusiast you would know that Wimberley gimbals are rather expensive, therefore it is an accessory you want to protect to the best of your ability. The neoprene covers for these gimbal heads does not only protect but also ensure your gear has a longer longevity. The covers allow your equipment to camouflage into nature letting you blend into your surroundings and make you almost invisible to all the beautiful inhabitants that you are trying to capture even just a quick glimpse of. One very cool feature of this cover is to prevent you gimbal head from projecting a glare once the sun hits it at just the right spot, you don't want anything giving away your presence.
LensCoat cheat sheet
Waterproof closed-cell neoprene cover
Protects the lens from bumps and scratches to preserve its value and condition
Thermal insulated design benefits working in cold conditions
Helps break up the shape of the lens, making it less noticeable to wildlife
Easy to install and remove, leaving no residue on the lens
Clear UV-PVC windows over the distance scale, auto focus, and image stabilizer controls
Photos taken from behind the LensCoat disguise