You're on safari and the group spots a leopard relaxing in a tree about 25m into the thicket. The cruiser halts to a stop. Silence substitute a friendly chatter as the tourist next to you reaches for their pair of binoculars to better observe this precious sighting – apparently, the leopard is devouring a recent kill. You manage to make out the silhouette of its lower back, but feel a sense of FOMO creeping in. There will surely be more sightings to enjoy but, as a keen wildlife enthusiast and budding photographer, you cannot wonder whether it's time to add some Kruger Park essentials to your packing list. Luckily, we have compiled a list of four essential pieces of wildlife photography gear to take with on your next excursion: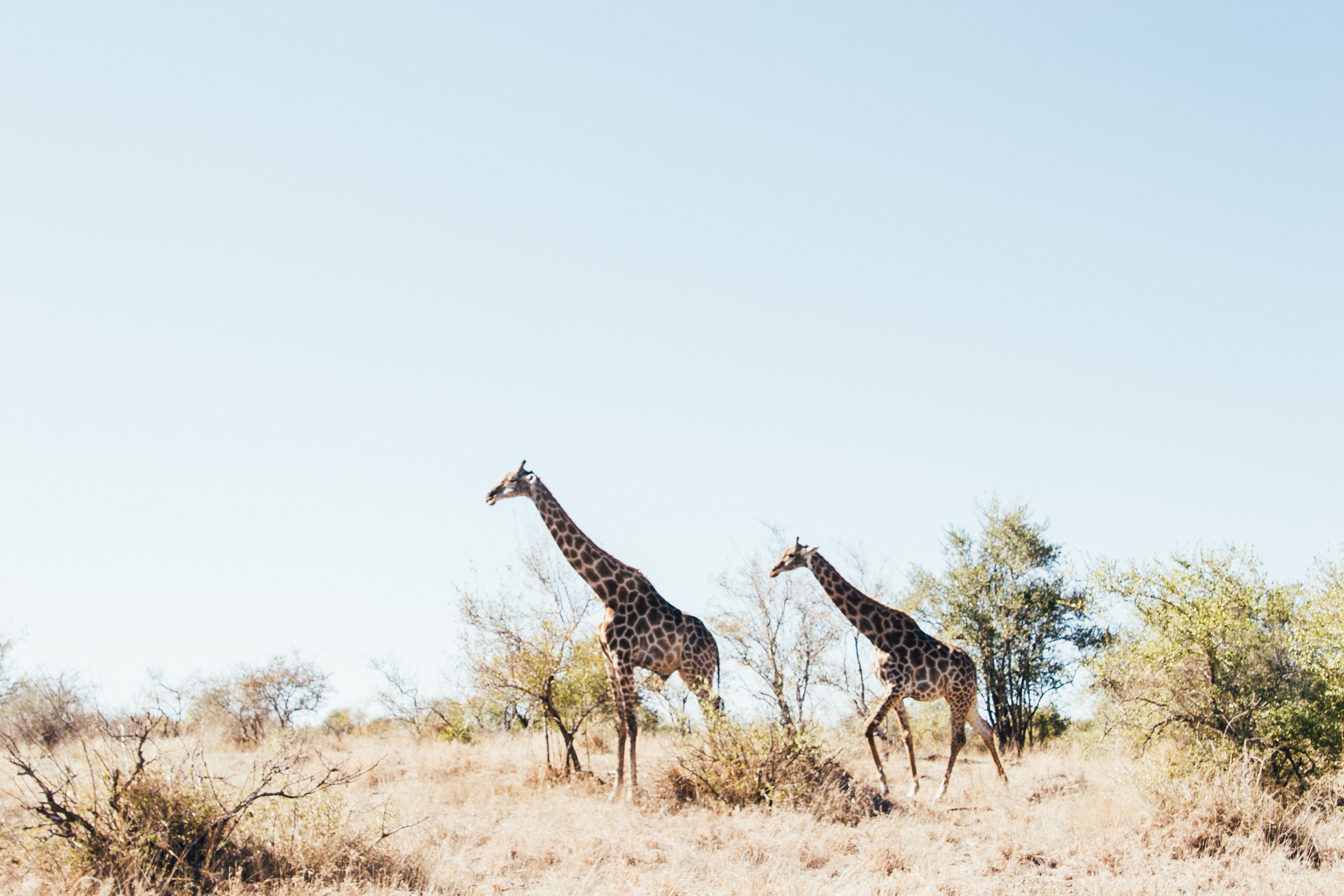 The Essentials
When out photographing in the wild, you cannot go without these four pieces of equipment:
Binoculars
Having a pair of binoculars at your side can greatly improve your wildlife viewing experience. Spotting wildlife to photograph takes time. It is very much a waiting game, which is why peering through binoculars for extended periods of time is less heavy on the arms that peering through your camera or lens. For this reason, we recommend investing in a lightweight pocketable 8x or 10x magnification binocular as these will allow you to see as much or even more than you would through a super-telephoto lens. When considering which binocular to buy, note that the specifications are represented by numbers: The first number is for magnification and the second is the size of the objective lens in mm. A larger sized lens lets in more light allowing for a brighter view but is often pricier. 
Recommendations:
Bushnell 10×42 Legend E-Series binoculars, which only weighs 652g. A rain lens coating (not waterproof) keeps the lenses fog-proof to deliver clear, bright views and an anti-reflection coating allows the maximum amount of light from the front glass back to the eyepiece for optimum brightness and true colour.
Nikon Monarch HG 10×42 and 8×42 binoculars offer exceptional optical quality. It uses extra-low dispersion (ED) glass, which corrects chromatic aberration that causes colour fringing, thus also gives the viewer a contrast-rich and high-resolution image. It is also waterproof up to 5m for 10 minutes.

Leica Ultravid 10×25 binoculars, available in a variety of colours, namely green, beige, blue and black. These premium compact binoculars offer brilliant optical performance, pin-sharp viewing, perfect resolution and reduced light capabilities. They are also waterproof to 5m.

Zeiss Terra ED 8×32 binoculars guarantee razor-sharp images thanks to its precise focus mechanism even when the image is only fleeting. With its compact size and weighing just 510g, it is a comfortable fit for your hand.
Canon 10×20 stabilised binoculars keep your vision rock steady with a lightweight (430g) design and comfortable handling.
Headlamp/torch
Good wildlife opportunities are generally at dusk or dawn. Having a high lumen headlamp (to keep your hands free) or torch can help illuminate your subject or even find things in your bag. It should be small enough to fit into your pocket and powerful enough to light up distant objects. We recommend a lumen count above 100 and up to 1000 for brilliant light at night. Remember to use your torch responsibly by shining next to an animal such as in the grass or nearby water, and not as a spotlight.
When considering the headlamp/torches specifications, look at whether it includes battery level indicator lights, dimming options to save on battery life, and a means of hanging it in a tent. Also, note the battery and charging options.
Recommendations:
Nitecore MH27UV is a multi-spectrum flashlight that recharges using a microUSB port. It features a max output of 1000 lumens, power indicators, a maximum runtime of 708 hours, is waterproof to 2m and impact resistant to 1.5m. It weighs 170g.
Nitecore P10GT is an LED flashlight offering four outputs from 60 to 900 lumens. It takes 1x 18650 or 2x CR123A batteries and includes a battery power indicator and strobe function. It is waterproof to 2m and impact resistant to 1.5m. The torch weighs only 82g.

Fenix UC30 is a five to 1000-lumen LED flashlight that charges via a microUSB. It features a battery power indicator, is dust- and waterproof, and weighs 77g without the battery.
Telephoto lens
In the Kruger National Park, you will either be photographing from the safety of your car or a hide, which means that having a telephoto lens to bring distant subjects closer to you, is crucial. Not only is it safer, but it allows you to photograph wildlife without disturbing them, allowing for more natural shots. A telephoto zoom lens works – well should an animal approach the vehicle, you are still able to get the shot. Before you buy, consider the lens' weight and aperture, especially if you'll be shooting in low-light conditions.
Recommendations:
Canon RF 70-200mm f/2.8 L IS USM is a flexible telephoto zoom for mirrorless cameras. It incorporates a 5-stop Image Stabiliser for quality handheld results, fast AF and a close focus distance of 70cm.
Nikon 200-500 f/5.6 E ED VR provides excellent stabilisation at long focal lengths for sharp, blur-free images even at a distance. Extra-low dispersion (ED) elements optimise sharpness and contrast for detailed images, and its closest focus distance is 2.2m.
Sigma 150-500mm f/5-6.3 DG OS HSM Contemporary for Canon and Nikon cameras is fast, quiet and optically stabilised. And, thanks to a special coating on the front and rear elements, the mount is dust and splash-proof.
Lens support
Telephoto lenses tend to magnify camera shake which is why using support, such as a tripod, bean bag or ground pod is so important. A sturdy tripod will help you achieve sharper images, especially when shooting at slower shutter speeds. A ground pod is also a fantastic option for shooting with long lenses from a vehicle or bird hide in conjunction with a bean bag. Place the ground pod with a gimbal head on your beanbag and enjoy panning, tilting and overall ease of motion and increased stability.
Recommendations:
Badger Gear Bean Bag is filled with plastic pellets that provide a good form and solid base for supporting heavy lenses. Travel with it empty to reduce your luggage weight and fill it on arrival.
Badger Ground Pod can be used with any camera and lens combination up to 600mm and its wide mounting surface accommodates virtually any ball head or gimbal style head fitting a standard ⅜" tripod mount.
Browse our wide selection of tripods to find a suitable fit for your gear. If you have any questions, contact our expert consultants for guidance.
The Extras
A raincoat
… not for yourself, but for your gear. Most of the Kruger National Park's rainfall occurs during the summer months, thus a raincoat to protect your setup is advisable. The Lenzz-Rezzt raincoat is an affordable option to protect your gear investment.
A Walkstool
Walkstool is a lightweight folding chair for travelling photographers. It is easy to carry and lets your comfortably sit for extended periods.
A hearty book
When it's time to kick back and relax, learn more about the Animals of the Greater Kruger. This book has beautifully illustrated photographic that will introduce you to the rich animal life that this park has to offer. For the young ones, the We Are Going to Kruger National Park book (available in both English and Afrikaans) will have your children enjoy the wild in the comfort of their imaginations.
Insect repellents
Keep the mosquitoes at bay with insect repellent soap, shower gel and sunblock. Whether you're out in the bush, mosquitoes tend to find any and every opportunity to make you itch. That is where Is Moz Bos comes in real handy! This proudly South Africa product is inspired by the African bushveld and with wild sage and citronella extract, is sure to help keep those dreaded mosquitoes at bay.