A friend of mine once said, 'If you live an ordinary life, you tell ordinary stories. Live a life of adventure!' These short but powerful words have motivated me ever since, but it was only as I lay flat on the ground looking into the fiery amber eyes of a startled leopard mother and her young cub, that I truly understood the meaning of the word adventure. It was never my intention to fall out of the vehicle between the two cats, however as I leaned out to grab a fellow guest's lens cap, gravity worked heavily against me, and the earth welcomed me with a bang! Thus, on that momentous first-afternoon shock, I started my book: Photo Safari Kruger.
Over the duration of the next 2.5 years, I spent the majority of my time in the Sabi Sand Game Reserve at Elephant Plains Game Lodge attempting to capture the invigorating essence of South Africa's most iconic Game Reserve. The book exhibits the magic of Greater Kruger through the lens of a photo safari experience, and to accomplish this I try to use innovative techniques focusing on capturing emotion and creativity to fascinate and inspire readers. One of the greatest lessons learned through this experience is that as important as the equipment and opportunities are, so is the skill of seeing past the obvious and photographing the unobvious – the simple art of photography. For the completion of this project, I used a combination of Canon camera bodies including a 1DX MK II and 5D MK IV, as well as a 70-200mm f/2.8 ( RF version ), 300mm f/2.8 and 16-35mm f/2.8 lens combination.
Below are some examples taken from the book 'Photo Safari Kruger' exhibiting some of the creativity I looked to achieve in the project.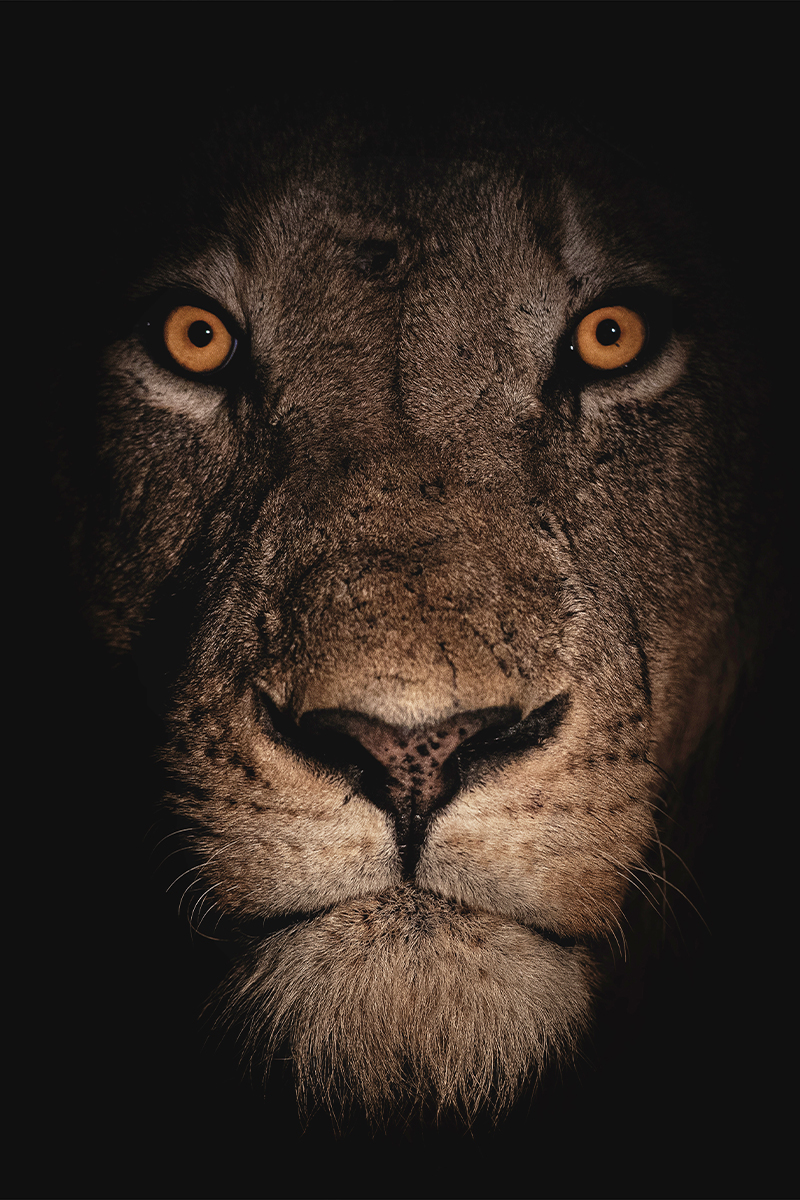 1/500 sec, f/2.8, ISO 1000
Spotlight photography used correctly, creates an element of mystery within an image, producing surprising results. Artificial lighting can produce incredible and unique photographs of animals that you see regularly. In this case, the spotlight illuminates the eyes while hiding the distraction of a background.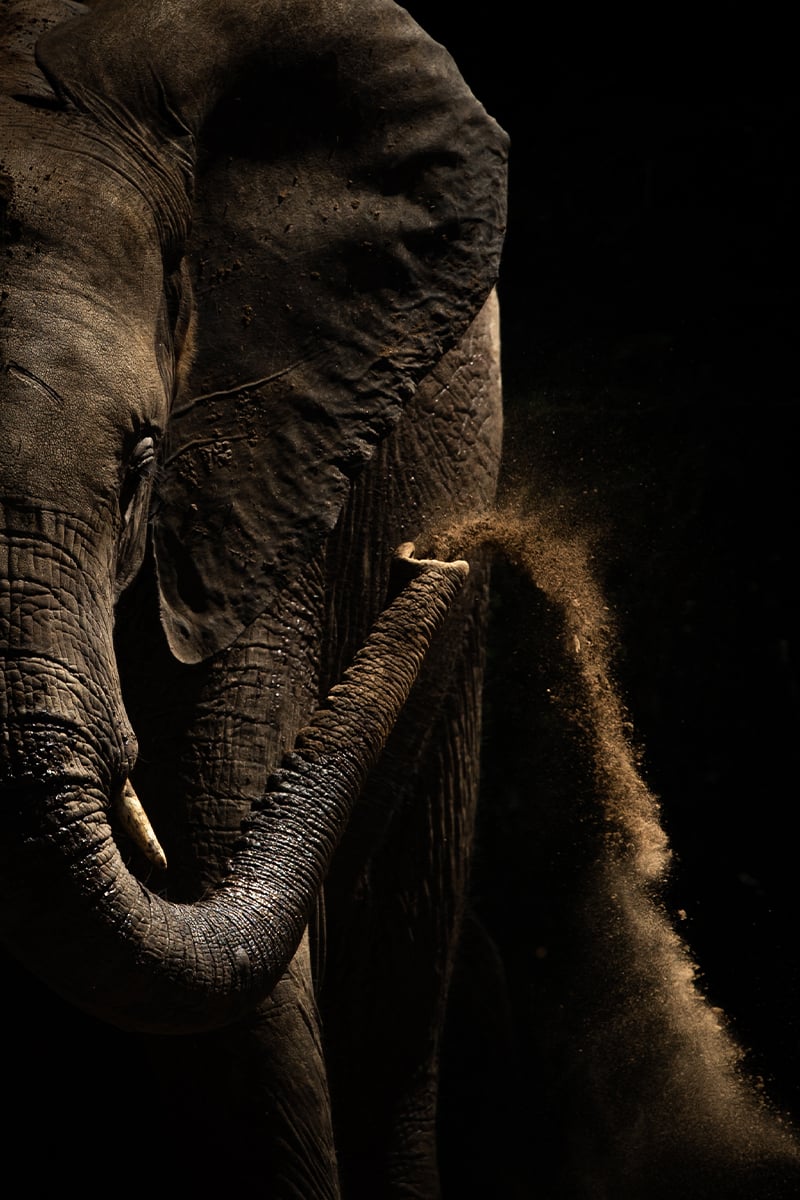 During the heat of the day, elephants can frequently be seen cooling off as they cover themselves with mud, water or in this case, sand. This is often the best time to photograph these creatures, dust flying, rumbling sounds giving a certain ambience and sunlight decorating every dust particle.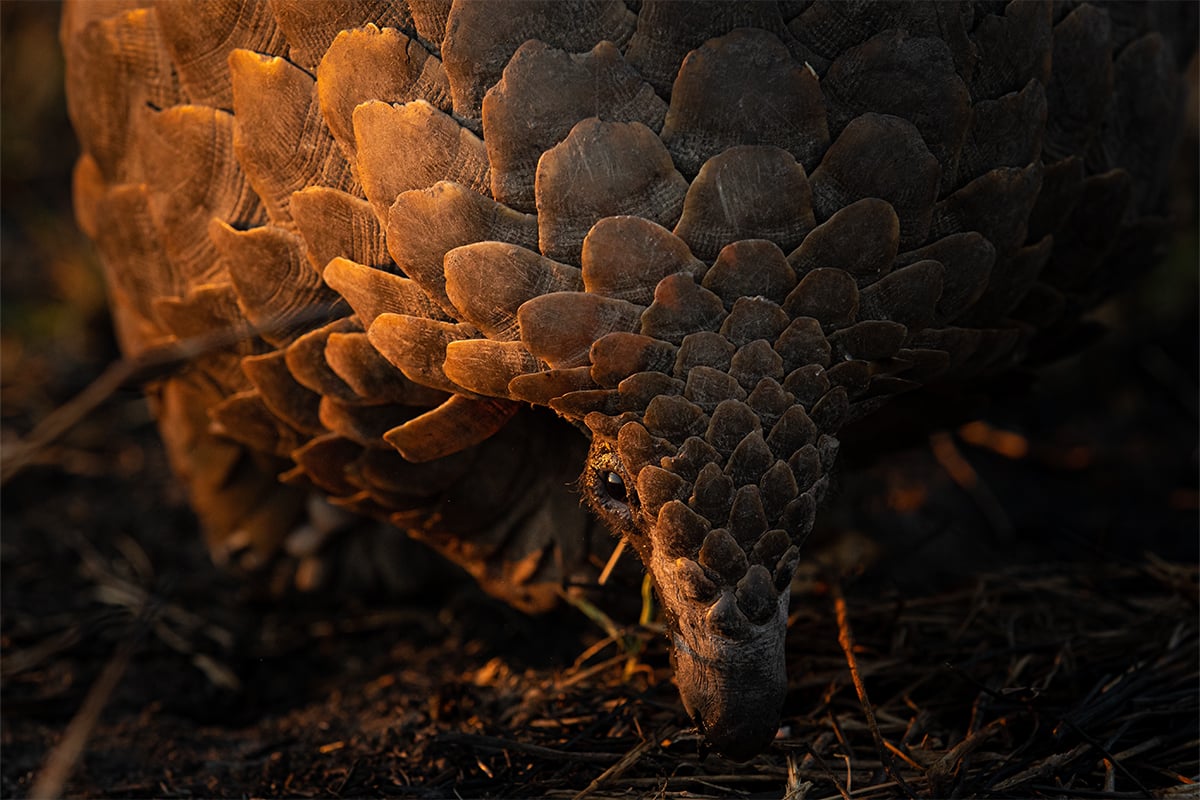 1/400 sec, f/6.3, ISO 1600
Having already finished the project, I was out with a lodge owner testing the game vehicle when we came across this pangolin lying right next to the road, set ablaze by the late afternoon light. I couldn't believe our luck and as if that wasn't enough, the animal was completely relaxed with our presence, and I was able to get out and photograph it at eye level.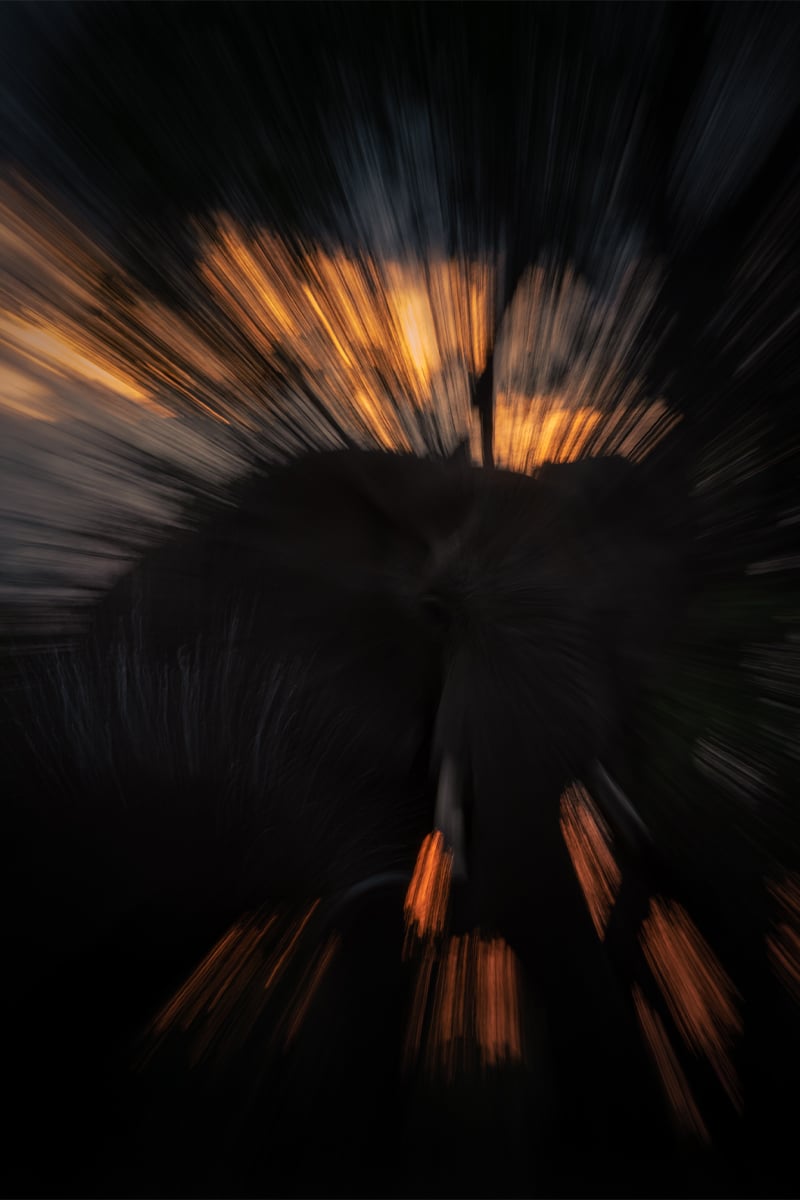 On a late afternoon, as the sun was setting across the horizon, a big elephant bull graced our presence. The last rays of light gradually faded behind the giant, but a 'standard' image didn't quite capture the mood correctly. Using a 70-200 zoom lens, I then 'pulled' the sunset past the elephant just as it was busy spraying water across its flanks, with the focus on its beady eye hidden in the shadows. A great deal of my book and our photo safaris is about challenging the photographer to look past the norm and search for the creative.
Rainy days are some of my favourites to be out on safari as it enhances the emotion displayed by wildlife. In an open safari vehicle with no roof, the rain can be a slight challenge, however with the correct gear to protect equipment, it can be thoroughly enjoyable! This hyena was constantly busy shaking the excess water from its pelt, which sent camera shutters flying at high speed, however, I am a firm believer of going against the grain. By slowing my shutter speed down while focusing on the eye of the hyena, I managed to capture this swirling image after about 100 failed attempts… Photography is a lot about skill, but also a great deal about luck!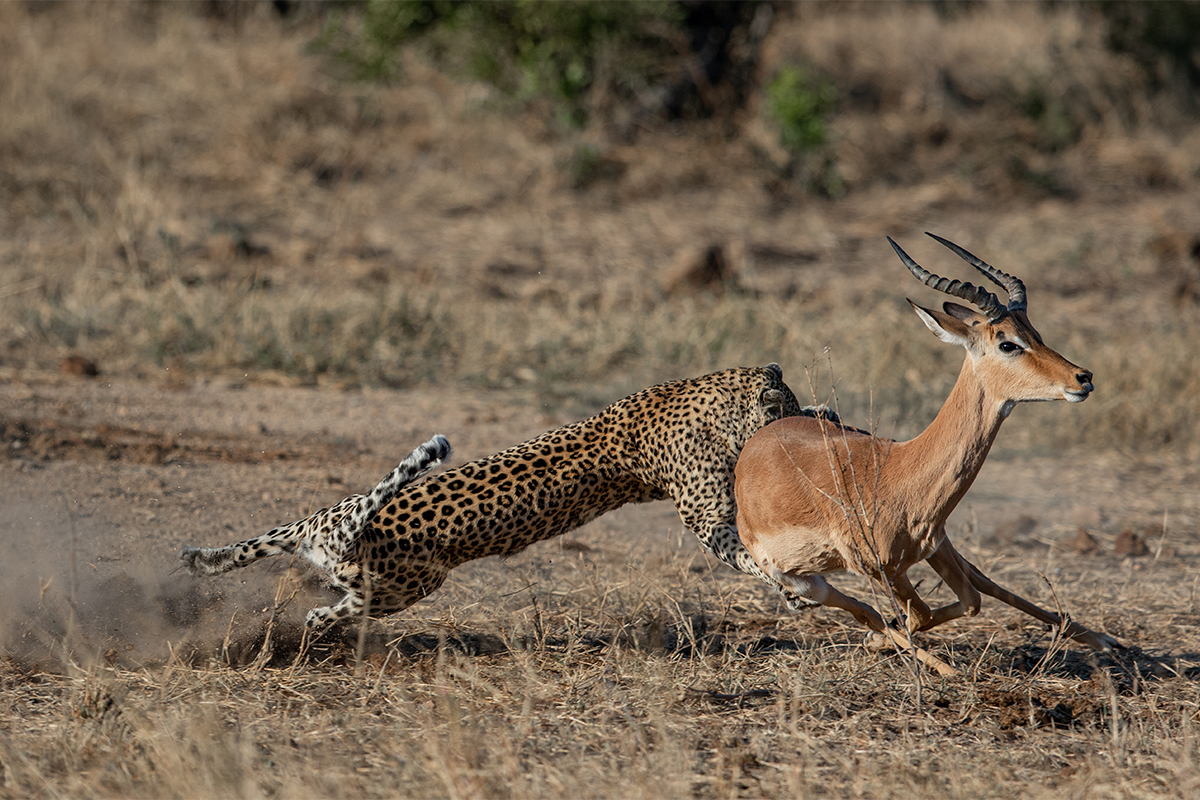 1/2500 sec, f/3.2, ISO 160
Patience is a virtue I desperately wish photographers didn't require, as I have very little of it. This sighting of a female leopard taking down an impala took about 1 hour and 45 minutes to unfold and for the majority of the time, she was completely hidden, leaving us in painful suspense. After two herds of impala finished drinking, she finally attacked the third, waiting patiently for the absolute perfect moment before launching herself at blinding speed.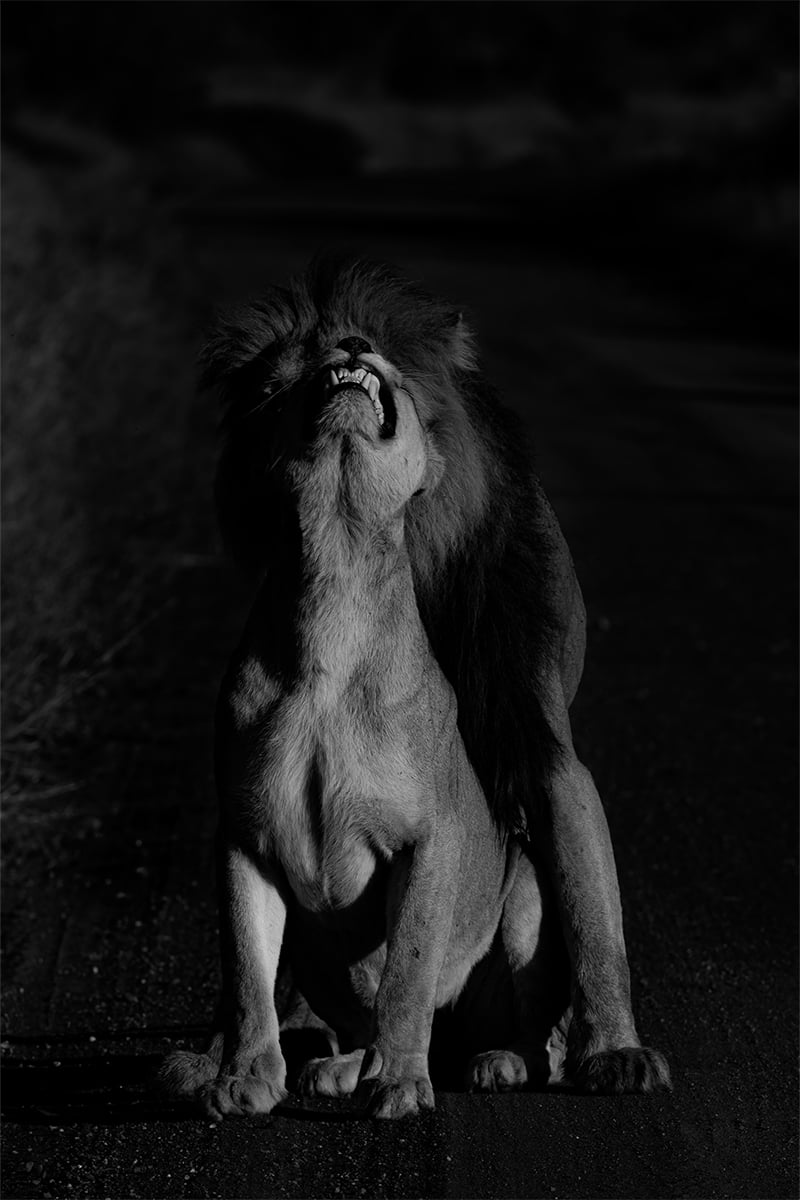 Black and white imagery doesn't always appeal to everyone; however, it is a great tool to use when trying to eliminate disrupting elements such as colour and bring the reader's attention to the focal point, which in this case is a growl. The original setting was actually a bright, orange-lit morning, however, I found that despite its vibrant colour, the sunrise would have distracted the viewer from the intended focus of this image.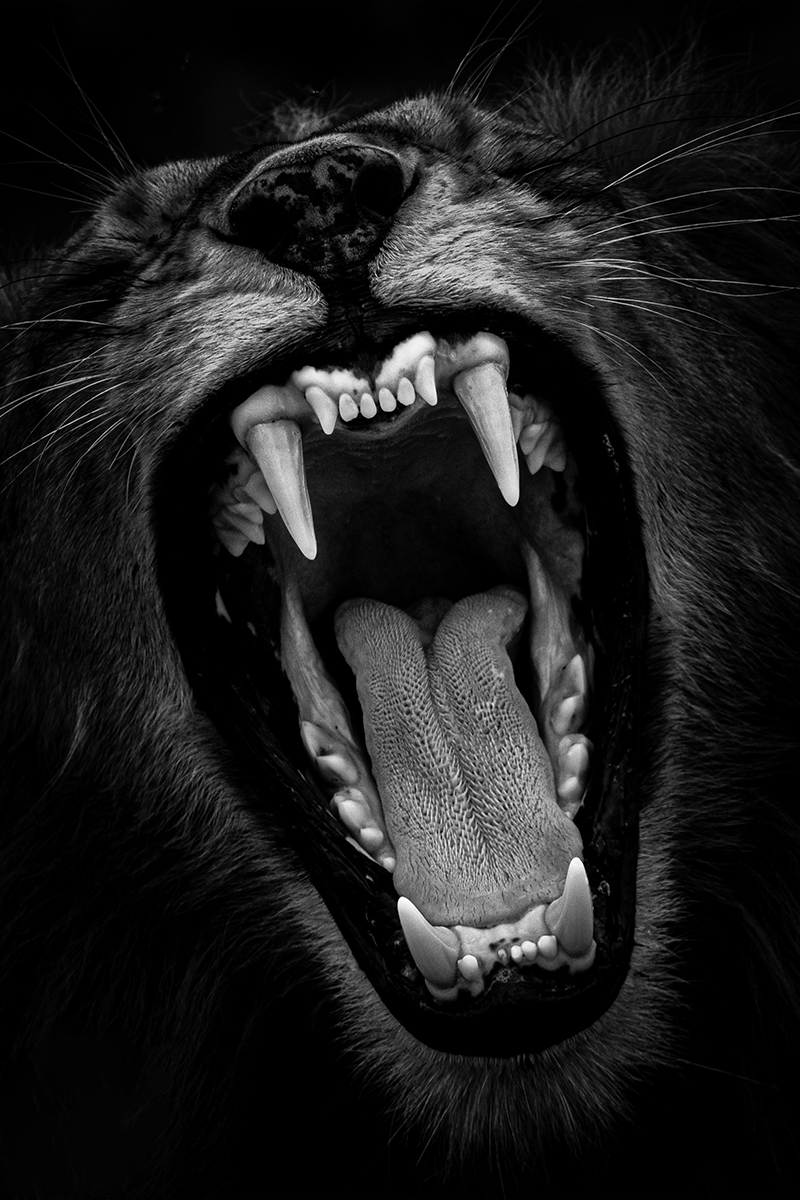 1/1250 sec, f/5.6, ISO 800
Textures are often completed with black and white imagery, and this is precisely what I wanted to achieve as I waited patiently for the young male lion to yawn into the camera. Razor-like textures on their tongue,  intimidating canines and every whisker outlined by the perfect combination of black and white editing.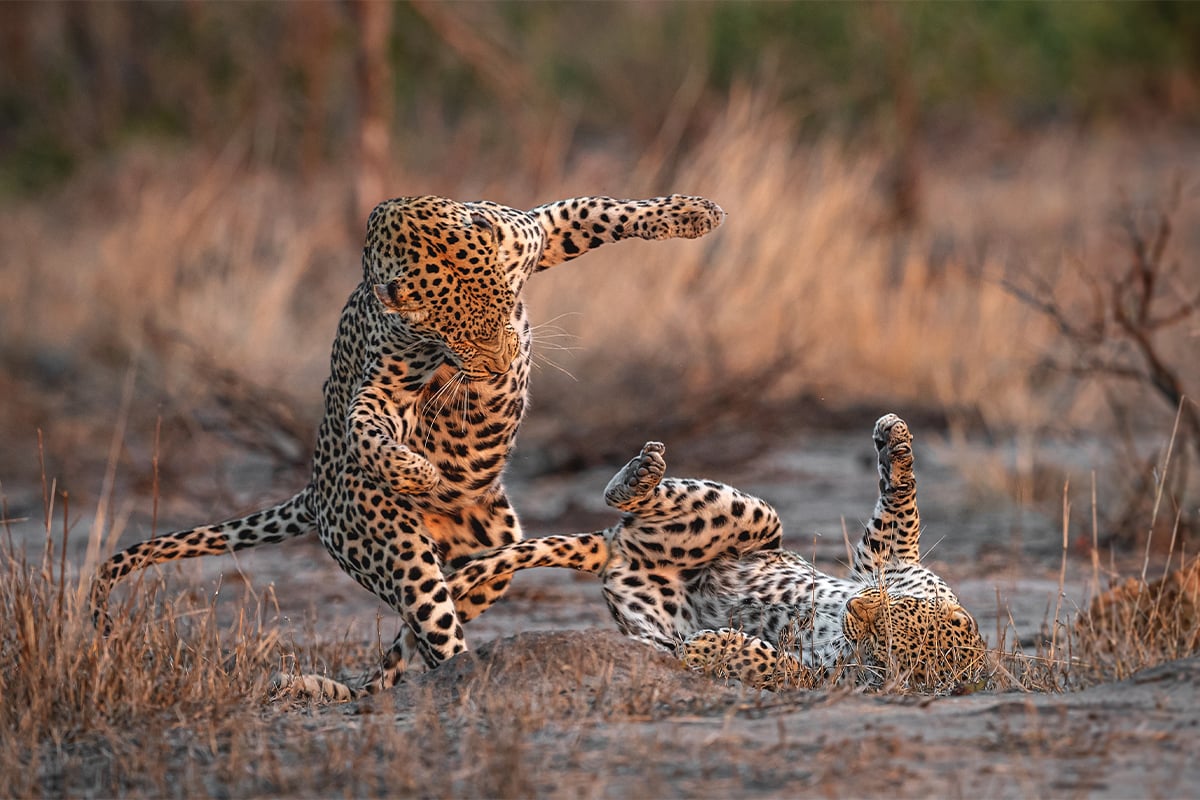 1/1000 sec, f/3.5, ISO 1000
After spending three hours with these mating leopards,  I filled up my CF card with over 1000 images of their spectacular display! As they moved into more of an open area, and the harsh afternoon light softened, the shutters kept flying and I remember that evening there was a silence around the campfire as we embraced the incredible scenes we witnessed that day – unforgettable!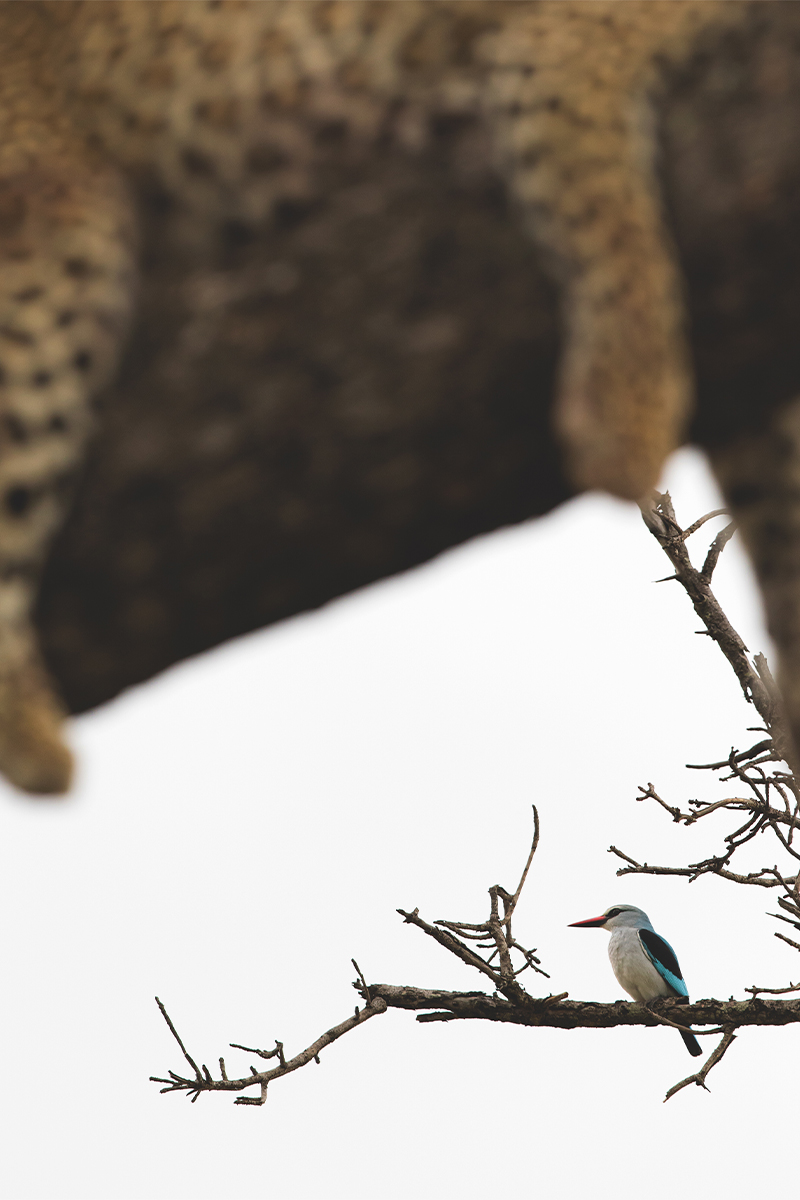 As a great baboon once said, 'Look beyond what you can see.' Despite this being a Disney quote, I have applied it in many situations throughout my career, often with creative results.
I had a guest who desperately wanted to photograph a Woodland Kingfisher, and finally, after searching for 5 days, we found one sitting underneath a rather peculiar bunch of roses. By applying Rafiki's teaching, I focused on eluding the obvious and seizing the unobvious – which was not the sleeping leopard, but the small bird underneath. While the other photographers were intent on photographing the sleeping leopard 800 times in 2 different positions, my guest and I spent the morning photographing a bird they had travelled over 400km to see.
Photography is the perfect balance between creativity, technicalities, knowledge and luck. Armand is an inspiration especially when it comes to looking beyond what you see, and making the most of the moment. Take in your surroundings, look at things from a different perspective and make sure to enjoy it at the same time.