Shoot effortlessly from the comfort of your vehicle with the KKam Magnetic Door Mounting Bracket. It's safe, secure and convenient – the ultimate wildlife photography car door mounting accessory!
It's manufactured from corrosion-proof stainless steel with a brushed finish – this includes all bolts, washers and support material. The mounting bolt is a standard stainless steel 3/8-inch Whitworth thread used by all photographic tripods, gimbals and heads, so you can use it with your existing tripod head or the supplied lens steady.
The three powerful magnets are made from thermoplastic rubber that is safe to attach to your vehicle without scratching your paintwork. Since the magnets are bound to attract metal debris, you'll need to ensure that it and the surface are clean and clear before attaching it. Note that it only attaches to ferrous metal surfaces and not aluminium or plastic composite surfaces. Once attached, the  T-format design allows you to adjust the longer leg to suit the angle of your vehicle door. The vehicle window is not in any way affected by the KKam bracket, so you're free to open or close the window as required.
The magnets, one 88 mm and two 66 mm, contain a number of Neodymium N35 rare earth magnets moulded into the rubber, making it corrosion resistant. The two 66 mm diameter 8 mm thick magnets each have a pull-off force of 18 kg, and the 88 mm diameter 8.5 mm thick magnet has a pull-off force of 42 kg, providing an all-together impressive pull-off force of 78 kg, providing secure support for your gear.
Features
Corrosion-proof stainless steel
Scratch preventative thermoplastic rubber magnets
Impressive overall pull-off force of 78 kg
Universal mounting bolt for use with most tripods, gimbals and heads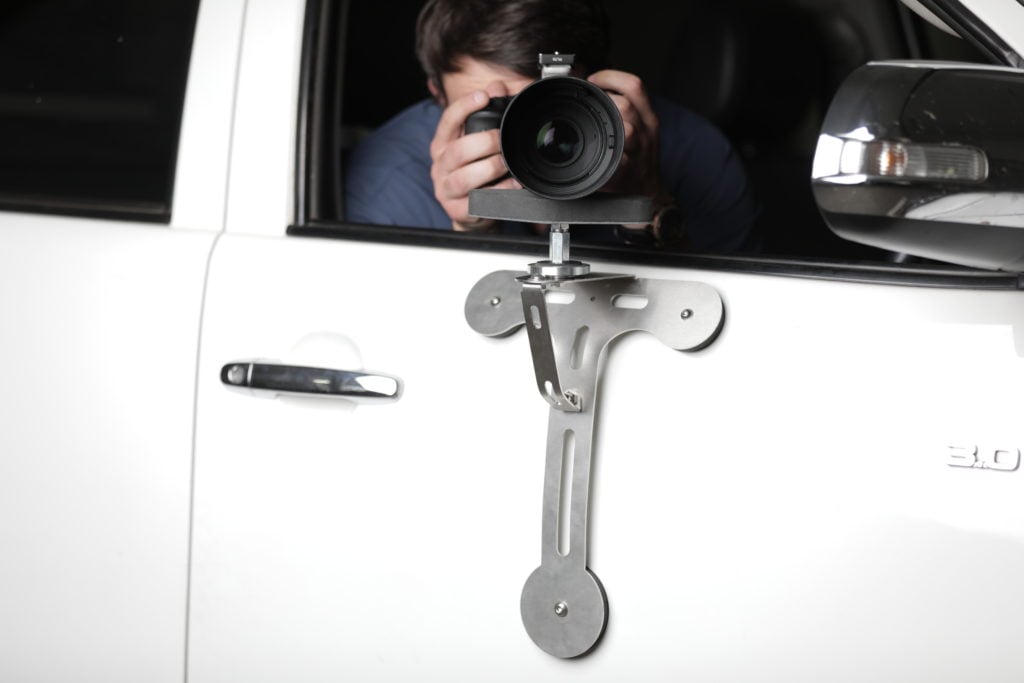 Installing the magnetic car door bracket
Ensure that the magnet and vehicle door surfaces are clean.
Position the top of the bracket at an angle below the window sill (in the position best suited for your requirements), and with the magnets making maximum surface content.
Slowly lower the bracket to mate with the lower door whilst keeping your fingers clear of the magnetic area.
Removing the magnetic car door bracket
Remove your tripod head or gimbal from the bracket.
Place your fingers under the top of the bracket, and firmly pull away from the door until the two top magnets release; then continue pulling down at an angle, until the bottom magnet releases.