Hoedspruit, Limpopo
Fourteen kilometres west of the wildlife haven that is Hoedspruit lies a thirty-year old national treasure many once knew as Khamai Reptile Centre. Now called Kinyonga (siSwati for 'chameleon') Reptile Centre, this little menagerie of rescued and adopted reptiles, amphibians, arachnids and other species still maintains the motto it has thrived on through our country's many changes: Conservation through education and research.

Two giant plated lizards devour a flower snack on the rocks.

On the interactive tour, you get up close and personal with a variety of snakes.
They achieve this through interaction, with the centre's dedicated curators as well as with its snakes, lizards and spiders. On any one of the offered interactive tours, visitors may get to feel the cool scales of a python or a boa, feed flowers to plated lizards or meal worms to a vale chameleon, or experience the velvety thrill of handling a golden brown baboon spider (a gorgeous yet vulnerable spider only found in the Hoedspruit area). Photographers can shoot back-lit geckos and scorpions in UV light on a private photographic tour, snake lovers can learn all there is to know about their homes, habits and identification on a reptile orientation tour, and desensitizing sessions can be arranged for arachnophobes and ophidiophobes (spider- and snake-ophobes. So far, they've got a 100% success rate). There's little they don't offer, and even less they won't accommodate if it means the making of another soldier in the battle for conservation of any misunderstood animal species.

A snouted cobra poses for a photograph on the centre's lush lawn.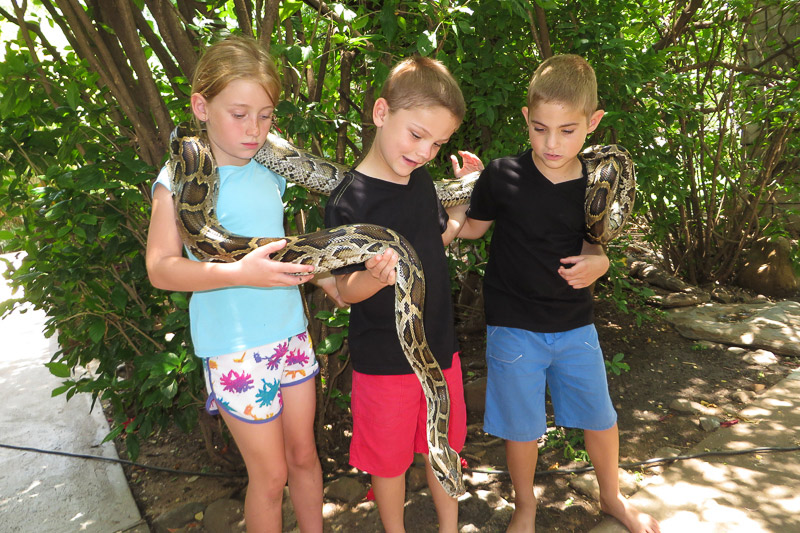 Sometimes, little people are much braver than their parents!
Manned by local and international students and volunteers, who record and monitor all aspects of the species in their care, the centre is clearly run and maintained with integrity, real interest, and heart. It gushes enthusiasm and a passion for conservation, which imbues even the most phobic of visitors. Nobody leaves without taking home a new appreciation and respect for some of the planet's less lovable creatures.

Owner, Donald Strydom, handles a boomslang that's desperate to get into the trees.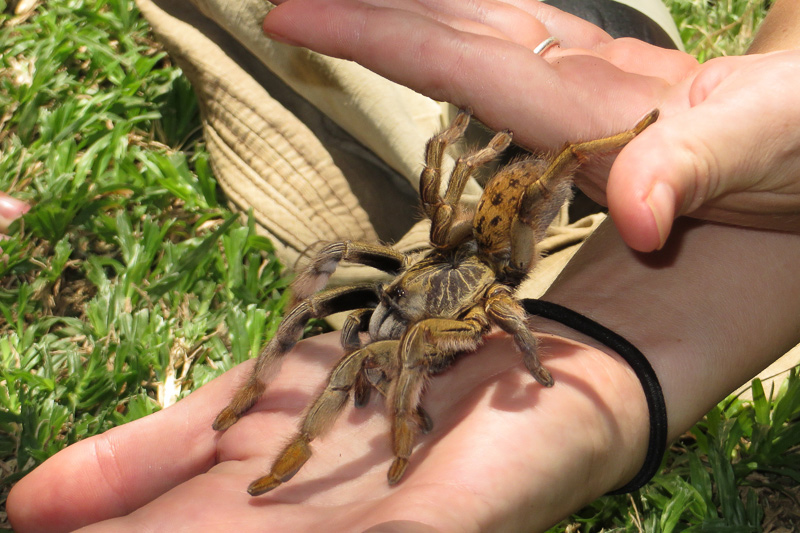 A golden brown baboon spider crawls over a visitor's hand.
Photography
The Kinyonga Reptile Centre gives professional and amateur photographers the unique opportunity to photograph creatures that would otherwise be extremely difficult to capture (with a camera) in the field. Your personal guide will place a variety of arachnids and reptiles in their natural habitat where you can photograph them safely in perfect light. Make sure you bring a macro lens as well as lenses with a zoom range of between 200mm and 400mm. An off-camera flash is also very handy.
The photographic tour costs R500/person and groups must consist of between 3 and 6 people. Bookings are essential.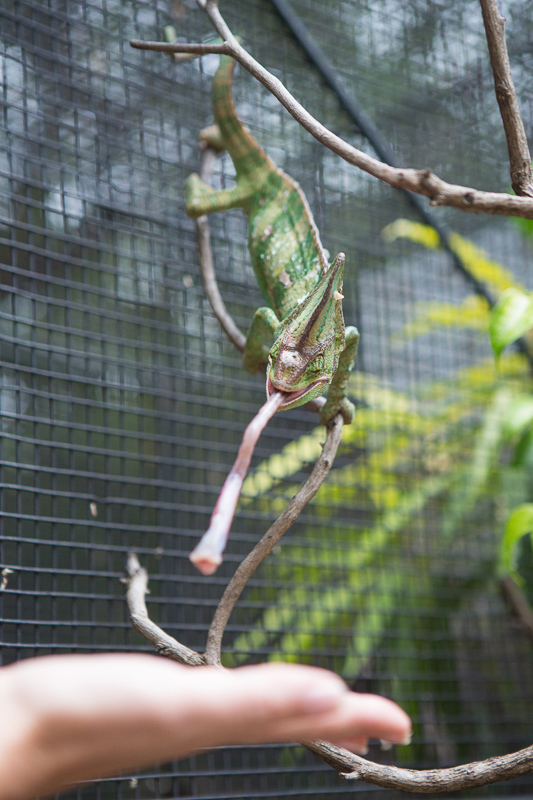 A massive vale chameleon goes for the strike.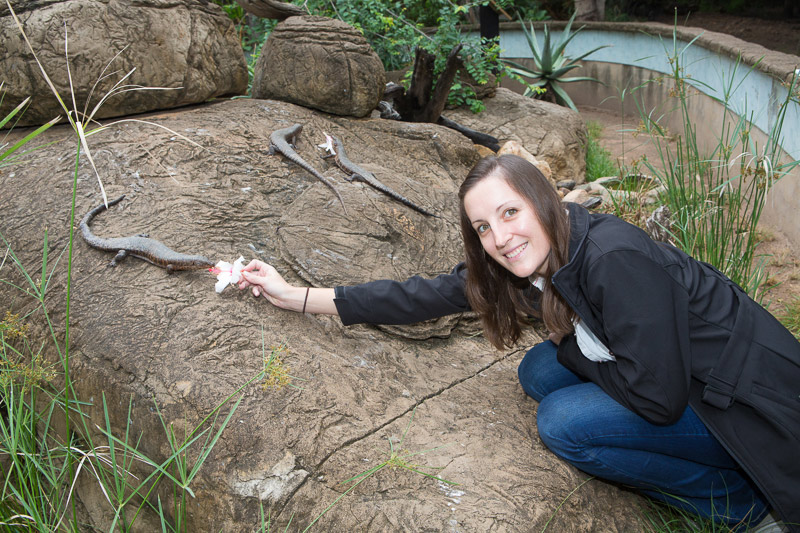 The centre's many enclosures are all beautifully kept.
If I want to go
How to get there: From Hoedspruit, drive west on the R527 in the direction of Ohrigstad for 17.5 km. Entrance on the right.
Cost: R60 per adult and R30 per child (4 – 12 years) for day visitors (free for under 4's) – no bookings necessary. R75 per person for the interactive tour (minimum 6 pax)– bookings essential.
Open 8am to 5pm daily.
Contact: Phone 015 795 5203 or visit www.khamai.co.za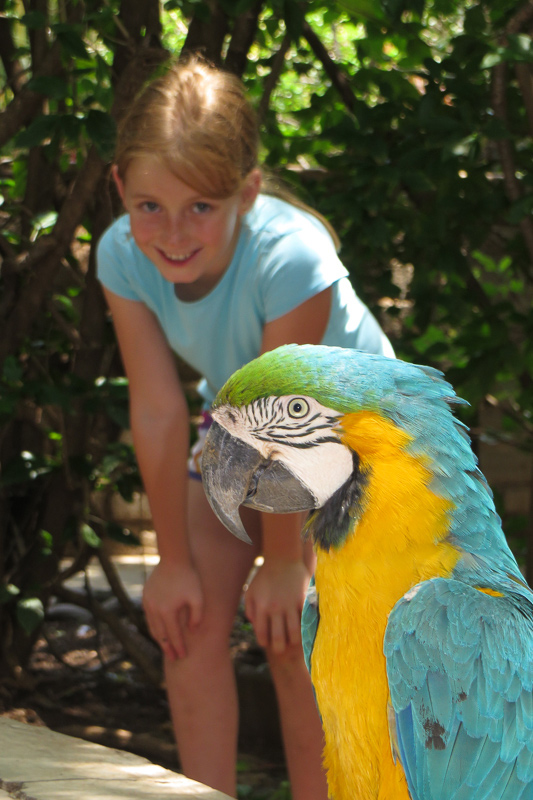 One of the two resident macaws poses for a snapshot.

Kinyonga's guides are friendly and passionate about wildlife and conservation.