Tamron introduces their game-changing 70-200mm f/2.8 G2 lens
Tamron, a leading manufacturer of optics for diverse applications has launched the SP 70-200mm f/2.8 Di VC USD G2 (Model A025), a new telephoto zoom lens product for full-frame and APS-C DSLR cameras. Model A025 was developed by substantially enhancing the features of its predecessor.
These include a thorough review of the optical, mechanical and electronic designs to increase autofocus speed and precision, reinforce VC (Vibration Compensation) functions and to shorten the MOD. New features include eBAND coating, moisture-proof and dust-resistant construction, fluorine coating and compatibility with teleconverters. The lens design features a metal-based barrel for improved handling and ease-of-use. The result of this dramatic evolution is Model A025, a high-speed telephoto lens that widens the scope of expression for photography in a broad range of genres, such as portraits, landscapes, sports and photojournalism.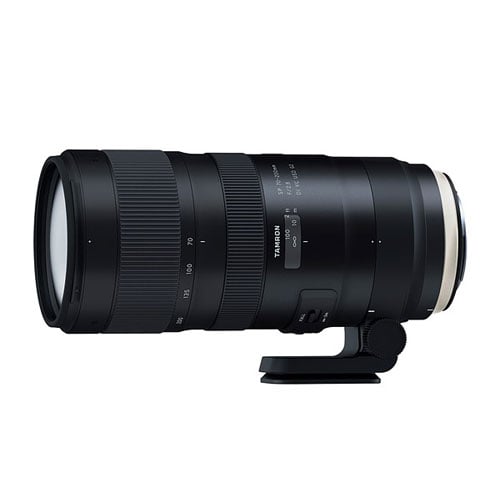 Increased autofocus speed and precision.
Improved vibration compensation (up to 5 stops) with three different modes.
Shortened minimum focus distance (down a little over 30 cm from its predecessor).
Tamron's original eBAND (extended bandwidth and angular-dependency) coating, which improves the lens's resistance to flares and ghosting.
Moisture-proof and dust-resistant construction with new sealants.
Flourine coating on front element for better water / oil resistance and ease of cleaning.
Compatibility with Tamron teleconverters – a welcomed feature for wildlife shooters and those who need an extra bit of reach.
Electromagnetic diaphragm control for Nikon mounts (already available on Canon mounts).
PRICE AND AVAILABILITY TO BE CONFIRMED
Tamron ultra wide-angle 10-24mm f/3.5-4.5 Di II VC HLD lens
Model B023 is a wide-angle zoom lens that covers an exceptionally large range – the largest focal length range in its class (35mm equivalent is 16-37mm). The lens is ideal for street photography, landscapes, group photos and casual everyday scenes. In 2008, Tamron launched the SP AF 10-24mm f/3.5-4.5 Di II LD Aspherical [IF] (Model B001) that provided an unprecedented focal length range in its class.
Building on that lens's popularity, the successor Model B023 has improved optical performance and new features. It embodies Tamron's most advanced technologies, including the VC system, moisture-resistant construction and fluorine coating, and the first implementation of Tamron's new HLD (high/low torque modulated Drive). Additionally, the Model B023 has a refreshing new design derived from the design of the new product lineup in the SP series.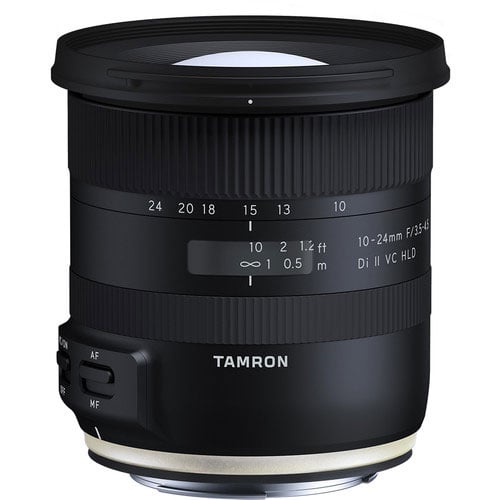 Improved optical performance, including Tamron's BBAR (broad-band anti-reflection). Coating for lens elements and tweaked element design, will lead to sharper images with less ghosting and flare. Ultra wide-angle lenses tend to be bad at this, so this is a welcome improvement.
It is slightly shorter than its predecessor.
The addition of vibration compensation (up to 4 stops)
New autofocus drive: Tamron's HLD (high/low torque modulated drive) is now in play, which upgrades the power and stability of the autofocus system, and adds full-time manual focus override without having to switch between modes.
Flourine-coated front element, moisture-resistant construction, and electromagnetic diaphragm system for Nikon-mounts, just like the big boy above.
PRICE AND AVAILABILITY TO BE CONFIRMED