Say goodbye to mediocre and say hello to the Insta360 ONE R Twin Edition action camera. On the face of it, this looks like a normal action camera, but be assured, there is nothing average about this new modular action camera introduced early in 2020.
When it comes to cameras, most are built to serve a specific purpose, but the Insta360 ONE R is more than that. It's a multi-purpose camera that transforms from a 360° camera to a wide-angle shooter on the fly! Thanks to two lenses, the Insta360 ONE R Twin Edition offers two shooting options in one camera system. You can make it three shooting options by adding the separately sold 1-Inch Wide-Angle Mod, which was co-engineered with Leica.
How the Insta360 ONE R Camera works:
This small but powerful camera is the first action camera with a modular system which means that the whole is built up from different components. At the bottom of the camera, you will find the battery where the screen module and one lens (either the 4K Wide-Angle Mod or Dual-Lens 360 Mod) fits on.
4K Wide-Angle Mod
This lens' shooting style can be compared to a standard action camera like the GoPro and is equivalent to f/2.8 and 16.4mm lenses. This feature makes the Insta360 even more desirable since it allows you to shoot in low light conditions without getting camera shake for seriously smooth footage shooting 30-60fps. The 4K Wide-Angle lens can also shoot 7-8x slow motion, something a standard action camera can not do!
Dual-Lens 360 Mod
Another spectacular feature of the Insta360 is its ability to shoot super wide and in a spherical view since the Dual-Lens 360 Mod has two lenses on both sides of the camera. Essentially, the 360 Mod does the same as the Insta360 ONE X, yet can alternate, which gives you the creative freedom to take those impossible shots. You can also shoot in slow motion with this mod; just another feature that the standard action camera does not provide.
1-Inch Wide-Angle Mod (sold separately)
You can also add the 1-Inch Wide-Angle Mod co-engineered with Leica. With a bigger sensor, the 1-Inch Wide-Wangle Lens Mod gives you even more perks! It can shoot 5.3K footage and is equivalent to a 14.4mm f/3.2 lens. It has a fixed focus and performs exceptionally well in low-light conditions.
Insta360 ONE R redefines what's possible with an action camera:
A revolutionary design! There are a few reasons why we love the Insta360 ONE R, but one main reason is that when there is an upgrade of one of the mods, photographers don't need to replace their entire camera system – just add the new lens mod.
Modular system
As mentioned above, the Insta360 ONE R's modular system allows you to shoot with three different lenses offering various shooting styles in one compact camera. You can even add a 3D Mod if you wish.
Let's go diving
Jump in the pool, ocean and dance in heavy rain with the ONE R because it is dual-waterproof up to 5m without any housing. For those who want to dive deeper, a Dive Case enables descents of up to 60 metres!
Smooth moves with FlowState stabilisation
The ONE R uses a fully upgraded FlowState stabilisation algorithm (6-axis stabilisation) that helps stabilise your footage when shooting with the 360 Mod as well as the 1-Inch Wide-Angle and 4K Wide-Angle Mods. No additional products like a gimbal are needed – the smart-scene detection algorithm used in the ONE R takes care of steady footage even in low-light scenes.
Shoot now, reframe later
When shooting 360 footage you have so many possibilities – since you are shooting in an aspherical format you are basically shooting everything! The ONE R can reframe shots in post-production meaning that you can change the width and almost everything about the image and export it in any format for your YouTube, Instagram or Tik-Tik platforms.
You can also reframe later with the 1-Inch and 4K Wide-Angle Mods. Just think about it, when you are in the field you sometimes shoot in wide format but afterwards when developing your video footage, you wish you had shot more narrow footage. Now it's as easy as 1,2,3! Just go into your software and reframe it the way you like it!
No drone, no problem
Grab the ONE R's invisible selfie stick (sold separately) and start shooting aerial angles and video-game style third-person views. Just note that the invisible selfie stick is only supported when shooting with the 360 Mod.
You can also blow minds with Bullet time! All you need to do is attach the 360 Mod to the invisible selfie stick and rotate the camera around yourself. This will give you a bullet time effect since the selfie stick is invisible while the camera is flying around you!
*The Insta360 Invisible Selfie Stick for ONE X is also compatible with the Insta360 ONE R camera
Artificial intelligence
Another mind-blowing capability of the ONE R is its AI-powered vision. A few automated AI features include: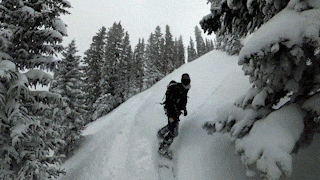 When editing 360 videos, you can simply select a subject to follow by tapping on it. It will automatically be tracked and locked in a centre-frame. If you lose your subject due to an obstacle that got in the way, ONE R's algorithm will remember the subject and start tracking once it reappears.
Still redefining what action cameras can do, you also have the option to track your subject in real-time with Deep Track using the voice prompt "Mark that!". It's like having a cameraman wherever you go because the next time you connect your camera your subject will still be reframed and ready to follow.
It can be quite daunting and a time-consuming process editing 360 footage! What the auto-frame function basically does is it looks through all of the footage and gives creators the option to choose from a bunch of different edits, thus different framings and shot sizes.
Creative and easy workflow
Editing and reframing can easily be done through the Insta360 App on your phone or you can use the desktop software, namely Insta360 Studio.
How it works:
If you don't want to reframe some of your shots later in post-production, you can just shoot in MP4 format. But, if you want to do a few edits after shooting your footage you will need to take one more step:
Upload your footage to the app or Insta360 Studio.
Do your edits on the app or your laptop.
Export it into the software you use, for example, Adobe Premiere Pro, to make videos.
And more…
Shoot sharper than ever footage with its H.265 encoding, brighter HDR videos, and bend light with the Starlapse function.
This is not just an action camera, but can also be used for vlogging since you can plug audio to the camera and the Screen Module can face you when shooting. I'm sure you are ready to chase adventure after learning more about this very talented Insta360 ONE R Twin Edition action camera!