How do you position yourself among the competition?
Firstly, it is important to set up a domain name and a website. Having a website, as opposed to marketing yourself by means of a Facebook page alone, presents a far more professional image and brand and, furthermore, provides a means for potential clients to "connect" with you. It also serves to showcase your work in a professional manner offering them the opportunity to view your portfolio in an integrative way whilst, at the same time, being easy to navigate. In addition, it assists you in respect of forwarding direct links to clients requesting a specific field of work, for example, those interested in your commercial work only.
I do believe you eventually develop a unique style over time; however, this is also due to self-evolvement in addition to working towards improving your style with every shoot. I shoot, learn from my mistakes and then try better myself the next time. As soon as you become complacent, your work will never advance beyond its current state.
Everyone believes that they are different, or that they offer something different, but if you truly want to be different and want to set your self apart from the rest then you need to start with the smaller things such as perfecting your lighting; perfecting your composition and paying attention to the finer details. Mastering the basics has a far greater impact than one might think.
How do you successfully market your brand?
I would have to say that the industry in which I currently work entails something of everything. It involves, among other aspects, sending treatments (your perspectives on the shoot and how you foresee the shoot; the angles, lighting, etc, as well as the final product) to the potential client. In addition, clients often approach you directly. It works in various ways.
How do you prepare for commercial shoots?
I try to obtain as much information as possible in respect of the client or of the product I have been commissioned to shoot. I do also, as far as possible, try and incorporate a degree of the company's history into the images to enhance their authenticity. The New Balance Comrades Edition product shoot is a good example of this.
I think if your passion is either product, commercial, automotive or portrait photography you're already in tune with what's happening in the market place, as it is something you follow on a uniquely personal level.
A brief is essential in that it provides an essential guideline. With all major clients, there are criteria which need to be followed as well as a brand-specific ethos. It is this which shapes the company's corporate image.
You specialise in portrait, product and automotive photography – how does your approach to each differ?
Actually, my approach to these is the same for all of them: Good composition. The only difference in my approach to each is achieving perfect lighting.
Car Photography: In respect of car photography the lighting can be very complex, however minimising reflection, paint lines and obtaining the correct highlights and shadows is crucial. For this reason, we did the First Car Rental photoshoot in studio.
Portrait Photography: Portraiture requires differing lighting from shoot to shoot depending on the environment in which I am working. For reference, have a behind-the-scenes look at our 2017 Standard Bank Calendar.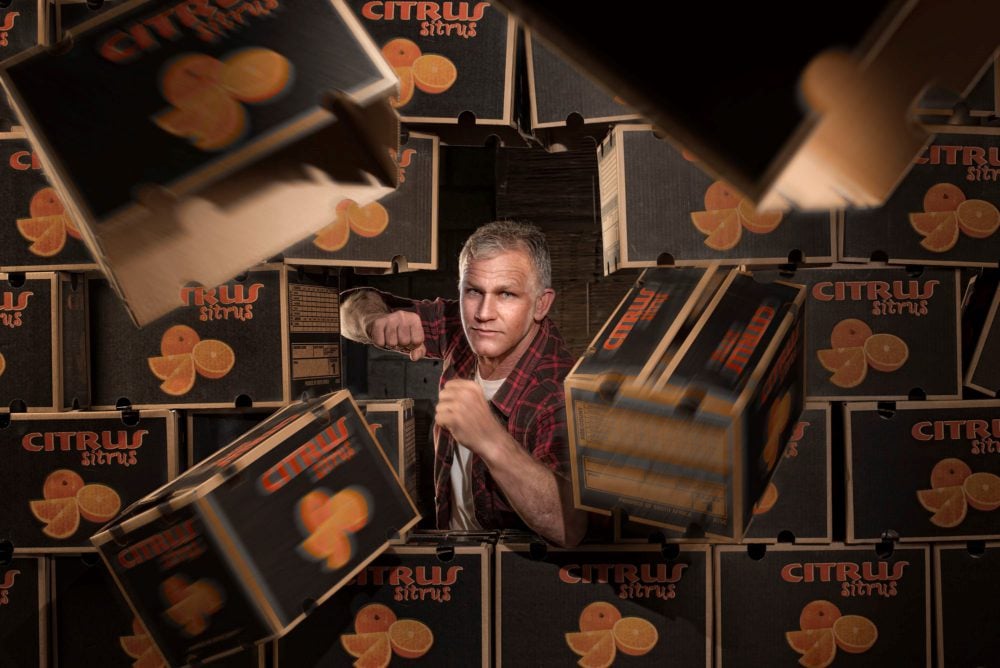 Shooting stills and products like the Solomon Sense Ride always entail a controlled lighting environment…
How much of the final product is a collaboration between photographer and designer?
Most of the time I do use the services of a retoucher (Adriaan Grant Smith). Smith&Daniels is about handing over a final product which is ready for any media campaign and the aim is for the client to receive a "plug and play" image. We provide a premium full service to the client, thereby mitigating the errors which commonly occur when the job changes hands.
Do you have advice for photographers who want to shoot commercially?
I would say that it is to find what you love; focus on that and keep practising. Do as many test shoots as you can, but always to bear in mind that there'll be obstacles along the way. The most important thing is to never give up. Keep pushing all the time!
What part of your job do you enjoy the most? And, what is the most difficult part of your job?
I love creating and shaping the product thereby enhancing a brand's image. Not only does this develop a style which suits a brand's identity but, that by adding my final touch to the images, also makes them unique to Smith&Daniels. The only difficulty I experience is the challenge of dealing with retrospective ideas which pop into my head after the final product has been delivered. However, having said this, I am able to use these ideas in future shoots so I am able to turn this difficulty to my benefit.
What has been your favourite shoot to date?
There have been many cornerstone shoots, but I would have to say that my favourite would be the New Balance Comrades Shoe. I was given guidelines for this, but I was also permitted some freedom to produce something eye catching. For me, this was a case of developing something special – lighting the shoe in a creative way and shooting innovative angles.