Text and Images by Emma O'Brien
Photographing pets is not for the faint-hearted. Working with animals requires patience, treats and for best results, an extra pair of hands. I've carved out a successful career in the field of pet photography, in particular dogs, and I'm going to share some of my secrets with you.
1. An extra set of hands
If you've tried to fly solo when photographing your own animals and failed miserably, it's not your photography skills that are lacking. I always have an extra person helping me both when I photograph my own dogs and when I'm working with clients. Your helper can hold treats, position your pets and keep them still long enough for you to frame up and get your shot.
2. Patience
By the bucketload. Animals have no idea what a photoshoot is or what's expected of them. Take your time, be patient and keep calm. The calmer you are around animals, the better they behave. It's important to be aware of the signs that an animal is stressed during a shoot and know when to stop. If a dog is avoiding eye contact, yawning a lot or licking their lips repeatedly, they're feeling uncomfortable. Sometimes a quick break is all that's needed, sometimes it's best to try again another day.
3. Good lighting
Whether you're working outdoors or indoors, you want to find even lighting. This means light that doesn't cast hard shadows on your animal's face or body and no big areas of bright sun in your frame. Contrasty lighting will confuse your phone or camera's metering system and likely give you a shot that's underexposed or your pet's face will look patchy. Shooting in full shade is always a win if you're outdoors and shooting with the light (i.e. with a window or door as a light source behind you) will work like a charm indoors.
4. Black cats and dogs
The ultimate challenge for photographers is a black dog. The first thing you can do is make use of your camera's spot metering or centre weighted metering function to get your exposure accurate. The main complaint I hear about black cat and dog pictures is that all that's visible is the animal's eyes because the image is underexposed. The second thing to think about is lighting; make sure your black pet is well lit, shoot with the light and use a reflector to add some highlights and give definition to the fur. Lastly, focus on the animal's eyes (make use of your camera's focus point selection tool to help you), a sea of black fur can confuse a camera's autofocus, so aim for the eye that's nearest to you.
5.
Getting your pet to look at the camera
To capture a beautiful character portrait, you'll need to direct your pet's attention to where you want it. Food will usually be a winner, show your pet a treat and hold it above the camera lens (this is where your assistant will come in handy). If your dog likes toys, hold a ball instead. Feathers and string work well for cats (as does catnip, but not too much) and the rustling of a packet may be all you need to get your horse to put their ears up long enough to get a good picture.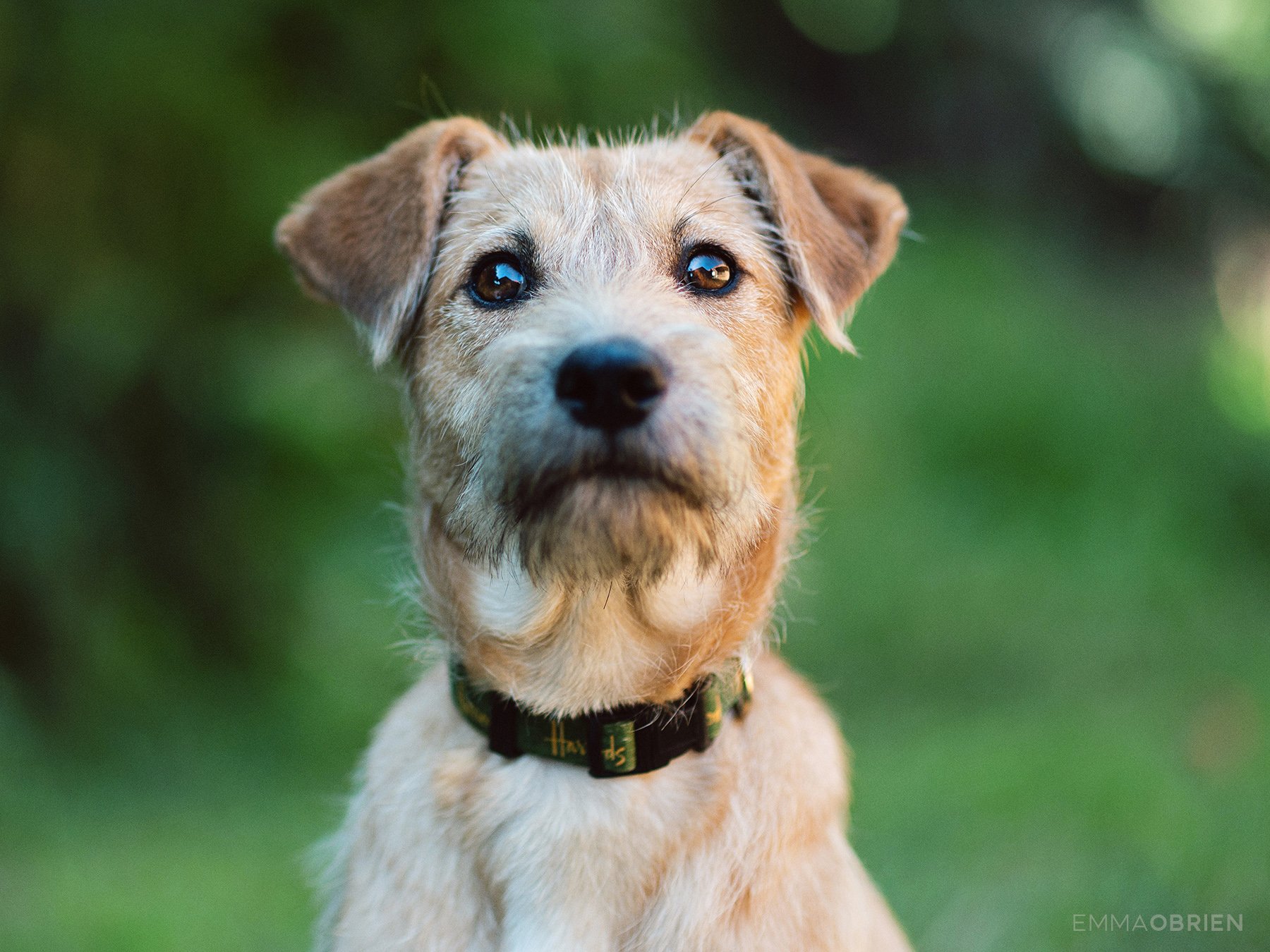 Max – Shot with the Nikon Z6 in full shade in my garden with an aperture of f/1.8 to hide the messy shrubbery behind him.
Emma O'Brien is a Centurion-based award-winning photographer specialising in photographing dogs and their human families. As well as shooting portraits for private and commercial clients, Emma also offers photography lessons and business coaching for photographers. Find out more and view Emma's work on her website and on Instagram.