Be in control of your light! Calling all studio or on-location flash photographers, fashion and product as well as portrait photographers – the Godox 5-in-1 Reflector will light up your world, as well as your photos where needed. It is a nifty gadget to enrich your life and the answer to many low light or harsh sunlight photo obstacles, to name a few. Versatile and foldable, it's truly an indispensable part of many photographers' and videographers' toolkits.
1 Reflector, 5 Colours
This functional reflector incorporates several different types or colours of reflectors into one easy-to-use, portable package. Switching to a different colour is as effortless as unzipping it, removing the diffusion panel, turning the pouch inside out, and placing it over the diffusion panel. These colours are:
White
Silver
Gold
Black
Diffusion panel (translucent)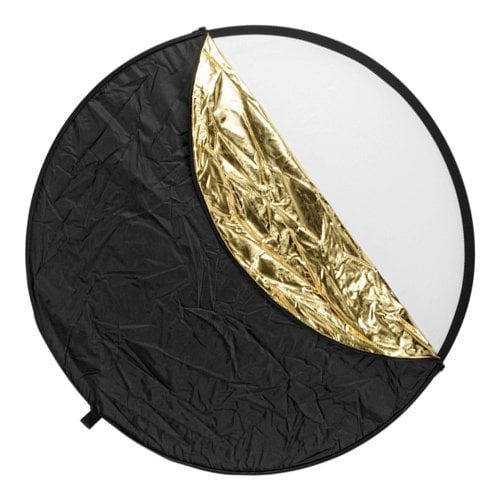 LIGHT CAN NOT BE GOOD OR BAD LIGHT, ONLY LIGHT MORE SUITABLE FOR DIFFERENT SUBJECTS. #LawsOfLight
Using the reflector to take better portraits
Quality of light has nothing to do with whether it is good or bad. Quality refers to the physical properties and characteristics of light like softness or hardness, colour, shape, and intensity of light. Naturally occurring reflected light can be used however, a reflector is so much easier and effective to use. It is important to know how to control the strength and quality of the reflected light you are adding.
For optimal quality of light when using the Godox-5-in-1 Reflector, a light source is needed. The sun can be a light source, but if it's behind the clouds don't fret as Outdoorphoto has various light sources in-store and online to choose from! This reflector is like a wall in the middle of nowhere used to make changes at pre-production to ensure only a few slight light edits occur at post-production.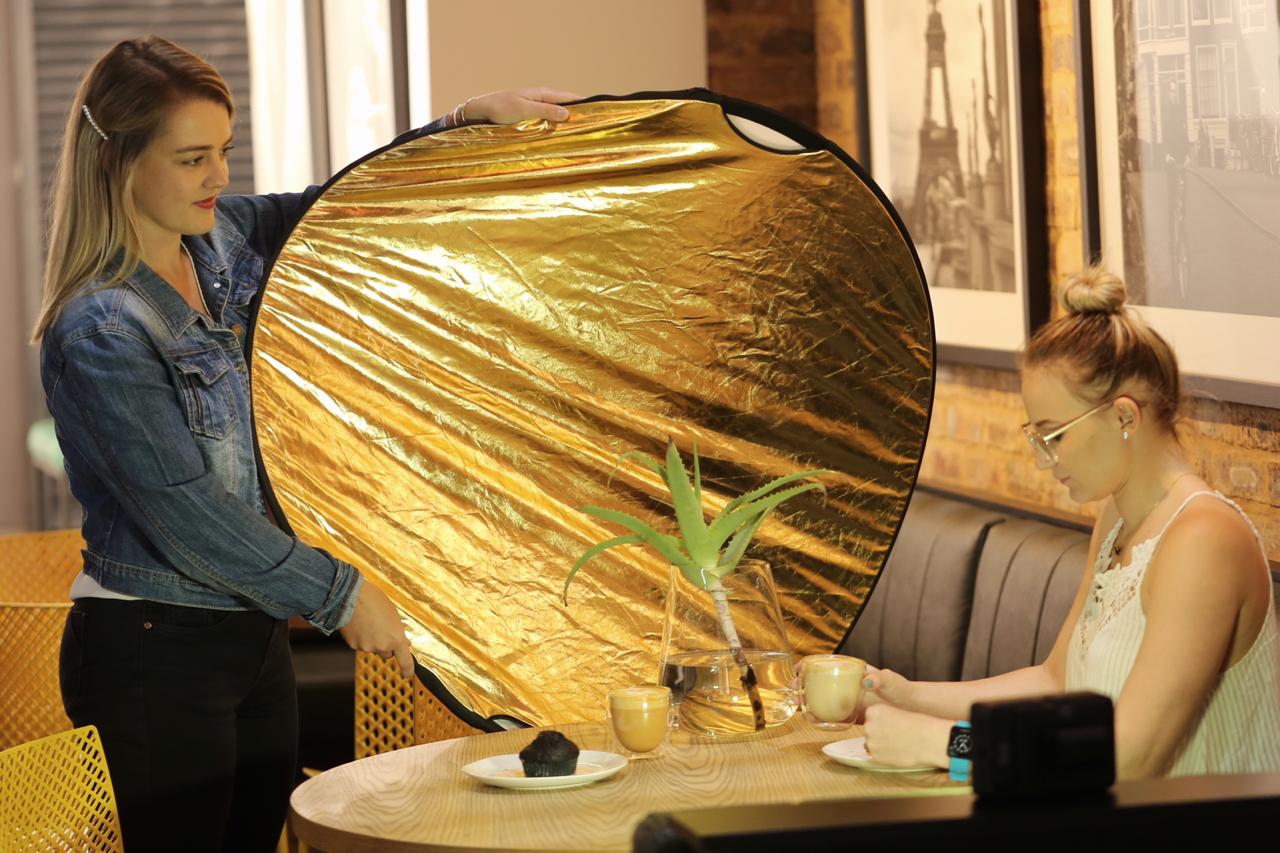 Woman holding Godox 5-in-1 gold reflector to bounce soft warm light onto subject's face.
How to use each colour reflector
White – bounces back light. The bounce back is softer and can be used to add a fill/shadow on a subject depending on how close it is to the subject.
Silver – kicks back most of the light resulting in more contrasted and specular photos, resulting in reflected light that is more intense than when using a white reflector.
Gold – bounces back light for a warmer effect, especially useful when there is too much blue in the photo.
Black – creates more drama and shadows by reducing the amount of light in the photo.
Diffuser – softens harsh, concentrated light for more flattering light on the subject.
ALTER YOUR EXPOSURE AND WHITE BALANCE SETTINGS WHEN CHANGING OUT YOUR REFLECTORS.
Modify your light
The size of your light sources affects the softness, hardness and the intensity of your photos. Adjust your light for greater control: For softer light, move the reflector closer to the subject and for more concentrated light, move it further away.
Different sized reflectors affect your light
A smaller reflector, when placed at the same distance from the subject as a larger one, will produce a distinct harder light, while the larger one (in the same position) will produce a softer light. However, if you put the smaller one closer from the subject, and the larger one farther away, they may become equal. The Godox 5-in-1 Reflector measures 110cm in diameter, which is the perfect size to control light if you stick with the basics of achieving harder and softer light. It also folds up for easy transport.
Godox never disappoints and yet again provides photographers and videographers with a tool to add depth and a fresh dynamic to their shots.
SMALLER REFLECTORS, AT SAME DISTANCE FROM SUBJECT AS LARGER REFLECTORS, WILL PRODUCE HARDER LIGHT.