If you click on an animal, it has some basic information about the animal, including the Latin name, the odds of seeing one on any given day (*-you will see tons more today vs *****- a very rare sighting) as well as Afrikaans, German, French and Zulu names for the animal.
There is a little background info about the animal, and then some basic statistics like what time of day they are active, how tall they stand, how heavy they become, life expectancy, etc, etc. All great info and topped of with a clear sound recording of the animal noises (not all the animals though)
The next section is a handy checklist for animals and birds spotted (drag and drop a pic of the animal to your spotting sheet) initially I thought this was a great tool, especially for newcomers to wildlife, but maybe the ability to make a note about it would be missed. Maybe the next version will have a space for a note and a "publish to facebook" or "send to a friend" function.
The third section is a handy track guide (swipe over track to see a pic of the animal). Unfortunately, right now it only shows tracks for 12 animals, but these ones are like lion, elephant, baboon, lion, cheetah. Quite enough for somebody starting their wildlife obsession!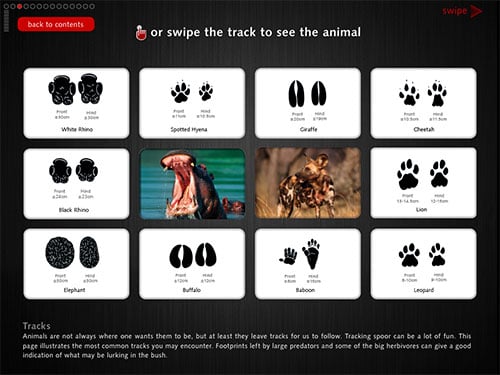 The next sections are a few quizzes about the animals, their tracks etc, and then a few sections that compare animals, like life expectancy, weight, animal sizes, etc. It's a nice "did you know…) conversation starter!
The last section is dedicated to hints and tips about taking a game drive, things to listen to, things to watch out for and even some photography tips. All in all great companion app for when the "Complete Guide to…" is just overkill.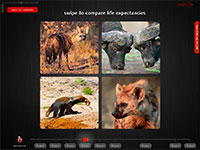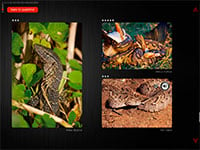 What I did find immensely enjoyable was that my 3yr old listened to the sound of the lion and decided it was my "tummy" then I showed him the app, and within a few minutes, my iPad was liberated and he was going through the animals, naming the ones he knows already. He was disappointed not to find a dolphin, though. It has also been a companion with us on two short afternoon drives through Rietvlei, with the older cousins sitting and going through the animals in-between sightings and seeing something through the binoculars, there is an instant argument, generally sorted by a few finger swipes. Quite enjoyable for me to see their interest grow in things that is not playstation or DSTV orientated!
All in all an enjoyable app that will see some service in our car, especially with the kids, cousins and our overseas visitors.
Oh, one problem I did find with the app. I sent the link to a friend in the UK, and he wasn't able to purchase the app. iTunes tagged it as South African downloads only. A shame as I think it would be a great app for visitors to our sunny shores. Hopefully this will change in the future.
---
by Sean Nel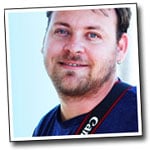 The post Game Drive – Ipad App appeared first on ODP Magazine.