Live your life, have fun and play with the new Fujifilm Instax Mini LiPlay. It's small enough to go just about anywhere and comes with a bunch of exciting new features. The LiPlay (pronounced "lee-play") lets you take digital photos, print on instant film and even add audio to your photos! It comes in three different colours to match your style: blush gold, elegant black and stone white.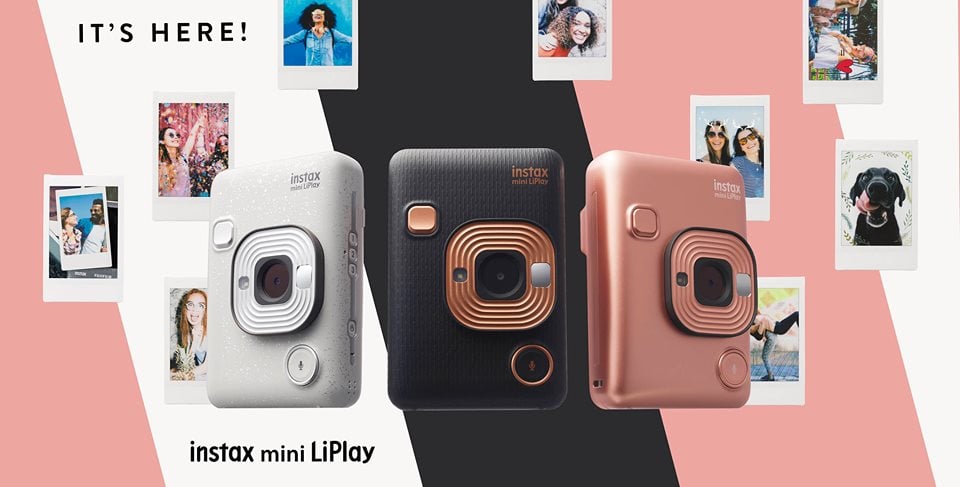 Pictures with sound
LiPlay lets you convert recorded sounds into a QR code and add it your photo. Using the microphone button in the front of the camera, capture up to 10 seconds of audio with any photo. The camera then converts the audio into a QR code and prints it onto the corner of the Instax Mini photo, which users can listen to by scanning the code with their smartphones.
Frame your best shot
On the front of the LiPlay is a fixed 28mm wide-angle lens with a bright f/2 aperture (and LED flash on the side) for shooting in various lighting conditions. You'll also notice a handy selfie mirror complements the lens' close focusing distance of 10cm.
At the back, the LiPlay has a large LCD screen that lets you preview, zoom in and reframe photos before you print them. This way, you know that you'll always get the best shot! Using the smartphone app, you can even add six different fun filters and 30 different frames to your prints.
Print now or later
Since it's a hybrid camera, you can print photos as you take them, or digitally save them for later. Printing only takes about 12 seconds and since the LiPlay is smaller than the SQ camera range, it takes Instax Mini film which is about the size of a credit card.
Before taking a picture, simply insert your pack of film, press the ON button on the side and you're set. For group photos, connect the camera with your phone and use it as a shutter button. The shutter has two- and 10-second time intervals to capture group photos with you in them.
For printing later, you can store 46 shots on the camera itself and lots more by inserting a microSD card. This means that you can print whichever images you want, whenever you want, and as many times as you want.
*The LiPlay has an internal battery that lasts about 100 pictures and can be recharged at the bottom using the USB port.
Print from your phone
You can also print any photo from your smartphone by simply connecting your phone to the camera via Bluetooth and selecting the "Direct Print".