The ever-rising popularity of Instax cameras is a clear indiction that it is not just a one-night trend. The compact Instax Mini 8 Lite Bundle, available in 3 fun colours, is the perfect accessory for any occasion. It's also a great gift idea for anyone who can't help but capture every moment.
All the rage
Whether you want to take a selfie while enjoying your favourite band at a festival or relaxing with your friends by the poolside, the Instax Mini 8 will be the ultimate companion.
Allow everyone to join in on the fun with this crowd pleaser. Pass it around at a baby shower, wedding or at parties. The moments captured will prove to be priceless and can be shared instantly with everyone.
Included in the bundle
Like magic
Watching a photo develop in a matter of seconds, in front of your eyes is a magnetic experience. And it's now easier than ever with the candid Instax Mini 8 Camera.
It's the little things in life
The credit card sized film comes in a fun range of designs and is now even available in monochrome. Yes, that's right you can capture life's best moments in black and white, instantly.
Oh so easy
Besides its trendy design and cheerful range of colours, the Instax Mini 8 is super easy to use. In just three simple steps you can go from making memories to taking them.
It does all the work for you
The Instax Mini 8 automatically determines the best setting for your image.  For the creatives, Fuji has also added the high-key feature.
Frame it
With the handy image finder you can easily frame your photo to ensure a great shot every time.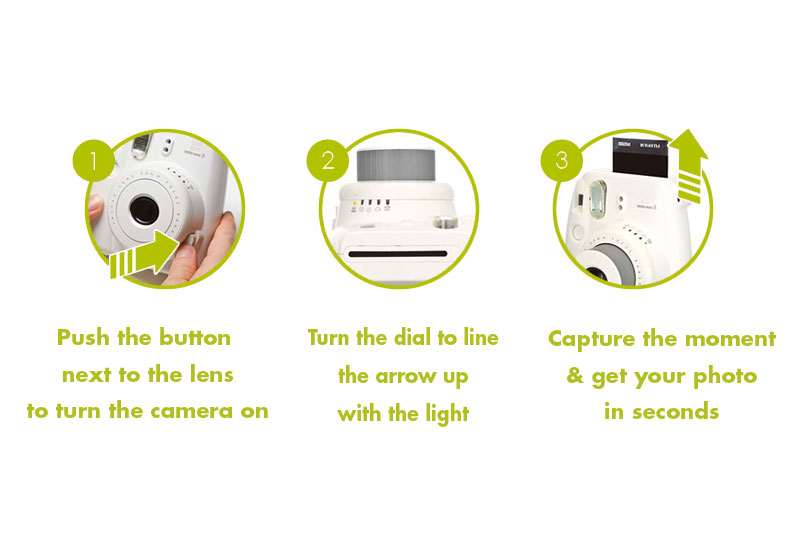 Awesome accessories
Keep your Instax memories safe with these fitting accessories.