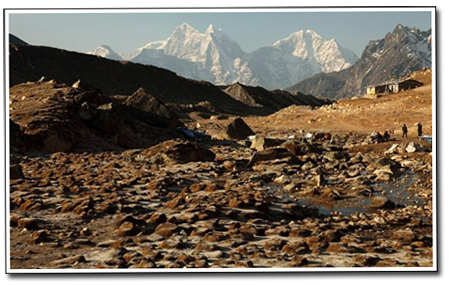 My own reasons for doing this were manifold – I wanted to see if my 52-year old body could do this, and it had been a secret goal to walk up to that place for some years.  I could also not wait to take advantage of the wonderful photographic opportunities that was sure to present themselves in the little Nepalese villages, the mountains, not to mention at EBC.  When our friend Elize announced in February 2008 that she was going to do this, and asked if we wanted to come along, I was in immediately.  It took two bottles of red wine to convince my wife and daughter to join me.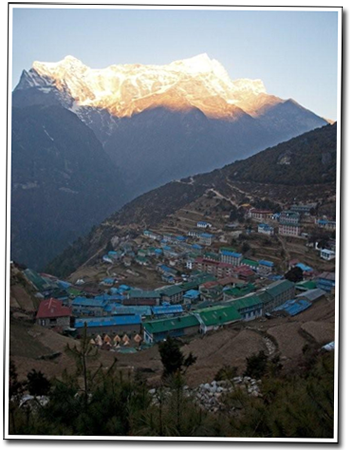 Kathmandu is a chaotic mix of people and vehicles, not unlike other cities in South East Asia.  Nepal has a lot in common with India because it used to be part of the same territory, and the cultural look and feel is similar.  Traffic is hectic and undisciplined, lots of pollution is evident, and people are generally very poor.  But once you look past the vast differences between down-town Kathmandu and Centurion, then the texture and fabric of the place, the friendly and soft-spoken people, and the commercial goings-on, make for wonderful and special experiences and photo opportunities.  Themal, the older part of the city, and Durbar Square, the site of four ancient Buddhist shrines and some really impressive old buildings, are in my view compulsory for a visit.  Walk around and savour the colours and noises, or find a roof-top bar and sip on a frosty Everest Lager while checking the Himalayas in the distance.  And, there is shopping, obviously – hunting for pashmina and kashmir goodies quickly became a favourite pastime of the ladies.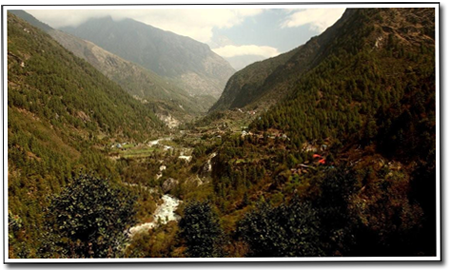 On  Thursday 23 June we left our hotel before dawn to board a plane for Lukla – a 30 minute flight only, but exciting and frightening.  It is known as one of the most dangerous flights anywhere in the world, and as our Dornier twin-prop plane approached the runway in Lukla we understood why.  An uphill, 500m stretch of asphalt hugs the side of a mountain with no opportunity for a turn-around.  But the sights along the way were spectacular  – we caught a first glimpse of the Himalaya's white peaks as the plane skirted closely (it seemed like you could reach out and touch them) over the green, lush foothills, on which hundreds of yak footpaths criss-cross the sides and ridges like wrinkles on an old face.  Little huts, built on impossible slopes and hilltops, left us amazed about how people are able to make a living here.
It turns out that the short hop from Kathmandu to Lukla is the preferred way to reach the start of one's trek up the Khumbu Valley.  Whether you intend to visit EBC, or plan to summit, this is where you will begin walking.  From Lukla the trekking route dips about 300m to Phakding, from where it is up and up all the way, over 8-10 days, to reach EBC.  As most trekking groups do, we made two acclimatisation stops en route – meaning that at two destinations we spent two nights in a village teahouse, using the morning after night one to climb a nearby higher hill to help the body gradually become used to the thinner air.
Speaking of acclimatisation, this is serious business.  The effects of high altitude on the body are well-known, but whether or not your body will be affected is a matter of, I suppose, faith.  And yes, much of the ordeal of climbing and trekking in quite hostile weather and terrain is in the head, as we all know.  Fitness does not seem to be the determining issue here, although people with more active lifestyles generally find it easier than their couch-potato mates.  Two physicians said to me separately beforehand that the overweight smoker seems to do better at altitude than the skinny, ultra-fit marathon athlete.   This may be extreme as an example, but two of our party were airlifted out by chopper – one person, a little overweight but reasonably fit, contracted a very bad bronchitis and lung infection and by day 5 there was no way he could continue.  The second, a very fit and active road runner, got hit by serious altitude- and stomach-related illness by the time we reached EBC and also had to be evacuated.  Both spent 6 days in critical care in Kathmandu, but recovered fully.
---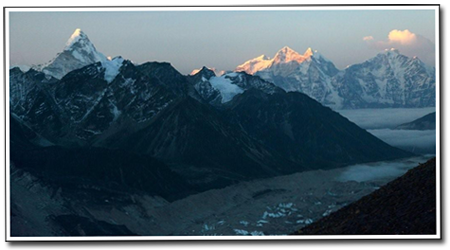 But back to the experience and the photographic opportunity.  Perhaps the 2,300 shots that I took during the two weeks of the trek tell the tale.  I shot in sRAW and small Jpeg, which in retrospect was a waste of memory space – in future I will stick to RAW.  By the fifth day I had run out of memory on my Epson viewer, although I still had sufficient CF card space left.  My Canon 5D MkII was just an awesome machine, and never gave a moment's trouble, despite the ambient conditions.  Nepal is very dry and still cold during April, and so there was lots of dust to manage.  I did not want to battle with a separate camera bag, and so the camera was around my neck all day, with some of the necessities like a gorillapod, zoom lens, batteries and cards, cleaning kit, in my daypack.  Looking back, this was definitely the better thing to do.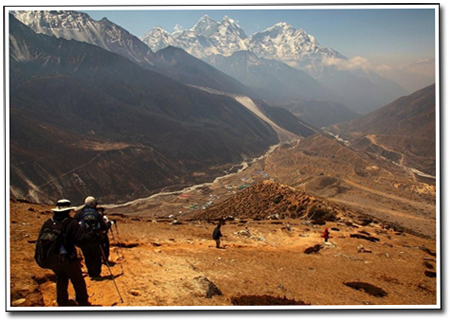 I was also concerned about the camera's functioning at low temperatures, and towards the end I carried an extra battery against my chest.  But no worries – at EBC the ambient temperature was close to zero, but the video and other functions remained in beautiful working condition.  On our last day before trekking back we climbed up KalaPatthar, a 5,650m hill from where there is an awe-inspiring, unobstructed view of Everest.  At the top, the water in my bottle froze almost solid, but the camera did not miss a beat, as I hope some of the accompanying images will show.  I used the kit lens (24-105mm) almost without exception, and I am happy with the results.  Perhaps a wide angle (10-17mm) lens would have been a great idea given the fantastic scenery, but reflecting on it again, the hassle of changing lenses while a gale force wind is forcing three kilograms of glacier-ground dust down your throat, your tortured body is asking whose stupid idea this was, and your brain is struggling with simple math in the absence of breathable air, would have been just too much (I am exaggerating a little).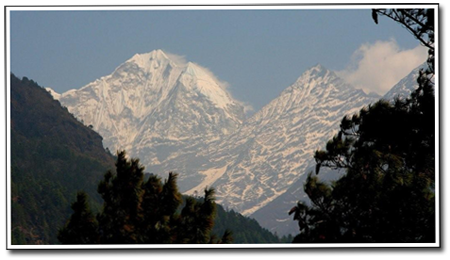 I also found the camera's extended ISO range to be a fantastic asset.  Although I carried an external flash with me, I probably used it once only.  In early morning light, especially on KalaPatthar, I was able to get some reasonable shots at 6,400 and 12,800 ISO. In the evenings, as we relaxed around a fireplace in the teahouses, I was also able to get some very nice shots of the group without the flash unit.   Yes, there is enhanced graininess at those extremes, but in the circumstances I did not find it worrying.
Finally, a polarizing filter is a must – especially when one reaches the colder, whiter parts above the tree line.  The air is so clean, the sky so blue and the ice so white that we struggled with unprotected eyes to appreciate the magnificent explosion of colour and imagery all around us.  Perhaps 'explode' is an appropriate term to use here, although words are generally insufficient to do justice to the attack on your visual senses.  One fellow trekker said "the best you can do is just stand there and gawk".  One indescribable landscape after the other unfolds as you traverse the tricky path towards EBC over the Khumbu glacier.  The ice beneath you is treacherously slippery and cracks loudly and ominously as you walk along.  An avalanche down the slopes of the mountains around you threatens to deafen you as it reverberates and echoes in the canyon.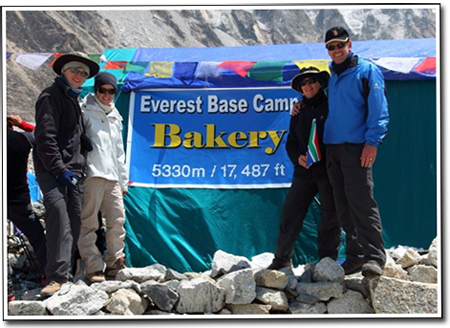 You realise that you are in the presence of profound Greatness, and you feel small.  And then, finally, we arrived at EBC.  The feeling was fantastic!  We shared hugs and kisses, posed for a million photo's, told each other how brave and wonderful we all are, and enjoyed the best apple pie in the world at Everest Base Camp Bakery.
Much has been written about the unbelievable endurance and spirit of the Sherpas who carry huge loads up and down the mountain.  Their friendly demeanour, physical strength and positive attitude form an impression that will remain with us.  When all is said and done, I do not believe anyone can visit the Himalayas without being touched very deeply and spiritually by the mountains that seem to stretch up and up forever, and by the sky that is blue beyond description.  That huge rock that is Mount Everest has a magical influence, there is no doubt.  I can believe that people want to stand on the top of that thing, and that once they have done that, nothing will ever be the same.
---
By Hennie du Plessis
All images © Hennie du Plessis
The post Everest Expedition, April – May 2009 appeared first on ODP Magazine.