A quick look at some of the features that makes me think this a printer I will invest money in:
1. The R3000 can take a Matte and Photo Black cartridge simultaneously… no need to swop cartridges for different jobs and media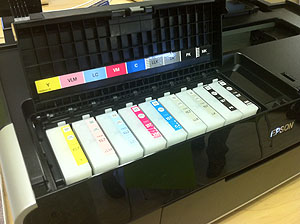 2. The R3000 uses the larger 26ml Ink Cartridges (the older R2880 used 11ml cartridges)
3. The new unit will take media up to 1.3mm thick (including canvas and card)
4. The R3000 can take a 112cm long roll (44-inch x 13-inch wide) for panoramic prints
5. 2 picoliter print heads (down from 3 picoliter for the R2880)
6. Ethernet, USB and Wireless connectivity
7. 9 colour printing
8. Whisper Quiet!
Before I go on with the first look review of this printer, I will say that I have never had anything run so quietly in my entire life! even my laser printer makes more noise than this printer, and if it wasn't for the lights and LCD display letting me know its working, you might not realize that it started printing.
I have more or less shied away from doing any of my own printing because I have been working and living under the pretense that …
It's expensive to print larger print
The quality is not up to snuff
Getting accurate colour is an unbelievable pain!
That said, we printed the images from the ODP Portfolio last year on an Epson R4880 and these are hanging on the walls in Outoorphoto, proudly displayed and beautiful, so it made me start to rethink this whole process.
First Steps: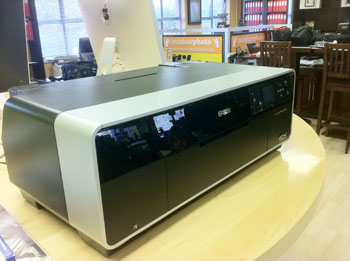 Getting the printer out of the box. This is not a small printer! you are going to need some space for the footprint. But because it's so quiet, you don't have to worry that it will shake the table or desk you place it on.
It is always a big concern for me whether the setup will run smoothly and I will first have to do a ton of small little tweaks and hacks to get the thing ready to print my first image, but lo and behold, I loaded the CD with the Drivers (Mac based in my case) and then connected via the "Wireless Network" option. The printer found the network, I added the password, and viola! Ready to go.
This must have been the most painless setup I have ever done on a printer!
Next step, load the ink, load some paper and off we went.
To see how well the printer will cope, I switched of all colour management and let Adobe Photoshop (my software of choice) handle the colour management. Now, depending on how far you want to push your printing, you might want to use something like a ColorMunki to build custom print profiles, etc, but I have found that if you more or less match your paper type in the print settings, you end up very close to the actual screen in your printing results.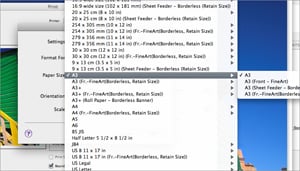 What is very important is that you match your paper in the printer to the printer settings. That is your main starting point… setting up small changes from there to your actual preferences are quite easy from there.
The next thing is to always work from a calibrated screen… you might catch yourself out, trying to get the printer to match your screen, but your screen might be completely out of sync.
Before I started the test, I calibrated my screen one more time, just to be sure I see what I need to see…
The last thing you need to keep in mind is that if you use paper that you do not have a distinct profile for, you need to know that the material and colour cast of the paper will definitely have an influence on the end result.
I tested the printer on various materials, from Art Paper to lustre, to gloss, to matte canvas, to gloss canvas, etc and 90% of getting a good print is simply matching a print to a paper that will best display it. The Matte papers and canvas does not perform well when you have large dark areas in your shots, the matte canvas also did not perform well on skintones, but the glossy and Lustre papers and canvases performed flawlessly.
I'd suggest leaving the Matte papers for more High Key prints and lighter artwork. On the flipside, The PremierArt Water Resistant Canvas I printed on is so glossy that highlight reflections in the dark areas becomes a problem… Much better suited to bright colour prints.
The glossy prints we did on various papers were without fault, absolutely awesome prints, time after time after time. I think one of your biggest problem with a printer like this will be that you will not stop printing until your ink and paper is finished (which was almost the case)
In our test we didn't start with full cartridges all the way, but we used about 70% of the one black cartridge on 8x A3 sized prints. Granted, the prints did contain a LOT of black and were generally very dark in colour and tone (as you can see from the examples) but this is something to keep in mind when you do hectic print runs. A typical cartridge will be about R320.00 per cartridge. The rest of the cartridges held up very well. I would have loved to print a series of prints to see exactly how far it will go for day to day photo printing and to be able to work out a cost.
This is something I would have loved to be able to do that you can do on the R4880 and that is to work out the actual cost of a given print. the printer can give you the exact usage of ink per print so you can work out to the last cent how much any print cost you to do. This is something that is crucial in studio environments (deep etched white background prints will cost much less than a black background print – important for your budget) I am not sure why Epson left this out on this printer, as it's definitely a step up from the "enthusiast" print range, maybe just in price.
Conclusion:

I really like this printer and will most probably end up buying one for myself. I am extremely happy with the results and do not think anybody will find this model lacking. Epson did a lot to make this a really good printer for the smaller studio. Easy to connect, easy to print, easy to manage. It's not fast though… 6 and a half minutes for an A3 is more or less what you can expect
My paper of choice on this printer? The 250g Premium Lustre with the PremierArt Water Resistant Canvas (390g) as the canvas of choice.
---
by Sean Nel
Image Copyright Sean Nel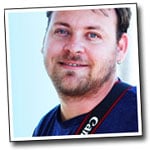 The post Epson R3000 – first look appeared first on ODP Magazine.