"The quality of all Creative Light products is exceptional. These are being produced with the highest standard and the prices for our customers are at a very reasonable level," says Jenny Li, product group at Creative Light. "Our products enable photographers to be creative with their lighting designs. With this new product line the work becomes quick and easy. From our softboxes to the reflectors of different shapes, sizes and materials to the tiniest support brackets, the design of the Creative Light equipment makes it easier to control the light in all situations from simple hardware solutions to creative lighting ideas."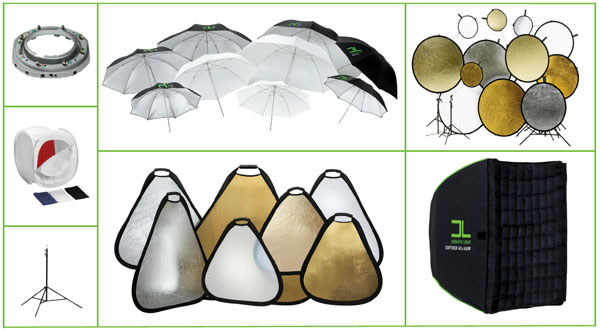 The company is also providing knowledge by posting how-to videos on the website for all of their lighting accessoires. Real-life photographers will share proven and easy-to-implement styles and techniques, helping understand how each accessory works and how to put it to use most efficiently. "Our belief is within sharing knowledge about the products. Showing our customers with an easy technique like videos will make our broad line of lighting accessories more successful" continues Jenny.
Equipment currently being shipped to dealers include: recessed and flat-front softboxes, softgrids, speedrings, umbrellas in white, silver, translucent and "softbox" styles, reflectors, both deluxe and regular in a variety of gold and silver surfaces, reflector holders, stands and light sheds.
Please note that the Creative Light brand will only be available from beginning of 2010.
Please phone the office to place your orders at 012 348 3693 / email us at info@outdoorphoto.co.za
For more information please visit www.CreativeLight.com
---
Images and Press Release courtesy Creative Light
The post Creative Light Introduces Line of Light Shaping Accessories appeared first on ODP Magazine.