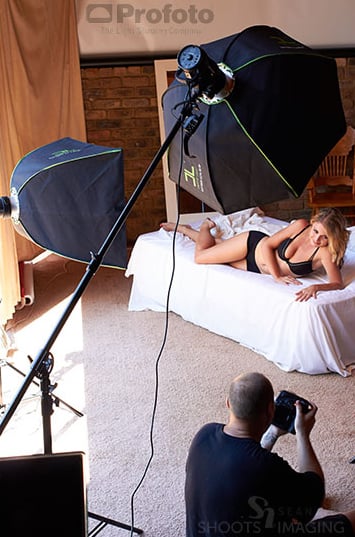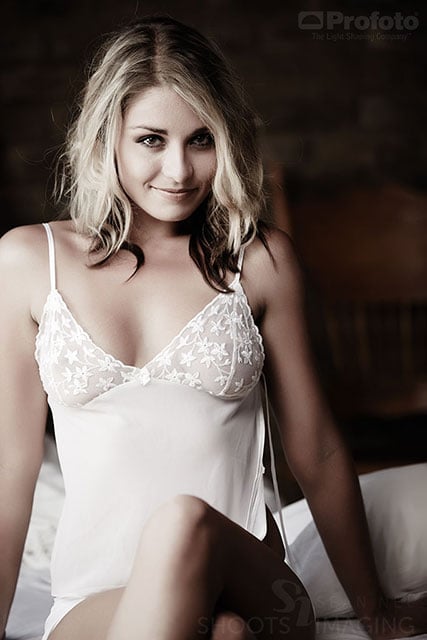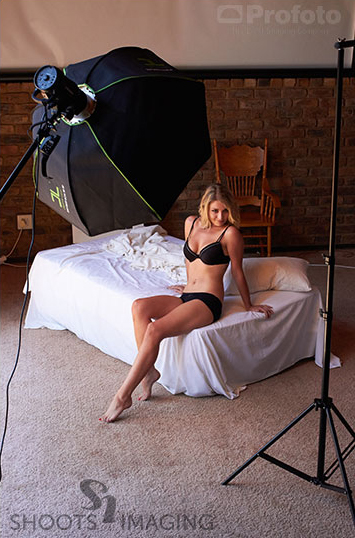 The brief for this shoot was to create commercial stock images for the themes of Lingerie, Boudoir and Lifestyle with Nudity and Implied Nudity.
Generally we would shoot boudoir and lingerie on location in a guesthouse or hotel room (Honeymoon suits usually have enough space for lighting gear and people) but this time we decided to build a very simple set in our studio at Shoots Imaging's Studio.
One of the reasons was that we really wanted to play with various new modifiers and see how far we can push them, but have a flexible enough setup with enough space to move around to quickly shoot various looks and various lighting changes (hard, soft, deep light and 'glamour' look). We also needed to shoot pretty fast because we only had two hours per model, so I didn't want to waste time changing the lighting setups by moving things around too much.
Our Lighting equipment was a Profoto D1 Air kit (500watt) and a Profoto Pro7a (2400watt) with two heads.
The modifiers we used were:
CreativeLight 2×3′ Softbox
CreativeLight 3′ Octobox
CreativeLight 120cm 5-in-1 reflector
Profoto 53cm Beauty Dish (White)
Profoto Magnum Reflector
Profoto Standard Reflector
We were going to use the Pro7a's as our main lights but realised that the Creative Light Softbox and Octobox has a 650Watt maximum rating, so they ended up going onto the D1′s. The Magnum Reflector went onto a Pro7 head and was shot through a 2m scrim.
End setup:
2×3′ softbox low (bed height), 3′ Octo on a boom high – Originally we were going to shoot through the window on huge scrims, but rain threatened so we moved it all inside. The softboxes faked the wide & high window lighting. The 2m scrim with the Pro7 head was the "2nd window" for some of the shots. The Magnum Reflector was great on this light because it gave a nice and wide flow over most of the scrim. The last light was a pro7 head, up high on the walkway, and shooting through the railings to give shadow texture on the background. The extra 5in one reflector was used as a silver reflector against the wall on some of the shots to make sure light reached into shadow areas.
The set was very simple. We moved a bed into the studio, white sheet, and cream cover + pillow. We changed the angle of the bed to fit the changes in light. The back wall was used as texture background, although half of the shots was shot against a white PVC background.
A mirror was placed behind the bed at an angle to reflect the wooden ceilings of the studio and a chair was also placed right against the back (this is just extra texture and background detail).
The Shoot:
Lights – The Profoto lights worked flawlessly and with their fast recycle times I could double tap shots when needed, getting a slightly different facial expression, or the beginning of a smile. Exposure consistency meant that even though I took various colour chart readings through the day, there was almost no difference in colour… over a day of shooting, this was very good!
Softbox and Octobox – I really like Creative Light goodies. It's well made and solid. Unfortunate about the maximum heat rating of 650watt (but really… not many people will use it past 500watt or 600watt) I am not sure if the new ProFoto RFi range has the same limitation, but I don't think so. Profoto prides itself that you can use all light modifiers on all lights (that means I can pop a softbox onto a 800watt Tungsten constant light without worrying about it melting the softbox or overheating the head) Will report back on that!
The Profoto Standard and Profoto Magnum Reflectors are awesome! Because you can focus the beam to a certain degree, I could change the size of the "spot" on my scrim until I got the maximum coverage for my available space without spilling past the scrim. With other lights you have to physically move the light, and if you don't have space, that's it, you don't have space. I really like the control this affords me, and this is a feature on all modifiers.
I know I can fake a lot of this control on other modifiers in Photoshop, but starting with a good quality image just makes my life easier and reduces time spent in post processing. If I was shooting this for a client, I would work on three or four shots for a few days and that would be it… spending time on them to get them perfect isn't a problem. But this was a commercial stock shoot, so it means getting as many viable images processed and to my agencies as fast as possible.
Overall The equipment worked flawlessly.
Location: Shoots Imaging Studio
Model: Michelle Pienaar
Model: Chantel Nilson
Assistant: Ernst Ohloff
All images Copyright: Sean Nel
The post Creating light for boudoir shoot with Profoto appeared first on ODP Magazine.