Sharpness Results – A Breakdown
You've heard me say it before, and I'll say it again: I am a huge stickler for sharpness. When our new Nikon D3X came in, the first issue my team and I wanted to test was sharpness. How much detail could we capture? Could we use this camera for stock production or maybe even for fashion (which probably has the highest degree of quality concern in the photography industry)? Could we get a similar or maybe even better result than with the Canon (or even the Hasselblad)?
We tested the body with a couple of the sharpest Nikon lenses and the result was surprisingly good. (I must say I was personally quite happy that I had not just wasted $8,000 USD, plus another $5,000 USD on lenses.) Here are the results:
Center Focus
The first thing we tested was the Nikon 85mm 1.4 vs. the Canon 85mm 1.2L. I personally use the 85mm a lot and find this focal range very suitable for stock, so this was a very interesting test for me. We tested the center area in sharpness as the first. Remember that to do this comparison we had to downsize the nikon file to match the canon.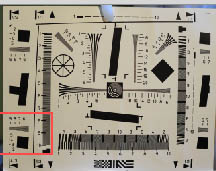 Peripher Focus
The second thing we tested was the Nikon 85mm 1.4 vs. the Canon 85mm 1.2L in it's peripher focal abilities. Here are the results:

With the right lenses the Nikon easily matches the Canon. But if you make the mistake of pushing some Nikon lenses to the edge, they certainly do not do justice to the full 24MP that the D3X is capable of handling. To get great sharpness out of this camera, you really need to know which F-stop range each lens achieves maximum sharpness within. Once my team and I figured out the right parameters, we soon learned to work beautifully with this camera. We ordered a whole bunch of lenses and returned the ones we did not find sharp.
Unfortunately, we did not find any of the Nikon Zoom lenses in the mid-range 24-70mm to be sufficiently sharp for our needs. We were however extremely impressed by the Nikkor 14-28mm f2.8, which was completely in its own league with outstanding sharpness and fringing kept in check. Canon simply does not have a wide zoom lens or prime that matches this lens in sharpness. (In fact, I believe you would have to go to medium format to match this lens.)
Before the new Nikon, I would always go to my Hasselblad prime 28mm if I was doing a wide shot. The wide Canon lenses weren't worth using because they'd fringe the whole thing so much that it took my outsourcing staff hours per file to fix the issue. Now it seems I can shoot wide without having to get the heavy firearms in position. Great!
So to the big question—in terms of sharpness, could I do stock or fashion with this lens? The answer is yes….but.
The "but" comes in because you really have to know what you're doing and chose just a few handpicked lenses to work with. If you look at it from an overall perspective, the canon lenses perform slightly better all around. After much research we settled on using these lenses from Nikon:
Nikon 14-24mm f2.8 (impressively sharp lens)
Nikon 50mm f1.4 (useless below f3.0, sharpness lacking, will be rejected for stock)
Nikon 85mm f1.4 (too blurry below f2.0, very sharp at f5.6)
Nikon 70-200mm f2.8
Noise Breakdown
Noise is a problem for Nikon. If you remove the noise reduction setting that is on by default and take a look at the unfiltered RAW file, the Nikon D3X has much more noise than the Canon 1Ds Mark IIIs RAW. With both cameras set to "no noise reduction"Canon significantly outperforms. In fact, a Canon ISO 1600 file looks almost like a Nikon ISO 800 or 640. We borrowed the graphs from Dpreview to illustrate this:
Luminance noise graph (black patch)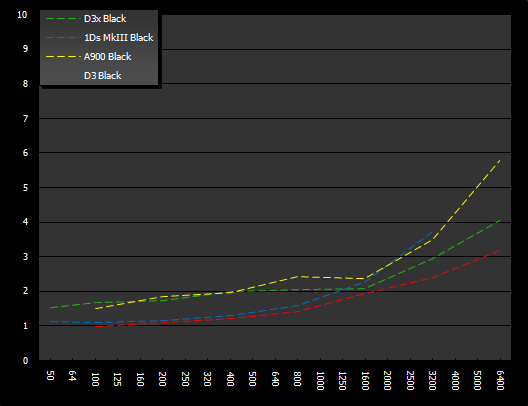 Chroma (color) noise graph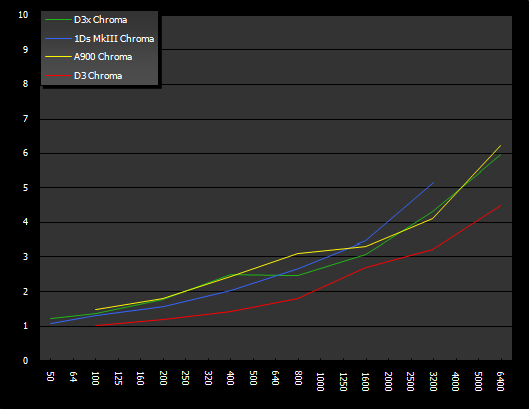 We also did our own noise test on the Nikon: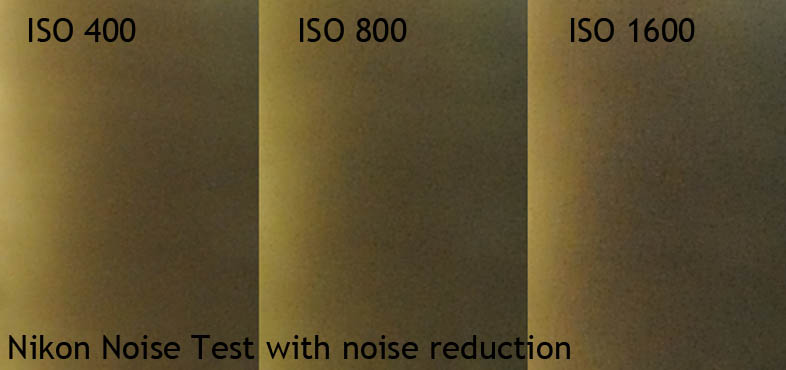 This was quite a surprise to us because most online forums had predicted that Nikon would be better than Canon at handling noise. In retrospect, this is probably because a) Nikon has turned their noise recognition on by default, making most images look much more noiseless than they really are, and b) Nikon is often regarded a photojournalistic tool and the choice for tough conditions in photography. However, when going above 1600 in ISO the noise handling of the Nikon looks to be slightly better than the Canon. But shooting above ISO 1600 is a very rare thing, so I would have liked to see the Nikon better at the lower ISOs.
Unfortunately, Nikon's auto-noise reduction makes their files look slightly filtered, so to my team and I (and some very qualified iStock inspectors) these files qualify for rejection by default. Not good.
Bottom line: How bad is it really? Well, because the margins are small in today's digital camera offerings in terms of quality, this noise issue is not enough for us to disqualify the Nikon in any way. To be realistic, maybe only a handful out of about 1000 people in the world are capable of looking at a Nikon file with the default noise reduction turned on and say "hey this file looks slightly filtered," so in real life, this simply does not matter. Will this work for stock? Yes, but not above 360-400 in ISO.
Usability
As I mentioned earlier, because the margins are small between the top end Canons and top end Nikons, usability is the real tie-breaker. Nikon has a far better reputation for listening to their photographers than Canon, and this is plainly illustrated by the features available in the new Nikon D3X. (In fact, Nikon listens so much, that I am expecting a phone call from them to talk about their new camera next week.)
The Canon Mark II, 16mp, was a nightmare in terms of usability. To change basic settings you had to free both hands and press three buttons at once. To review an image, press two. This camera was a joke and any photographer shooting with it for five minutes prior to release would have told them so. Even Canon's basic point and shoot cameras launched at the same time had better usability options at that point. The Canon 1Ds Mark III was greatly improved in terms of usability but it now risks being compared to the new Nikon D3X and frankly, it looks like a joke again. Let me take you on a tour of the small differences in the D3X that make a real difference in real life:
Instant, one press, 100% cropped view of focus area (the little red spot in one spot metering). This feature is unbelievable. For the first time in digital history on a top end camera, I can actually routinely check if I am shooting in focus. To navigate to a 100% view of the focused area on a Canon takes anywhere from 10 to15 button presses (with both hands) and requires a cognitive effort that is better used shooting. This Nikon feature is simply fantastic and is something that can be found on other Nikon high-end cameras as well.
Two CF-cards slots with backup capability. Incredible. Shoot jpeg small res for inspection on one card and shoot RAW on the other, or shoot double for backup. Fantastic!
Two custom assignable buttons for any purpose. Genius.
Simply outstanding auto focus and AI focus. Much better and more precise than Canon. In other words, you can actually count on it being in focus when the red spot lights up. Canon has a problem here and this was actually one of the reasons why I went medium format a year ago, because Hassy autofocus is extremely precise.
Impressive buffer size and continuous shooting capabilities. An impressive 7 frames per second really beats Canon's lumbering 4 frames per second.
Things we are missing on the Nikon:
Custom definable shutter delay time. Default is 1 second, but too long of a delay and we would like to see this alterable to lower settings. Shooting in "silent" mode on the Canon 1Ds Mark III gives my assistants about 50% sharper files. The silent mode has a short shutter delay of maybe 300-400 milliseconds. This is perfect and matches the shutter delay I have on my Hasselblad. On the Hasselblad I can customize my shutter delay in internals of 50 and 200 milliseconds. We would like to have seen the same option on the Nikon. This fixed in firmware and would require little effort.
One press custom white balance test, such as on the Hasselblad. On the Hasselblad you can press one button while pointing the center of the lens at a gray card and the white balance is automatically adjusted and shifts to custom white balance settings. This feature is quit addictive and shooting with Canon or Nikon you constantly wonder why they have not created a similar function.
Sensor cleaning. Automatically.
Conclusion
The Canon has lower noise levels and the lenses perform generally better, but what does this matter if your images are more out of focus, if the camera is much harder to work with on a daily basis and if you can get the same results form a Nikon by just choosing the right lenses and get another 3 mega pixel on top? For stock and fashion, about 90% of what we shoot is shot on ISO 100 and here the two cameras are so close in their noise levels that this is not something that would ever be a defining matter in choosing a Nikon or a Canon.
Formerly, I would shoot most things on my Hassy and move down to my Canon when shooting subject material that required flexibility or that was fast moving. Now that I've met the Nikon, this will change for sure. I plan for my basic setup going forward to be: Hasselblad for studio and high-resolution stuff and Nikon for the rest. Because I know what lenses to use, never shoot much more then ISO 400 anyway and need to count on the focus system, the Nikon D3X is a dream come true. I will report back a couple of months into using the Nikon and let you know if I still feel the same way.
What's Next
If Canon is to stay competitive then they have to start listening to their photographer's needs and they also have to come up with a new top model within the next six months or so. We will probably see a full frame 28MP just around the corner. I predict Canon will supplement this new camera with a new lineup of two or three central range lenses with their new glass, which will create impressively sharp images even at this resolution.
Two years from now, both camera brands will have to consider going beyond full frame. While Canon might be able to do this (with new and better lenses in the horizon) this might be a problem for Nikon unless they upgrade their current lineup of lenses. The challenge for Canon will be usability and functionality as well as developing a better focus system. The challenge for Nikon will be noise control and better lenses.
Nikon should probably start working on a semi-medium format top-end camera with a new and physically larger lineup of lenses that can handle the extra mega pixels required in the future to come. Nikon could also win even more on usability by launching a TLC compatible radio controlled flash series, instead of their nearly useless infrared system. This would be a massive winner for press photographers, location photographers, travel photographers, wedding photographers, etc. The alternative, without TLC, is to bring four or five Pocket Wizards along all the time, which fills up quit a lot of space in the camera bag, needs batteries…and is expensive…
So, to conclude my review, I'd say that the Canon 1DS Mark III and the Nikon D3X, are neck and neck in many regards – each trumping the other in certain areas. Overall, I choose the Nikon D3X as my winner for its super focus capability and its great functionality. Stay tuned for more reviews to come.
---
Content Copyright Yuri Arcurs 2009, and syndicated with permission
The post Clash of the Titans – Canon 1DsmkIII vs Nikon D3x appeared first on ODP Magazine.