Frankly, I'd be very happy to go with another LowePro. My previous bag lasted about 8 years with extended trips inside South Africa as well as international trips to 6 countries, carrying more gear than it was supposed to most of the time. That works out to a few cents per day in cost (if that much) and was absolutely sterling service! When we travel though, we tend to travel with anything up to 5 camera bags at a time, either for moving our equipment around from "large" location to "large" location or for carrying equipment on day to day shoots, generally smaller bags that is lighter, just carrying what we need for the day, and not a bunch of lenses or chargers that we will only use at a different location.
So my hunt for the Perfect bag begins!
Shoulder Bags
Not really my thing anymore, but it still has a place and many photographers swear by it. For one, the shoulder bag can usually be accessed without putting the bag down (keeps your bag dry). They tend to sit a bit deeper, so you can stack more equipment, and in most cases, a well designed shoulder bag will have a cover that flaps over the open edges of the bag, allowing rain and other precipitation to cascade of the bag and not seep in through zips and other openings. Because of their shape, the also tend to pack easily.
Their downfall is that you can pack them heavy, and walking around with a single strap on a shoulder of undistributed weight will definitely work those neck and shoulder muscles and simply… quite literally… be a pain!
That said, a small shoulder bag is great while you are traveling. We always carry one or two inside our main luggage on longer trips. It allows you to just take a camera and lens out with you on a day's scouting or shooting. Plan ahead, and you will have all you need for that day… tomorrow, you carry another lens maybe to a different location, but it's always light, not a big hassle in public transport, and easy to keep a hand and an eye on while moving in crowds. Do get one with decent padding on the shoulder strap though (and a thick strap that cannot be easily cut!)
The added benefit is that if you get stuck in the rain, you can almost always quickly move it to under your jacket or coat, and keep your equipment safe and dry.
Although my bag of choice is the Crumpler Ben's Pizza Bag (it's big enough to take a DSLR with a battery grip attached) One of the new breed of crumpler bags caught my eye for the domestic traveller. The Company Gigolo 7500 is an extremely robust bag… and I mean Robust! although it's material it almost feels like a hard shelled bag. There is no way that somebody will slip a razorblade accross the bottom and catch whatever falls out.
Also This shoulder bag has one of the strongest straps you are likely to see on a camera bag ever. No chance of a "cut-and-run" mugging with this bag.
A bag I do like though is the B&W Type 90 Outdoor Cases. Essentially this is a hard case inside a shoulder bag. Perfect for carrying around but then needing to put into an airplane cargo hold or the back of a game vehicle. Waterproof, dust proof and just short of bullet proof! (not really a "daybag" though! )
Backpacks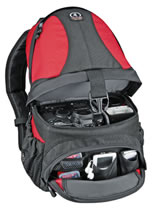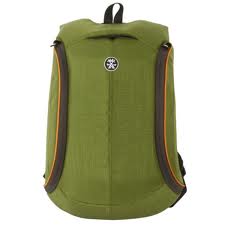 Now, these come in an amazing variety and sizes, and you need to select a bag that fits what you do, and what you are planning to do. A nice, urban, carry around backpack is the Crumpler Cupcake Slim. These are nice and stylish, side access, backpacks for light and medium equipment. Perfect if you want a tough bag but want something just a little bit more stylish that doesn't really "look" like a camera bag. If you need something slightly bigger, the standard Cupcake is the on to go for though.
Alternatively, a very nice bag for a light traveller is something like the Tamrac Adventure 7. It's a backpack type bag with half of the bag rigged for camera equipment, and the other half for general items (sandwiches, a water bottle or jersey, etc) Ideal for a day out on the mountain or a hike upriver.
Alternatively, and staying on the hiking theme, the Tamrac Expedition series is more geared for carrying heavier photographic loads for bigger distances. The shoulder and waist straps are bulky and well padded and will sit snuggly and softly on your back. Small outside pockets for various odds and ends and outside straps for tripods and other add-ons. All the zips are the "weather-seal" type.
Off course, if you want something a bit more "outdoorsy" hardly anything can beat the Lowepro Pro Trekker Range. A backpack type bag that looks more like an expedition bag than a camera bag, it has super padding on the shoulders and hips (all adjustable, off course) and a hard back rigid "frame" of sorts. Seriously heavy duty zips, and almost all openings has a second strapped clip to close over the zips, in case a zipper fails. The flap will remain closed and carry less strain this way when heavily loading your bag. A very nice bag all round, but the straps are a pain if you need to fly. In which case I'd suggest something like the Lowepro Vertex AW series (AW in the Lowepro range denotes "All Weather")
Not quite so much padding as the Tamrac Expedition bags and nothing like the Pro Trekker range, but a rigid back and sides with the ability to zip away the backpack straps into the bag keeping the bag neat and tidy and reducing flapping straps and things getting stuck everywhere. The ability to zip the straps away also has the added advantage that they stay clean. This is one of my pet peeves with backpacks. Every time you put the bag down to take something out, you tend to put it down on the straps, which means, inadvertently, your back and shoulders always seems to get dirty!
Another benefit of this bag series is that it has space for a notebook computer, but unlike the old DataTrekker, the notebook space is part of the top flap. Why do I like that? simply because when the notebook is on the side of the straps, you tend to put the bag down with the notebook at the bottom and all the heavy camera gear bouncing away on top of the notebook. The negative is that every time you open your bag, you lift up the notebook to get inside. It's a bit of a "no win" situation, but all in all, I think I prefer the notebook on top.
Off course, if you need to travel on airplanes and want a backpack available every now and again, but generally you will be traveling in a more "domestic" environment, it might be a good idea to look at something like the ThinkTank Airport Acceleration bags. It's basically a square bag but has a neatly hidden pair of backpack straps. The straps are there for occasional use though, not for hiking up a mountain(!) but there is a handy little pocket right below the top handle to keep small documents you need quick access to (like ticket or hotel information, etc) It also has a decent side handle (like a suitcase) and a strap handle on the bottom (for when you pick up your bag to present at customs and security checkpoints) Another benefit is that it has a separate top flap for your notebook computer (and a separate padded bag for it) so that when clearing security, you can just remove your notebook "bag" from the camera bag (also handy when you just need your notebook computer, or want to leave your notebook in your hotel). Like all ThinkTank bags, the padding and materials are excellent (ThinkTank products are designed for working professionals) and the bag itself weighs in at just under 2kg (critical when carry-on weight is something to consider)
Off course, it might be that you would almost never need a set of backpack straps, or want to keep the weight of your shoulders or back, then something with wheels is more your solution.
Wheeled bags
Again, Thinktank is almost the "go-to" supplier for camera bags for international travel. The Airport International bags look more like overnight luggage from the outside, and has more or less the same features as the Airport Acceleration series, but instead of backpack straps, it has a pretty strong set of wheels and telescopic handle that folds away in the base of the bag. Obviously this reduces the actual space inside the bag a bit. Other features is an internally attached steel cable with combination lock to keep your bag from walking away while grabbing a nap between connecting flights and a combinatio
n lock that can attach a strap around you bag, making it very difficult to open your bag. (Combination lock is TSA approved) It is also the largest size that fits within international Airline bag size restrictions. That said, It's also heavy… coming in at about 5kg empty. But it will safely take your 500mm lens.
If you are looking for more of the same as the ThinkTank, but in a slightly smaller and cheaper package, the the Lowepro Pro Roller x100 is the bag for you. Slightly lighter than the ThinkTank, it has very similar features, but with an added little twist… instead of the cable to lock the bag to a pole or seat, it has a smaller cable that loops through all the zips of the bag. making easy entry just a tad more difficult. it's main feature though is that when you reach your destination, the whole inside unit of the bag removes from the outside shell to make a backpack with which to travel around! Seems somebody was thinking a bit when they designed this one. I don't think the backpack part will handle heavy use, but for a quick day out, it's perfect.
Crossover shoulder bags
For the guys that has a backpack, but always carry it on one shoulder, and the ladies that prefer a shoulder bag, but that can sit a little bit more tightly on the body, and the rest of us that don't want to put down our bag while working fast, the new generation of over the shoulder sling bags seems to be ideal.
For fast moving day trips, something like the Tamrac Velocity bags seems to be ideal. It's a rounded tortoise shell shaped bag that slings over your right shoulder, and has a clip that functions as a second belt strap to keep it in place while moving about. When you want your camera, the whole bag can simply slide forward to your stomach and a zip (which is under a flap and a clip facing your body) gives you acces to the bag's contents from above. No need to take off the bag, no need to put it down to take anything out, and just let the bag slip to your side while shooting and before stowing you gear to move on.
The Lowepro version of the same style of bag is the Slingshot. a more elongated bag, It slings over your left shoulder to sit on you back, and when moving it to the front of your body, the whole bag has turned 90-degrees sideways to access the camera equipment. The advantage you have on this bag is that you can either open the top zips halfway (stopped by two clips so that you do not accidentally open it all the way and drop a camera) or open the zips all the way down, giving full access to all the parts of the bag (to get to smaller items deep down) It also has a separated "nosecone" where you can store extras.
The business version of these types of bags must be the ThinkTank Sling-o-Matic! The ThinkTank is all business with a completely rectangular mirror design. i.e. the front and back has exactly the same pockets, and the straps can flip over to be attached on the left or right hand side of the bag. What's better is that you can flip the bag while moving around… nothing needs to be unclipped, it simply slides in place as you put the bag over your shoulder. This one also takes a notebook computer, and with the mirrored design the notebook can be against your body or away from your body no matter which shoulder you are carrying on. When you need to access the contents of your bag, The Sling-o-Matic slips to the front and rotates 90-degrees, quite like the Lowepro. Different than the lowepro the flaps are wider, and designed to take extra lenses or flash units (even the smallest ver 10) One of the best features might have been quite accidental (not that I think ThinkTank ever does anything accidental) with the bag in front of you, it's rigid enough to be a double elbow rest to shoot on!
So which one did I choose in the end?
Airport Acceleration! Light enough to travel with, Neat enough to pack away between luggage, Backpack straps when I have to carry it and my 2 year old boy and large enough to fit all my gear I travel with!
---
Things to look out for:
Good zips
Weather sealing and waterproof material
Good padding and dividers that will last
Decent seams and stitching, especially on tension points
Padding on straps
Rubberized straps (so it doesn't slip off your shoulder)
Easy access for the photographer
Difficult access for a thief
---
The post Choosing a Camera Bag appeared first on ODP Magazine.