Martin Meyer is a 35-year-old wildlife conservation photographer based in Johannesburg. His heart for conservation and passion for animals is what motivates him to travel. As a child, they visited the Pilanesberg National Park as part of their December holiday every year. Here, he started his photographic journey with a Canon 350D and the excitement to capture anything and everything.
Over time, editing and experimenting with his photographs became part of the journey and from the below photos you will see that this definitely adds a unique twist to his work. Pushing the limits of his editing allowed him to communicate more of what he felt in the moment, rather than just what he saw, which resulted in stunning moody wildlife photographs. Through post-processing edits, he could do justice to his images and deliver true works of art that speak to its viewer.
First, Martin edits in Adobe Lightroom where he makes minor tweaks and fine-tunes a few settings. The next step is in Adobe Photoshop where he makes finer adjustments with perfect control using his Wacom tablet.
I shoot with the Canon EOS R and 7D MK II cameras, and use the highly-versatile EF 70-200mm f/2.8L IS USM II lens in conjunction with a 1.4x Mk III extender when the light allows. I also shoot with the Canon 500mm f/4 (1st edition) lens.
It is only over the past 3 years that I've really started posting my images on Instagram and have been fortunate enough to connect with organisations that offer unique opportunities for documentation.
My photography philosophy is to create images for people to fall in love with nature and animals – just as I did as a child and hopefully create awareness so they can also play their part in caring for our natural heritage. Here are a few of my favourite shots and the stories behind them:
It's all about the animals
While driving in the bush you have to be ready for anything to happen – like a giraffe being harassed by two oxpeckers. This spectacle was truly something to witness! Even though the photographer inside me thought that this would mess with the "perfect photo", the moment was really about how animals interact with each other. Martin mainly shoots in manual mode and his advice is to know your gear so well that you can, without looking at the back of the camera, adjust its settings.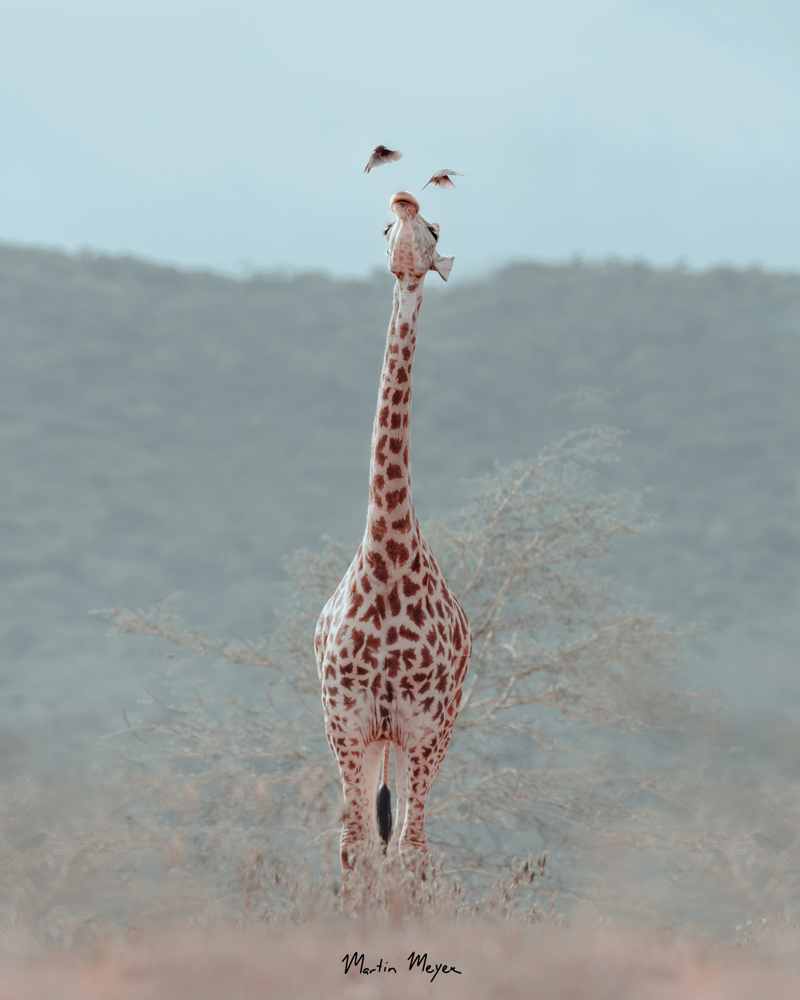 This entertaining image was shot while on assignment for the Wild Tomorrow Fund at Ukuwela, Zululand and captured with Canon EOS R and 500mm f/4.
The heroes amongst us
I recently had the opportunity to photograph and document the team of Nkombe Rhino while on a dehorning mission. It is incredible to stand within arm's length and touch these prehistoric animals, but the magic for me lies in the little moments where these highly passionate and motivated individuals show the love they have for the animals in front of them. It is when passion and purpose collide that magic happens and you witness these real-life heroes in action.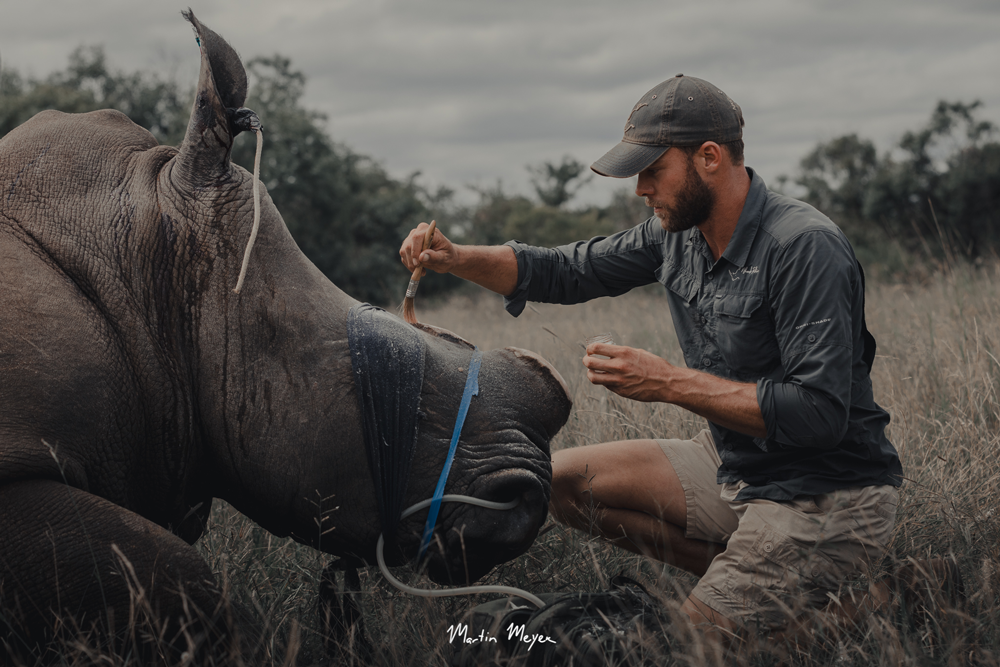 Even in the rush of a dehorning mission, Martin looks to capture those intimate moments between the rhino and human. Captured with the Canon EOS R and 70-200mm f/2.8
Waiting for the right moment
I normally drive for hours on end, searching and looking but also always enjoying what indescribable beauty nature has to offer. Seasons change but the beauty remains and every season has something unique and photographic about it. I love big cats and they are absolutely stunning to photograph – especially the elusive leopard. There is something very special about finding a leopard in a tree and getting to spend almost an hour alone with her.
Patience is key and this time rewarded with a great story and photo.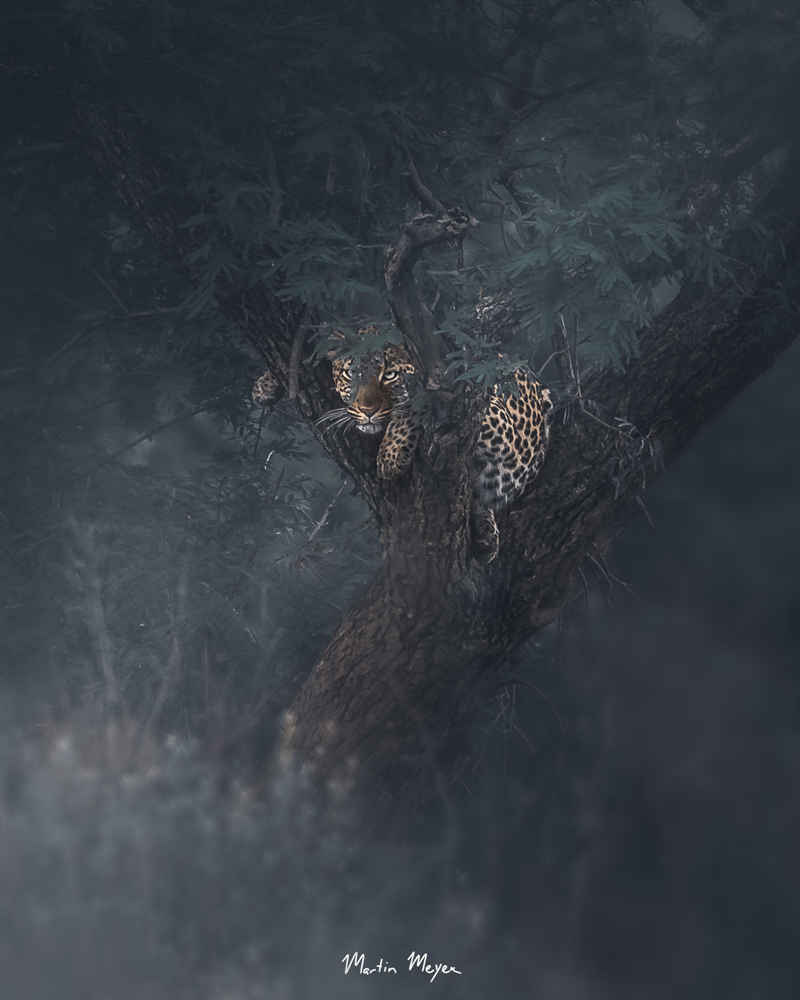 Captured with the Canon 7D Mk II and Canon 500mm f/4.
Brothers in arms
After connecting over Instagram, Martin had the opportunity to go on a drive in Pilanesberg with a fellow nature lover from across the globe – Australia. Both of them have an affinity for big cats and they hoped that they would get lucky. First thing in the morning, they found a whole pride of lions sleeping in the middle of the road and as the lions started waking up, they started moving out one by one.
There was the ultimate moment where the two brothers came together for a few seconds and gave them a brief moment to compose a shot.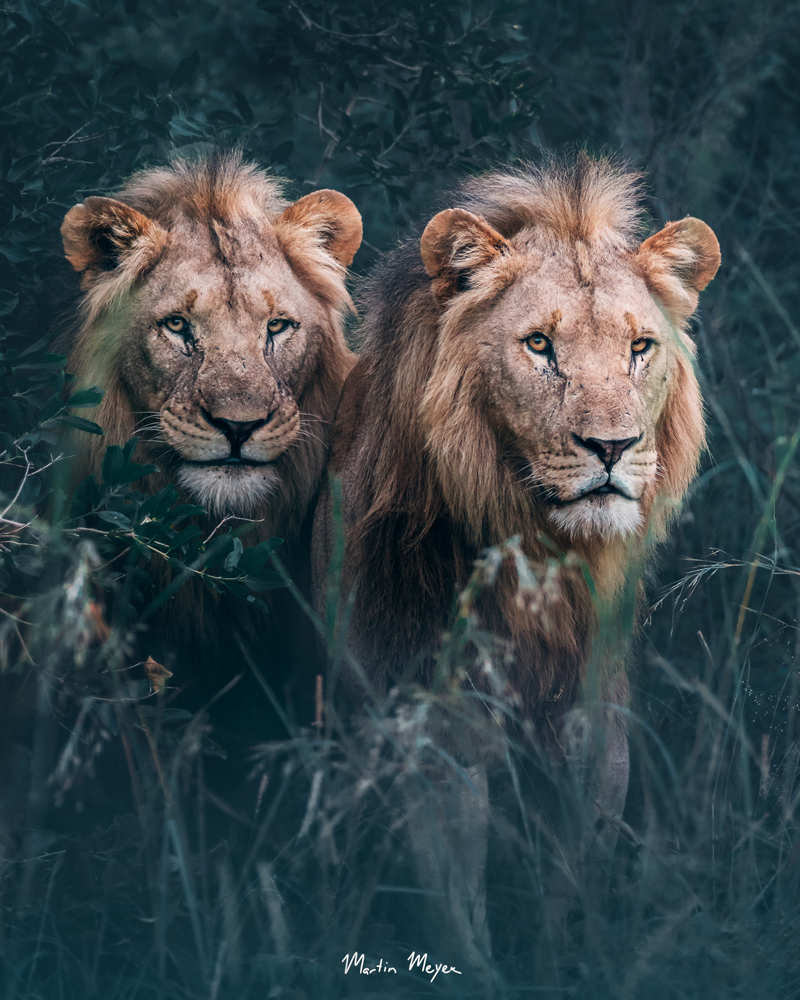 Captured with the Canon 7D Mk II and 70-200mm f/2.8 with a 1.4x teleconverter.
It's rude to stare
The amazing thing about being outdoors is that there are always little moments worth capturing, and this is the perfect example: Walking back from the Malatse Dam Hide in the Pilanesberg after witnessing elephants pass within a few metres from the viewpoint, they walked back to the car and the next moment Martin found himself playing peek-a-boo with this little fella in the parking area.
As a general rule, always try to at least double your frame rate compared to the focal length you are shooting with. When using the Canon 500mm lens and shooting handheld, it resulted in a shutter speed of 1/1600.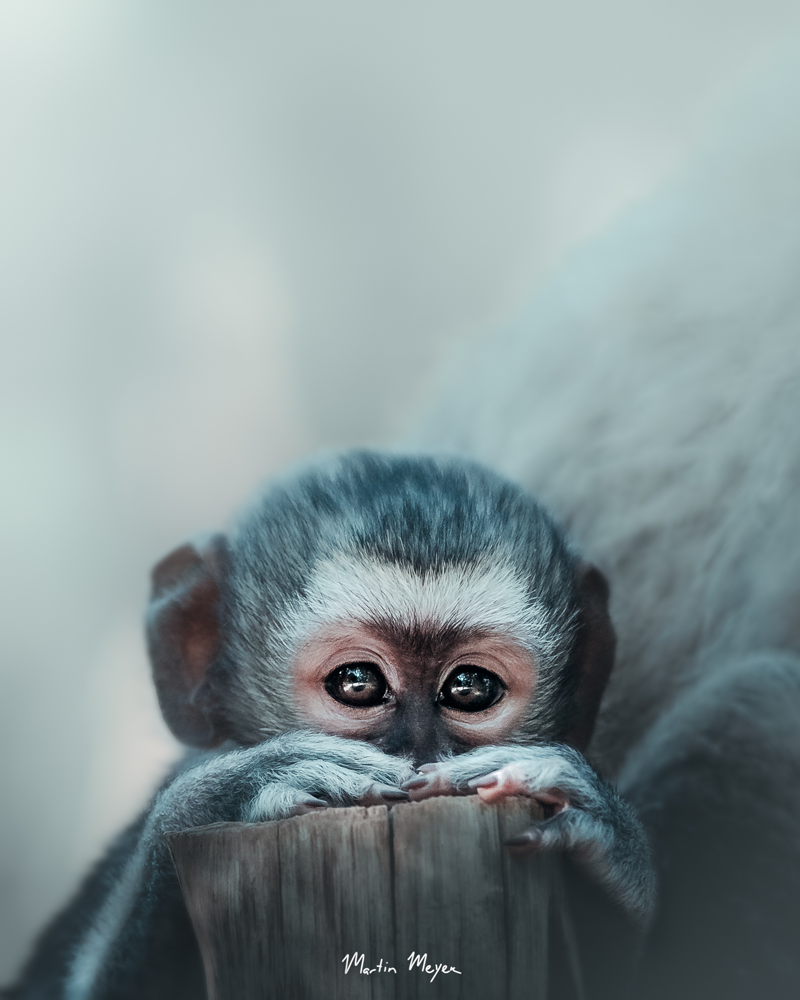 Captured with the Canon EOS R and 500mm f/4.
The kindergarten
(Do you notice the different personalities in this image?)
When observing animals in nature, it is important to keep disturbances to a minimum – that's why switching off your vehicle (only when safe is highly recommended. After a few minutes, the herd relaxed and started playfighting. It is such a privilege to observe animals when they almost forget about your presence! It gave us the opportunity to see their individual personalities shine. Many times, we try to get as close as possible to the action but some of the best moments happen when we hang back a little and let the scene unfold in front of us.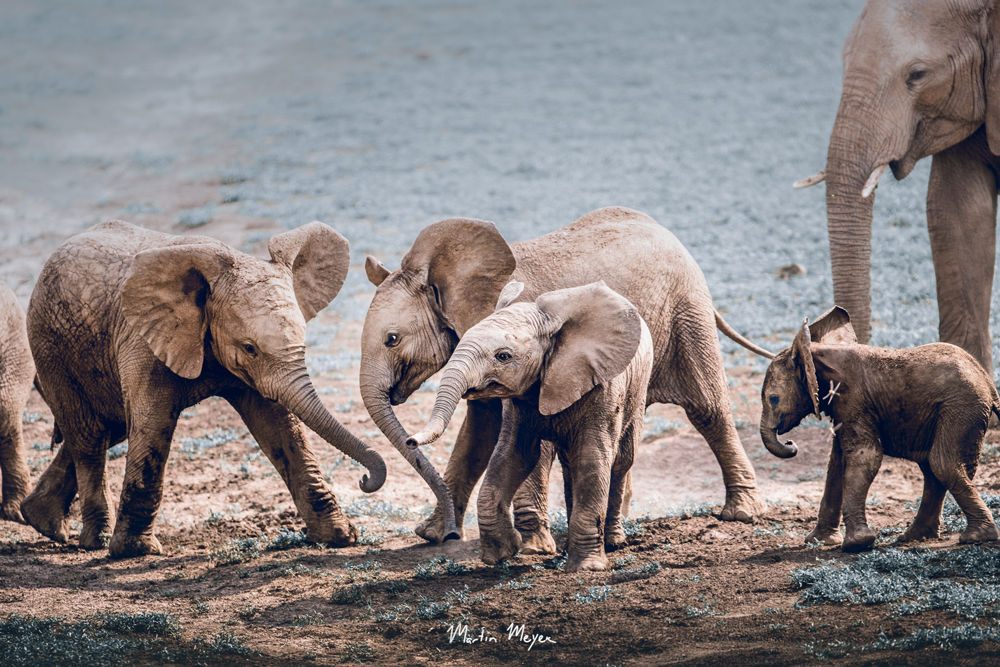 Captured with the Canon EOS R and 500mm f/4.