Having owned the older Canon EOS 5D and being over-the-moon happy with it's performance, I was willing to give the new 5DmkII a go. Most reviews were praising the camera, and except for the "Black Dot" issue (which we have still to see) there were really almost no negatives mentioned for tis piece of equipment.
Outdoor Photo saved my bacon and had one in stock that I picked up literally minutes before closing down for December. Lucky for me it wasn't the kit, just a body. I rushed home and popped the battery in the charger so that we can start with a few test runs to get this camera sorted, set-up, and ready to shoot two full days of fashion and beauty studio work. One thing that was an immediate let-down (and please, if somebody from Canon is reading this… you dropped the ball big time!) even though the camera has been available for a few months, and as of writing this review, No extra batteries are available in South Africa for this camera. No battery grips are available for this camera. What gives? These are essentials for this type of body and the photographer it is pitched to!
First impressions:
Hah… except for the "new car freshness" the body looks virtually identical to the old one. so nothing new there… except a few buttons and a WONKING BIG LCD DISPLAY! When I powered up the camera, and that shiny and extremely bright display came up, my first thought was that a intro movie will start playing! It feels like it will be the perfect tool to watch movies on while waiting for the model to show up at the shoot…
The camera layout is very similar to the old 5D except for a new AF button top right next to the AE-Lock button as well as the direct print/live view button next to the viewfinder (top left) the bigger changes is inside. The camera sits fine in the hand, but being used to the old 5D and a battery grip, this feels small and unbalanced (which in actual fact it was, but more about that when we get to shooting) The new menu structures did take a bit getting used to. Canon moved (as with all it's newer models) to a tabbed pane menu structure instead of that long list. Most everything is the same, except for a few extra custom functions (like highlight protection – which I think is a waste of time… but it may have some worth for others) and off course, the set-up for the HD video and sound, which I will tackle later as well.
Features to mention that is new on this camera, which I think is very valuable:
1. Battery monitor – A fairly accurate battery monitor, that can actually tell you how much juice you have left in a group of batteries. It registers each one separately (and in a battery grip, it also shows you the values of both batteries separately) so you can keep track of which batteries perform well, and which ones my have a fault, or is showing some age. The manual shows the values of a few batteries, but I wouldn't know how many it can store …. Because we can't get any here!!!
2. Sensor Cleaning – yeah… erm… great feature, but anything stubborn is gonna stick to your sensor… don't get rid of your cleaning kit just yet
3. Micro Focus Adjustment for lenses – Now this is something to write home about! Like the bigger brothers, this camera will now register all your lenses and allow you to do separate focus adjustment on each lens to get them perfect. I was very keen to try out this feature, but a lens test showed that all my lenses are currently spot on… oh well… suppose I shouldn't be upset that my stuff works!
All in all, not a bad piece of kit, but nothing remarkable… yet…
---
First round of shooting
Ignoring the "out of the box" shooting of objects on the desk, the manual pages, and my feet… the first round of shooting had me totally amazed at the quality of the images. The first thing you notice is how bright and viewable this new large viewfinder is. It has an option to "auto adjust" the brightness of the viewfinder according to your location (dropping the brightness in darker areas, and pushing it up when outside in the sunshine) this is a very nice feature if you have taught yourself not to guess exposures from the viewfinder, but rather from the histogram. If not… switch it off… it will fool you!
The new 14-bit sensor delivers amazing colour. For anybody that reads this, and have no connection to me, I shoot only RAW (if shooting for anything commercial, and even more often than not, for personal use as well) and this camera should not be used as a JPEG camera… but then again, it's not aimed at a Green Square user. The JPEGS are pretty ok, but nothing near as spectacular as the RAW files. We use CaptureONE v4.6 as RAW converter… the Canon software is not so hot. Maybe I just don't know how to use it, but for now, I will stick to the C1v4.6
Exposures are really very good, and even the auto White Balance performs admirably in most conditions. The bigger bit-range allows for really nice highlight and shadow detail (that is lost in the JPEGS) and these combined give pretty accurate results. I have to say though that I do shoot everything in Auto White Balance, simply because I know I am going to be tweaking it later in the RAW converter. but as colour reference, I use X-rite ColourChecker cards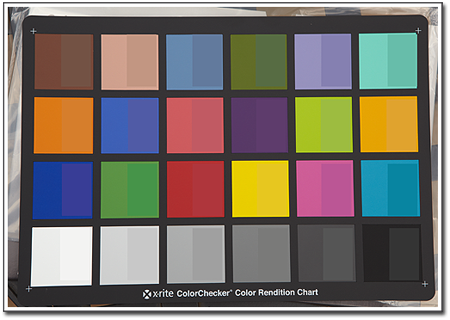 (Every block has a specific RGB and LaB colour assigned to that is printed to an exact match. Added on the top of the each block (right hand side) in Adobe Photoshop is a block with the RGB/LaB values as reference – This means whitebalance and colour correction becomes a mathematical and exact process, not dependent on Screen calibration, and guessing by eye)
As you can see from grey tones in the ColourChecker chart above, the auto white balance worked amazingly well (in this situation: Slightly overcast, no near reflected surfaces) and was off by 2 to 3 points… really acceptable and virtually indistinguishable by the naked eye. What is interesting to note here on this un-profiled sensor is that as previously noted, Red and Green channels perform exceptionally well… Blue seems to have been tweaked and is better than it used to be, but the camera struggles to correctly re-produce that "purple-blue" (which is often referred to as the reason for nature photographer getting so much more noise in their blue skies, especially when adding polarizing filters)
Once specific profiles have been set-up for studio work, sunshine, cloudy, etc… we can get much closer to true and accurate colour, but we are already seeing a vast improvement from the previous 12-bit sensors (and for the same reason we will almost never shoot 8-bit JPEGs.
My gut feel is that in images with very wide tonal ranges (bright sunshine to even shadow areas) there is more noise than with the previous 5D, but that said, the noise appears to be more Luminance noise and not so much Chroma noise, which makes it appear more like a film grain effect than digital coloured spots.
I was happy to note though that the battery seems to go on forever, looking at about 1,200 plus shots on a single charge (depending on how much you use that LCD, live view, video, etc… but for a serious day of shooting, that will be too little.
---
In the Studio
Well.. what can I say… This camera performed flawlessly from a technical perspective. We did run out of battery power, so every time we took a small break, the batteries came out and went onto the charger. We ended shooting between 40gb – 60gb of RAW images per day.
The lack of the battery grip really came into play during these two days of studio shooting. The camera feels completely off balance and top heavy, and I can see it in my tilted horizons when shooting portrait (vertical) I also develop severe strain in my wrist. I just couldn't see myself working any length of time with this camera without the balancing battery grip (which I received a few weeks later only) Now that the grip is on, the camera is remarkably heavier, and completely balanced. A dream to shoot with. I am not sure, but it does feel a tinge heavier than the old 5D with grip. Will measure it up when I actually have two batteries to add to the grip.
Something that became quickly apparent is that this camera is not a speed freak. If you need to shoot at any kind off pace, you will need to invest in pretty fast CF cards to handle the transfer from buffer to card, and when dumping cards to your computer, from card-reader to computer.
Our old USB2 multicard reader took over 20 minutes to download a 8gb card. Our new single slot Sandisk USB2 card reader takes about 8 minutes on the Ultra II cards… going up just one version brings that down to about 6 minutes.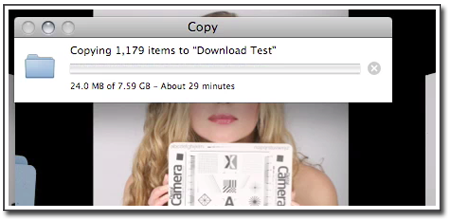 Now, from the previous, you may have figured out that space also becomes a premium. RAW files can be over 40mb each in certain conditions, and converted 16bit Tiff files are 160mb. If you haven't, considder investing in a DROBO, and if you are short on RAM (anything less than 4gb) consider getting some more for your editing workstation.
Another problem we encountered was that the autofocus is much slower than on the previous 5D, and especially on the edges of the lens (non- cross-hair focus sensors) it seems to hunt a bit more if there is not definite contrast to latch on to, or if the subject is backlit. Having said that, I have to say that this doesn't mean the camera is slow… it's just not as fast as a 1-series body. To get the best out of this camera's autofocus, you are going to want to stick to f/2.8 or faster lenses.
The other reason for f/2.8 lenses is simply that you definitely see lens defects on f/4 lenses and up. They are just not suited to a full frame sensor, and the edges let you down every time. We prefer shooting the f/4 70-200mm because it's much lighter to travel with, and shoot with for a day, but there is a definite visible quality difference between the f/4 and f/2.8 version of this lens that we did not see so much on the older 5D so we will look at changing out lenses soon. We have this high quality sensor, why not get the best possible glass in front of it?
---
HD Video
Now, initially I thought this is a bunch of doohickey, just added to the mix because nikon added HD video to their D90. Having played with it a bit, I am otherwise convinced. Unlike the Nikon, Canon has gone for true HD, in other words, it's a true 1080p (progressive) signal, not the 720i (interlaced) version that Nikon used. This means that you have clear images of fast action, no "shuttering" It also means that it opens itself up to a whole new market of buyers.
Many film-makers have bought a few of these simply because they are relatively cheap. and light, and flexible. You can add different lenses to the camera, and get different effects (DOF, FOV, etc) the camera is light enough to strap onto a side frame of a vehicle for POV shots (point of view) and is a fraction of the cost of a full fledged HD camera with the same image quality, so the cost is negotiable if it gets damaged on a shoot, rather than your big cams.
The quality is really exceptional. I am not too sure how Canon works it, but it seems it takes the full 21mp sensor data and sizes it down to +/- 4mp (1080p resolution) getting rid of noisy signals in the process… giving you true blacks and good colour and contrast in amazingly low light.
Do not for any one minute think that this will replace your handycam though. Built-in sound is terrible, and pics up every adjustment you make, autofocus is so slow, that I would call it non existent. So why do I think it's so great? because if you are a film maker, then you can feed a Stereo signal through external microphones. If you are serious about your movies and clips, you will be using manual focus for most things in any case. If you are like me, a commercial Stock Photographer, and Travel Photographer, it means that I can now shoot video stock and travel video to go with my images, without having to carry a second piece of equipment and all the extras that goes with it (like tapes, extra chargers, extra storage, etc) For me, it's the "best of both worlds" camera, and will also be for journalists, freelancers, etc.
Do note though that exposures are via auto iris function only (although there are ways to get past it… pretty simple ways actually) but I wish Canon gave us Full Manual Control. I don't think the Video Camera market (like wedding and event photographers) would have switched to this as an HD solution instead of there XL1′s but manual controls would have been nice!
---
Conclusion
Buy it! This camera has taken my eye off the 1-series cameras that Canon has to offer. Why? because it does everything they do and a bit more, and I do not need the features they have extra.
Does this mean the 1DsmkIII and 1DmkIII is doomed in sales? Absolutely not. It's different cameras with different purposes targeting different professional users. The 5DmkII is now also weather sealed, but not close as well as the 1-series bodies… bigger buffers, dual processors, etc… just makes it better cameras for their respective fields.
Is the 21 megapixels not just showing off? Absolutely not. In my business, and many other professional photographers businesses, extra megapixels = more money. Yes, there are ways to enlarge smaller megapixel images, but why spend effort and time on it when you don't need to.
Combine the extra megapixels with low light shooting and I can shoot up to 3,600 ISO and still get very usable images. Size them down to 12mp and I get almost noiseless images. which means I can give my client a much bigger and better quality image than virtually any photographer shooting 10 or 12mp on any brand camera. The designers don't have to work their butts off to control artifacting brought on by the high ISO. better quality images all round.
Speaking of which, The 25,600 ISO is really not good. but in a pinch, it's not bad either. We have made some really nice Black and White prints from these, and having had to shoot without flash at various events (television recordings and weddings especially) and trying to get anything usable at 1/30th of a second on a 200mm lens, I will take the noise any day! Also, various locations does not allow tripods or monopods at all, and again, the high ISO/High MP count is a definite winner.
for more information and comments about this article, please visit the OutdoorPhoto forums
---
by Sean Nel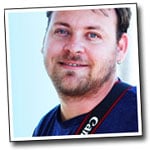 The post Canon EOS 5DmkII appeared first on ODP Magazine.